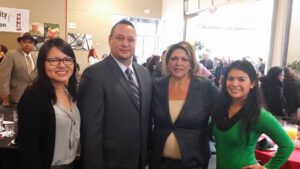 Agents with the Federal Bureau of Investigation showed up at Santos Nava's house in Porterville, saying they wanted to talk about "a possible fraud investigation involving Fernando Chavez," according to John Duran, who holds Nava's power of attorney.
Nava has been in a legal battle since 2020 to recover an investment he made with Paul Chavez, the grandson of United Farm Workers (UFW) founder Cesar Chavez.
Duran said that two agents from FBI's fraud unit out of Fresno arrived at Nava's house around 12:30pm Friday, February 3. Nava immediately called Duran and the two agents conducted an extensive interview with both men.
Duran said that the FBI agents were "looking into a matter concerning Santos Nava and [Paul's father] Fernando Chavez regarding some investments," Duran told one of the agents, that the investments were not made with Fernando Chavez but rather his son Paul Chavez owner of the Paul Chavez Investment Group based out of San Jose.
Nava was awarded a large sum of money after winning a personal injury case litigated by Fernando Chavez. Fernando then introduced Nava to his son, Paul Chavez, a structured settlement consultant for various law firms including Fernando's. He set up for a lifetime annuity for Nava and a generous lump sum.
In 2019 Paul Chavez was recruiting investors for a speculative commercial and residential real estate project in East Palo Alto that was separate from his job as a structured settlement consultant. Nava invested a total of $165,000 but as time went on, he was not getting the returns promised and wanted his money back.
Duran claims Nava was scammed out of the money in a Ponzi scheme run by Paul Chavez and that Paul trades off his grandfather's name to get investors.
"I told Hamilton that Santos concluded that an investment with Paul Chavez would be solid for sure because he was the grandson of Cesar Chavez and Paul's proclamation that he was associated with the Cesar Chavez Foundation and was at one time the President of the foundation."
"Paul Chavez said the investments were solid because his own family members had invested in his real estate ventures and Fernando Chavez accompanied Paul to an investment meeting with Santos and myself and that he knew of the investments," Duran told Hamilton. "Santos also felt secure in investing with Paul Chavez because Fernando Chavez had successfully won a large injury settlement for him."
"They asked Santos if Paul had ever provided construction progress reports, location of investment properties. Santos said no, and that he never asked because of the trust he had in the Chavez family," said Duran.
Paul Chavez says he's sending a check

Paul Chavez said he was not surprised that the FBI had gotten involved with the case.
"I was absolutely expecting it," Chavez said.
He said that Greystone, a collection agency hired by Nava, told him that "other agencies were now getting involved" so he assumed that meant the FBI. He said he also got a text from Duran insinuating the same thing.
What did surprise Paul Chavez was that the FBI was asking primarily for his father.
"Yeah, that surprises me, because my dad is not involved in my financial transactions," said Chavez.
Paul Chavez said that he recently worked out a payment plan with Greystone. The new payment plan stipulates that he make a payment right now, a balloon payment of $25,000 in March 6, followed by $4,000 a month plus 10% interest until the debt is paid off. Chavez said that if he paid his debt off faster, Nava would give him a break on the interest.
"I have the money today to make my payment. I picked up a check today from another investor and was going to send a check today but I might not be able to cash it. The check is from a Schwab account so I might have to deposit it first and mail a check to Nava tomorrow."
Duran confirmed that Paul Chavez had been in communication with him about the new payment plan. "I further shared with the agents that Paul had recently told me he would now be able to pay Santos' investment because more business had picked up and more people were coming in."
In the January 19 Valley Voice article, Paul Chavez denied using the Chavez name to recruit investors or that he said he was part of the Cesar Chavez Foundation. But his Facebook page features the Chavez Institute for Law and Social Justice, of which Paul Chavez is the CEO.
The Chavez Institute for Law and Social Justice and the Cesar Chavez Foundation use the same picture of Cesar Chavez in their banner.
According to the California Secretary of State site the Chavez Institute for Law and Social Justice is "SOS/FTB Suspended." This designation means the business entity has been suspended by the California Secretary of State. Reasons for suspension can range from failure to file a document to a failure to meet certain tax requirements, including the failure to file tax returns or important exemption papers, pay taxes, penalties and/interest when due.
The Voice reached out to Fernando Chavez for comment about the FBI investigation and he responded with a text, "My wife just passed."
Fernando Chavez' law license has been suspended twice, once in April of 2017 and again in 2021 for misappropriation of client funds.
Gina Swankie, Public Affairs Specialist for the FBI in California said that the FBI cannot confirm nor deny that conversations took place. Swankie said that she could only comment on information that was already a part of the public record or filings that had been unsealed.
Duran said that at the end of the interview he and Santos thanked the agents for taking an interest in the case.
"They said that their additional interest was wanting to find out if there was any other people out there tied to the Paul Chavez Investment Group and asked me to send them any additional information that could assist them," Duran said.
"I told them I would be sure to do that."