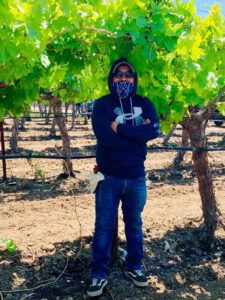 The Cesar Chavez Foundation (CCF) has put John Duran, a Porterville activist, on notice with a cease and desist letter. He has been helping a disabled Porterville farm worker, Santos Nava, recover money he invested in the Paul R Chavez Investment Group (PCIG).
Nava has been in a legal battle since 2020 trying to recover over $100,000 from Paul Chavez, grandson of Cesar Chavez, founder of the United Farm Workers (UFW).
Duran contacted the Cesar Chavez Foundation last year because Paul Chavez told him he was Chairman of CCF at one time. He also allegedly told Duran that Chavez family members invested in PCIG and that he was active in the foundation.
"When we met," said Duran, 'I asked him what his connection was with the Cesar Chavez Foundation. He acted like he was the man."
Paul Chavez' Facebook page uses the same profile picture as the CCF website and he is the director of the Chavez Institute for Law and Social Justice, appearing to be part of the CCF.
However, the Chavez Institute for Law and Social Justice is not affiliated with CCF and has been suspended by the State of California. In addition, Paul Chavez is allegedly under investigation by the FBI.
Duran said that he and Nava trusted Paul Chavez specifically because of his affiliation with the Cesar Chavez Foundation.
Duran contacted the foundation with the hope that CCF could compel Paul to pay his debt. Duran felt Paul Chavez' actions were damaging the foundation's reputation and Cesar Chavez' legacy
In response to Duran's supplications, the General Counsel for the Cesar Chavez Foundation, Paul Park, sent Duran a threatening letter,
"You are on notice that should you refuse to comply with our demands by February 21. 2023, we will have no choice but to explore all legal causes of action against you, including the filing of a lawsuit. In the event of a lawsuit, we will also pursue both damages and attorneys' fees and costs incurred by CCF as a result of your actions."
The demands made in Park's letter were that Duran stop "falsely associating CCF and Cesar Chavez with Paul R Chavez and PCIG."
The letter concluded, "Please be aware that this letter is copyrighted by my office, and you are not authorized to republish this in any manner. Use of this letter in a posting or article, in full or in part, will subject you to further causes of action."
Duran fights back

Maggie Melo, of Melo and Sarsfield Law Offices said, "Mr. Duran has every right to complain to law enforcement about what he believes to be either illegal or criminal conduct by anyone.  Citizens cannot be sued under those circumstances.  Anyone foolish enough to try to file such a lawsuit will have a sad and expensive introduction to California's Anti-SLAPP laws."
Anti-SLAPP suits are filed in cases where a public entity or public person uses the power of the pulpit to silence a private person because they don't like what that person saying. If an Anti-SLAPP suit were to be filed against CCF they could be liable to pay Duran damages and his legal fees.
Melo, who is representing Duran, said in a letter to Park and CCF, "his remarks are protected speech under the First Amendment."
"Your letter to Mr. Duran is inaccurate," wrote Melo. "At no time has Mr. Duran accused the Cesar Chavez Foundation of engaging in criminal conduct. Nor has he besmirched the name of Cesar Chavez. In point of fact, Mr. Duran has the highest regard for the late labor leader. It is Mr. Duran's belief that the Foundation and the memory of the late Cesar Chavez are being unscrupulously taken advantage of by Mr. Paul Chavez."
Farm Workers Against Farm Workers
Cesar Chavez Foundation states on their website, "Today, the National Farm Workers Service Center has become the Cesar Chavez Foundation, which continues to expand on Cesar's early work and vision to create a movement to improve the quality of life for Latinos and working people. Cesar Chavez's vision was ambitious, and a half a century later, the lasting and ongoing effects of his work have transcended even his original aim."
Yet the foundation is threatening the exact people they claim to defend.
Santos is a farm laborer on permanent disability. He was injured at 16 years old when his pant leg got caught in a piece of farm equipment and he was pulled under crushing his lower back and pelvis.
Duran is the son of farm workers who marched with Cesar Chavez to Sacramento. On Cesar Chavez' first trip to Porterville to organize farm workers into the UFW he and Ernesto Padilla stayed in Duran's childhood home.
Duran considers Cesar Chavez one of his heroes and honors his legacy. He wants the CCF to do the same.