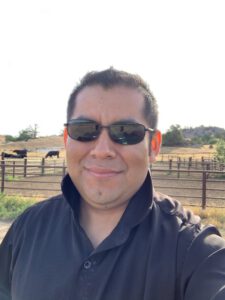 Santos Nava, a migrant farm worker from Mexico, was picking peaches in July of 2007 when the bottom of his trousers got caught in a piece of farm equipment and pulled him under the trailer. The accident tore apart the lower part of his body crushing his pelvis, breaking his femur and injuring his hips and sciatic nerve.
Nava was 16 years old and it was his second day on the job. He would never work again.
Lawyer Fernando Chavez, the oldest son of United Farm Workers (UFW) founder Cesar Chavez, took Nava's case. During the first trial the case was thrown out, but Chavez persisted, filed an appeal, and won. Nava received over a million dollars in compensation six years after the accident.
That combined with a workers' compensation settlement of over $100,000 in 2017, also negotiated by Chavez, financially set Nava for life, and he settled in Porterville.
But his windfall also brought financial woes, as Nava has been trying since 2020 to recover an investment he made with Paul Chavez, son of Fernando Chavez and grandson of Cesar Chavez.
While most of Nava's money is secure in an annuity that pays him $2,500 every month, he also received approximately three lump sums of money, which he partially entrusted to the Paul R. Chavez Investment Group.
In 2019, Paul Chavez was recruiting investors for a speculative commercial and residential real estate project in East Palo Alto. Nava invested a total of $165,000 but as time went on, he was not getting the returns promised and wanted his money back.
Porterville resident and civic activist John Duran, who holds Nava's power of attorney, claims Nava was scammed out of the money in a Ponzi scheme run by Paul Chavez. Duran also said Paul Chavez trades off the Chavez name to get investors.
Paul Chavez said the investment was legitimate but went bankrupt. He also denied ever using the Chavez name to recruit investors.
"I do plan on making him whole," said Paul Chavez.
Broken promises and unreturned calls
Advocating for his friend, Duran called, emailed and texted Chavez between June and August of 2020, asking Chavez to give Nava's money back.
After months of excuses and assurances that "the check is in the mail," Nava hired a lawyer, Von Christenson from the Christenson Law Firm LLP.
"Paul, we are very disappointed referencing the cash-outs. I had to turn this over to an attorney and we met with him at 4 p.m. today. Sorry we had to take this route," Duran wrote in an email to Chavez on September 2, 2020.
A September 15, 2020 letter written to Chavez by Christenson outlines Nava's investment and what Chavez owed him.
"As you know, on or about April 3, 2019, Mr. Nava invested $100,000 with the Paul R. Chavez Investment Group, which was being made for the development of mixed use residential and commercial property at 2126 University Ave, East Palo Alto, CA."
Nava invested another $65,000 with the Paul R. Chavez Investment Group in June 2020.
"Per the terms and Conditions of the two investments Mr. Nava was to be paid due interest at the rate of between 10% and 16% based on the performance of the investments."
Nava gave Paul Chavez notice within the year that he wanted to divest from the investment group. The letter continues, "However those year periods have since elapsed, and Mr. Nava has not been returned his investment funds. Accordingly we hereby demand that such investment funds be returned forthwith."
Including $20,433.33 interest Chavez owes on Nava's investment, Chavez owes Nava a total of $185,933.33, according to the letter.
Christenson reportedly drew up a payment plan and Chavez signed the settlement agreement. He was to pay Nava $40,000 up front then $20,000 a month until his debt was paid off.
But the letter held no legal weight, and Chavez defaulted, never making a payment.
Christenson took the next step in April of 2021 and filed a stipulation for entry of judgment with the Tulare County Superior Court. The court ruled in Nava's favor, and Chavez was ordered to pay $204,500.
Now forced by a court order, Chavez made a few payments in April, July and August of 2021 totaling approximately $60,000. But after a series of excuses for delayed payments such as a family funeral, a dead phone, and not being available because he was attending Dolores Huerta's speaking engagement, Chavez stopped payments.
Chavez then got his own lawyer.
According to Duran, Chavez' lawyer said, "Go ahead and take him to court and sue. My client doesn't own anything and will just declare bankruptcy."
Chavez' said, "I could have filed bankruptcy but I would never do that to anyone," referring to the lawyers who have unpaid fees and the people to which he owes money.
As a last resort, in July of 2022, Nava hired Greystone, an aggressive collections agency that has been leaving threatening messages in Chavez' voicemail.
In Greystone's contract with Nava, the agency warned: "Do not negotiate with the debtors. Be advised, anything they say is a stall tactic to avoid payment."
It was a tactic about which Nava and Duran did not need to be warned.
The Chavez Foundation – involved or not?
The Cesar Chavez Foundation has no involvement with the Paul R. Chavez Investment Group.
"Paul is one of 31 grandchildren of Cesar Chavez," Marc Grossman, spokesperson for the Cesar Chavez Foundation, said. "The foundation does not involve itself in any of the families' personal businesses. Neither Paul nor Fernando have anything to do with the foundation nor are they involved in the foundation."
Grossman asked, "Did either of them even mention the Cesar Chavez Foundation?"
Duran claims Paul did.
"Oh yeah, when we met I asked him what his connection was with the Cesar Chavez Foundation. He acted like he was the man," Duran said.
"Paul said he was the chairman of the foundation at one time," he added.
After the accident Nava's brother inquired about who could help with medical bills or possible legal action, and he discovered the United Farm Workers, according to Duran. It's not clear how, but Nava's brother then came into contact with Fernando Chavez.
Duran said after Nava won his legal case against the grower, Fernando Chavez introduced him to his son Paul. After that introduction Nava invested in Paul's investment group.
Paul Chavez allegedly told Duran that he wouldn't have an investment business if it weren't for the foundation. Chavez allegedly told Duran that it was through his affiliation with the Cesar Chavez Foundation that he got many of his clients.
Duran said he and Nava trusted Paul Chavez specifically because of his affiliation with the Cesar Chavez Foundation.
Duran actually met Cesar Chavez as a teenager when Chavez visited Duran's parents' home in Porterville while organizing the United Farm Workers of America.
Duran wrote in a December 2021 letter to Dolores Huerta, "To this day I still live with the confirmation that the Honorable Man [Cesar Chavez] accomplished what his heart and vision set out to do. My parents walked in the marches and the walk to Sacramento declaring 'Viva La Huelga!'"
Coincidence or not, even though Grossman said neither Fernando nor Paul Chavez had anything to do with the foundation, Paul Chavez called the Valley Voice the next morning after the interview with Grossman.
His call came after six days of unsuccessfully trying to get an interview. His excuses included not being available because he was participating in a Martin Luther King Freedom Rally.
Fernando Chavez called a few hours after his son.
Fernando Chavez said Duran's accusation about his son using the Chavez name to drum up business was absolutely not true. He said Nava, being a recent immigrant at the time, had never heard of Cesar Chavez. He said Nava had no idea who Cesar Chavez was or the foundation, inferring that it wouldn't make sense for Paul to invoke the elder Chavez' name.
Fernando Chavez also said he is not familiar, nor does he have anything to do with his son's investment business. He said that Paul works as a structured settlement consultant, and Fernando Chavez referred Nava to him after Nava won his judgment.
Fernando said that Paul set up Nava's annuity and lump sum payments.
Paul confirmed he worked with various law firms as a structured settlement consultant specifically for accidents. He said his day job had nothing to do with his investment group.
Paul said in a text, "I was never ruled against. I signed a stipulation willingly so an order could be issued." The real estate deal is dead, he said, and added that he is in the process of paying off other investors that also lost money.
"I intend to pay Nava," he said.
Paul denied ever using the Chavez name to recruit investors. He said in fact he does a lot of pro-bono work of his own accord with DACA recipients. He also denied saying he was head of the Cesar Chavez Foundation, but rather told Duran he started his own foundation of which he was executive director.
Duran laughed when he was told Fernando Chavez said he knew nothing of his son's business.
"He knew very much what was going on," said Duran.
In Duran's letter to Huerta, he told her, "my client invested an additional $65,000 not because of the Paul Chavez Investment venture, but because of Paul's association with the Fernando Chavez Law Group and the United Farm Workers. Fernando did attend one of the investment meetings and it was obvious that he was coaching his son's venture."
Fernando Chavez' law license has been suspended twice, once in April of 2017 and again in 2021 for misappropriation of client funds. He left California and has lived in Florida the last three years.
Duran concluded his letter to Huerta, "I would hope that Paul Chavez would pay the judgment instead of letting the legacy of Cesar Chavez be destroyed."
Duran signed off saying, "SI SE PUEDE."