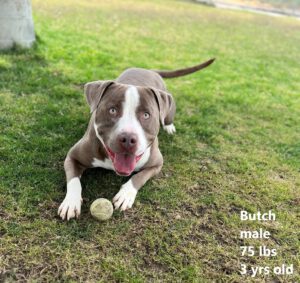 Tulare County Animal Services is "BUSTING AT THE SEAMS with dogs and puppies," the shelter's website exclaims. All dogs and puppies are currently adoptable for only $20, a fee which includes microchipping, spay/neuter services, and vaccinations.
"Our kennels are all full, with pop-up crates set up in hallways, and we are at a loss for how to make room for the many animals coming through the door each day."
"There are entire litters of puppies growing up in the shelter without human contact and that doesn't lead to a good outcome," Karen Coelho, Tulare County Animal Services interim manager, said.
Coelho said that the shelter has 150 dogs right now, but only 50 kennels — and the shelter has been receiving up to 30 to 40 dogs a day.
Animal Services can go weeks without euthanizing adoptable pets, but other weeks they have euthanized up to 40 dogs.
Tulare Animal Services is the only no-kill shelter in the county, but that may change next week according to animal control officer Tyler Gilmore.
Gilmore said that the larger dogs are taking up to nine months to adopt and that the shelter has run out of space.
"Now, in the post pandemic reality, our shelters are suffering an even larger crisis with many animals being discarded after the COVID stay at home order ended.  Many shelters are experiencing much higher euthanasia rates, they are severely understaffed and overwhelmed with hundreds of unwanted animals showing up at the shelters daily," Tricia Stever Blattler, Executive Director of the Tulare County Farm Bureau, told the Valley Voice.
Candace Harrington, manager at the Visalia Animal Care Center, shared the same observations as Coelho and Stever Blattler.
"The number of dogs coming into the shelter has been higher than normal," said Harrington.
She didn't have the exact numbers available, but stated that their shelter is also euthanizing adoptable pets.
Why the increase?
Patrick Hamblin, a supervisor for Tulare County Health and Human Services, says overcrowding is a nationwide problem.
He said he has been to conferences from Austin, Texas to Portland, Oregon and all their shelters are at capacity.
"Some of our biggest partners in taking our surplus dogs have had to slow down their intake because they are experiencing the same influx of animals," said Hamblin.
During the pandemic, shelters in urban areas ran out of available dogs and organizations such as the Central Valley Rescue Railroad transported the valley's surplus dogs to areas that wanted them.
Coelho said that the San Francisco SPCA would come down every other week and pick up their adoptable dogs, but that that has become much less frequent.
Harrington outlined the multi-layered reasons the Central Valley and country have gone from a shortage to a surplus of dogs.
"Vets weren't considered essential workers during the pandemic," so almost all spay and neuter services came to a halt and veterinary services were reduced to only emergency surgeries.
"That has created a huge impact on volume of animals," said Harrington.
The United States is also experiencing an extreme veterinarian shortage, Harrington said.
Additionally — while thousands of people rushed to adopt pets during the shutdown, they are now reconsidering their decision after returning to work.
"COVID gave us a different perspective on what we could handle. The community as a whole decided that they didn't have the time or emotional resources to take care of pets. People are not as impulsive now when it comes to adopting," said Harrington.
Adoption information
On top of the $20 adoption offer, Tulare County Animal Services' website states it "also provide[s] appointments for follow up parvo/distemper vaccines for puppies adopted from us for $10 each."
Tulare County Animal Services is open for adoptions Monday-Saturday from 10 am-4pm at 14131 Avenue 256 in Visalia. Appointments are encouraged but are not required; for more information, call (559) 636-4050.
Visalia Animal Services, located at 29016 Hwy 99, is open for adoptions Tuesday-Saturday from 8am-4pm. Appointments and more information are available by calling (559) 713-4700.
Tulare Animal Services is open on Mondays from 10am-7pm, and Tuesday through Friday from 8am-5pm. For appointments or other information, call (559) 685-4548.
Kings County Animal Services is located at 10909 Bonneyview Ln in Hanford, and is open Monday through Thursday 10:30am-5:30pm, and Fridays 10:30am-12pm. Animals available for adoption are listed at 24petconnect.com, and staff can be reached at (559) 852-2525.
Coelho said when you adopt an animal, you are not stuck with them in case it doesn't work out.
"You can always bring it back to the shelter if there are problems," she said.
More solutions
Another way to lower the rate of euthanasia is to foster hard to adopt pets.
Tulare County Animal Services and the City of Tulare's Animal Services departments have programs where the public can take dogs home to foster while awaiting their forever home. Both shelters assist the foster parents with food and needed pet supplies.
The Friends of the Tulare Animal Services coordinates the foster program and posted on their Facebook page: "URGENT, Sorry to sound like a broken record but we are FULL! THE SHELTER IS FULL!!  We need fosters immediately to keep our dogs safe. PLEASE! If you can foster for a week or two please contact us. We have many types of dogs. We can find one that fits your household."
Harrington said one of her main goals is to get the fostering program back up and running at the City of Visalia shelter and hopes to have it ready soon.
"I have worked as a volunteer in a local dog rescue organization for 9 years that specifically focuses on Labrador Retriever rescue here in the San Joaquin Valley," Stever Blattler said. "My husband and I have personally fostered over 130 dogs for this Labrador rescue program and we also have occasionally fostered a few mixed breed dogs for Central Valley Rescue Railroad."
Another remedy to the population explosion is to encourage the public not to buy pets from breeders.
"If the breeders knew no one is out there to buy their puppies, they would quit doing it," said Harrington.
Stever Blattler supports people purchasing purebred animals from responsible breeders, but that in the Central Valley "we even more need to encourage adoption because too many end up in shelters."
"Sadly, the Central San Joaquin Valley does not have a lot of those types of 'reputable' breeders instead, they have a lot of very greedy, irresponsible ones that pump out puppies for cash that are often sick and do not make good family pets," she said. "They over-breed their dogs with no regard for the health outcomes or the number of animals they are pumping out into society that become our shelters' and our nonprofit rescues' future problems. Not to mention the future problem of every tax payer paying for our government run shelters to operate."
"All of the strides being made in Valley shelters in improving live outcome rates are being extinguished by the post pandemic explosion of unwanted pets in our communities. Rescues cannot possibly take the thousands of dogs and cats in our shelters that have exploded in numbers since COVID ended," Stever Blattler said.
"It's truly a humanitarian crisis here in the Valley and setting back our progress more than a decade."