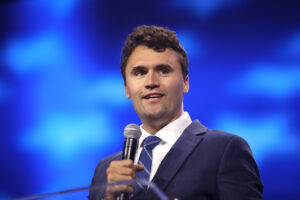 The Visalia Fox Theatre will host "An Evening with Charlie Kirk," presented by the Visalia Republican Women Federated, on Thursday, August 24th at 7:00pm. A VIP event starts at 5:00pm and the doors open to the general public at 6:00pm.
Deene Souza, president of the Visalia Republican Women Federated (VRWF) said the organization invited Kirk because he addresses the issues that matter to people connected to the conservative movement.
Souza said he is an advocate for youth and encourages parents to stand up for their rights concerning their children's school's curriculum and encourages parents to run for their local school board.
Kirk is the founder and executive director of Turning Point USA (TPUSA,) a non-profit organization "whose mission is to identify, educate, train, and organize students to promote freedom" according to their website.
Brock Neeley, the president of the Tulare County Stonewall Democrats, intends to be standing outside the Fox at 5pm sharp on the 24th with his American flag and a group of supporters as the VIPs file into the theater's lobby.
Neeley describes Kirk as racist, misogynistic and homophobic – an opinion shared by many members of the Visalia Democratic Club and the Tulare County Democratic Central Committee (TCDCC.)
Neeley feels it's hypocritical that the Visalia Fox Theater allows someone with such extreme views as Kirk to perform while at the same time canceling a movie drag show event organized by the Source LGBT+ Center last September.
Community activist Jim Reeves said that he is tired of the "conservative community inviting such divisive people to their events like Tony Perkins" — the head of the Family Research Council who espouses anti-LGBT views.
"There are positive people in the conservative movement but they always seem to choose the most hateful and negative people. It doesn't speak highly about the conservatives here," said Reeves.
Souza countered the idea that Kirk was anti-gay by saying that his objecting to sex education in schools is not homophobic and that TPUSA embraces African Americans through BLEXIT.
BLEXIT, "powered by Turning Point USA," says it "focuses on shifting culture through electric live events, thoughtful grassroots organizing, and inspiring educational initiatives. BLEXIT stands for the "Black Exit" from the victimhood mentality," according to their website.
Souza said that microphones will be set up for audience questions after Kirk's presentation. She encourages members of both political parties to come and voice their concerns and ask questions.
Visalia City Council Member Emmanuel Soto had concerns that The Source's event was cancelled but still said, "I have no problem with Charlie Kirk coming to the Fox and expressing his right to free speech just like anyone else."
Souza added, "I invite everyone to come to this event. If you are a Democrat and have questions, come listen, please attend."
How does the Fox handle polarizing and controversial events?
The mission of the Fox according to its website is, "to preserve and operate the iconic Visalia Fox Theatre as a performing arts venue and gathering place that provides a focal point of cultural activity and educational outreach for the benefit of our diverse community."
Their mission statement left some concerned Visalians scratching their head as to why the theater would allow Kirk to hold an event there.
According to April Latham, venue manager, the theater is not sponsoring the event but has been rented out by the VRWF. To keep the Fox Theater financially viable the board rents the facility out as a venue for $6,000 to $8,000 depending on the type of event.
"We rent to all. We are not going to discriminate," said Latham.
Neeley wasn't convinced and still has questions as to why a movie and drag show sponsored by the Source last September was canceled.
Latham stated that the "client canceled the event, not the board," though Neeley believes the Source was pressured by conservatives on the Fox board.
"Someone in the VRWF knows someone on the Visalia Fox Board and the board is using the fact that the Fox is being "rented as a venue as a shield" to justify bringing Kirk to Visalia to speak, said Neeley.
Fox Board member Marty Zeeb — who has cut back on his duties during the last year — said that the board had "regularly discussed the issue of polarizing type shows."
He said that the VRWF had wanted to rent the Fox in the past for an event that raised the same issues of polarization, but he "couldn't exactly remember how it ended."
He did confirm that the board wanted to steer clear of extreme political events.
"It's definitely on the board's radar," he said.
Merritt Wiseman, Vice President of the Visalia Fox Board said, "It's a constant struggle," in terms of renting out the Fox but that the board had nothing to do with the Source canceling their event.
Wiseman said that the Source had to cancel because they were receiving threats and were concerned for the safety of the attendees.
"We were supportive of whatever the Source wanted to do," Wiseman said. "The Source had other events at the Fox that were very successful."
Wiseman added that the board ranges from very liberal to conservative and all members are committed to preserving the Fox.
"The Fox is an historic and community treasure and we need to preserve it."
Kirk labeled a racist, homophobe and misogynistic – but is he?
Statements made on The Charlie Kirk Show have led his critics to perceive him as racist, homophobic and a misogynist.
"It's disturbing that the Reich wing in Visalia had influence in getting a drag show canceled but then aligns themselves with someone like Charles Kirk," Neeley said.
In his show dated May 19, 2023 he stated, "Happening all the time in urban America, prowling Blacks go around for fun to go target white people, that's a fact. It's happening more and more."
Kirk went on, "More than six hundred white women a year are murdered by Black men. Six hundred white women a year. Did you know that? By Blacks. So six hundred white women are murdered by Blacks a year. One just happened, well he was a Hispanic, he might have been half-Black doesn't really matter, here in Scottsdale. Young, twenty-nine-year-old girl, walking on a hiking trail, and a trans-Hispanic comes and stabs her to death."
On the July 12, 2023, edition of Real America's Voice The Charlie Kirk Show he praised Andrew Tate, a self proclaimed misogynist influencer who is currently under house arrest in Romania for human trafficking.
Kirk says that Tate is just responding to a "post modern secular anti-masculine movement."
Kirk also told his audience during the show that he agrees with almost everything Tate says on his TikTok posts.
"I think it's worth thinking about what he has to say."
Randy Evans, a former candidate for the Visalia District School Board and member of the TCDCC said, "I don't see any one on the right expressing concern that one of his (Kirk's) vendors at his events is a convicted pedophile and registered sex offender."
This was even more disturbing, Evans said, because Kirk's Turning Point USA is a youth organization.
A May Rolling Stone article states "one of the TPUSA summit's corporate sponsors is a Christian fashion company that is led by a registered sex offender, Shawn Bergstrand, who served time in federal prison for attempted 'coercion and enticement' after trying to persuade 'a minor female' to 'engage in sexual activity.'"
Kirk stated on Twitter that he had never met the sponsor, but that "[he's] told from the team that coordinates exhibitors that he's a nice person who did something wrong over a decade ago, and unlike Target, he repented and the experience led him to his faith," calling the Rolling Stone article an unfair smear and a way to "play gotcha."
Kirk has supported an ongoing boycott of Target over the retailer's Pride collection including trans-friendly youth apparel and other LGBTQ-positive merchandise and books, stating that "we must push for the bankruptcy of Target."
Besides Kirk's conservative views, according to statements made by TPUSA, the group's desire is to "restore America's biblical values" and to work to "empower Christians to change the trajectory of our nation."
Souza, a defender of religious freedom in the United States, can empathize with his views and thinks the whole world needs more morals that are aligned with Jesus.
"I think we all need a little more Jesus," she said.
Follow the money
VIP tickets for the show are $250 while executive VIP tickets are $500 and are nearly sold out. General admission is from $25 – $50. As of today ticket sales have reached if not surpassed $100,000.
With the cost of renting the Fox and Kirk's speaking fee – All American Speakers shows a range between $50k and $100k — the VRWF may make a modest profit.
Souza said that the object of the show is not to make money.
"Part of our conservative commitment is to educate the community," she said. The VRWF uses any funds it makes to put on events that get conservatives elected to office. Many of those events involve forums where the community can come and listen to Republican candidates express their views and strategies.
But Johnathon Burrows, a Democratic congressional candidate for California's 20th District, chafes at the potentially steep speaking fee.
He commented that Tulare County has the highest unemployment rate in the state – asking why the Republican group didn't invite a speaker more in line with the reality happening on the ground in the Central Valley., such as Kevin McCarthy.
"The problem with Charlie Kirk coming to Tulare County is that his organization is funded by the country's billionaires such as the Koch brothers while the medium income here is $52,000 a year. People want to work, get fair wages and have a safe work environment. Why doesn't the RVW invite Kevin McCarthy to do a town hall and discuss those issues instead of inviting a conservative talk show host entertainer?"
Kirk doesn't report the news, or an advocate for conservative causes, said Burrows.
"He is just promoting himself and making a lot of money while doing it. Bringing him here just increases his profile. He will record the show at the Fox the post it on Tic Tok to make more money," he said.
"He knows how to work all the angles."