Warning: this article contains quotes with vulgar and graphic language.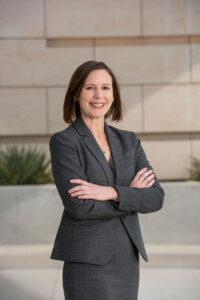 Sarah Hacker, the new Kings County District Attorney, is staring down multiple potential lawsuits for creating a hostile work environment and allegedly using homophobic slurs during a meeting with two Kings County peace officers.
Multiple complaints of employment discrimination have been filed with California's Civil Rights Department by aggrieved employees, the first step required before lawsuits can be filed. The employees are being represented by Marguerite Melo of the Law Office of Melo and Sarsfield.
Melo is familiar with the landscape: Hacker's predecessor Keith Fagundes hired the Melo and Sarsfield team to represent his interests in a case filed by former Kings County DA investigator Robert Waggle against the county. The county later settled the case in Waggles' favor last December.
The first complaint, filed on Janaury 26, was filed on behalf of the Kings County DA Chief Investigator Charlie Flores. He has worked for the county for many years, and has accused Hacker of using homophobic slurs, creating a hostile work environment, and retaliation. According to Flores there were multiple witnesses to Hacker's alleged behavior.
Melo followed up a few days later with another complaint alleging Flores was subjected to gender discrimination. In addition, two complaints were filed on behalf of Julia Petino, head of the victim-witness section for the DA's office, that also alleged Hacker created a hostile work environment and engaged in retaliation.
"I deny everything in the complaints. All allegations made by Mr. Flores are false," Hacker told the Valley Voice.
Melo has countered by saying that Hacker is "a homophobic nut job."
"It's not even been 60 days and Hacker is already under investigation," Melo said.
Hacker was sworn into office January 3 of this year. In a shocking upset, Hacker beat two-time incumbent Fagundes in a bitterly contested election in June of 2022, and made multiple references to Waggle's allegations during her campaigning.
Kings County's Human Resources department has hired an outside consultant who does not live in the county to conduct an investigation to see if any violations occurred.
The Complaints
Charlie Flores names Kings County, Hacker, and Thomas Snyder, the appointed assistant district attorney, as respondents in his complaint.
It states, "On or about Jan. 11, 2023, at approximately 3 pm, Mr. Flores and investigator Chris Jackson (also a district attorney employee and peace officer) met with Ms. Hacker to discuss a criminal case that was believed to require her personal attention. Previous to Ms. Hacker becoming District Attorney in early Jan. 2023, the former district attorney, Keith Fagundes, had previously been briefed on this matter. As we explained the background of this criminal case, and our concerns, and mentioned the fact that Mr. Fagundes had been previously briefed about it, Ms. Hacker's anger became visibly apparent as she tightly squeezed her eyes closed and clenched her fists in her lap.
"With our warning or further prompt she exclaimed, "That Goddamn, cock-sucking, cum-licking, pineapple-eating faggot!" I took this to be a derogatory reference to Mr. Fagundes. I understand and believe that during her campaign for district attorney, Ms. Hacker utilized a whisper campaign to suggest that Mr. Fagundes was homosexual. Thus her disparaging remarks directed at Mr. Fagundes in our meeting, even though I believed them to be untrue, were homophobic and sadly, not entirely unexpected.
"I looked over at Investigator Jackson, who in turn looked back at me both shocked and confused by the spontaneous statement that had just been blurted out by Ms. Hacker. Both Mr. Jackson and I directed our attention to Ms. Hacker, who was seated to my right, and simply looked at her in silence. After several awkward silent moments, Ms. Hacker began to nervously laugh then stated something to the effect of, "I know I probably shouldn't have said that." After the conclusion of the meeting I was overwhelmed with what had occurred along with the constant onslaught of undue criticisms, character attacks, and accusations over the course of months from Ms. Hacker, since she won her election in June 2022.
"Upon arriving home that day, I received a phone call from Mr. Jackson at approximately 4:36 PM……Mr. Jackson jokingly stated something to the effect, "Well I think I'm good." I understood this as a reference to what Ms. Hacker said in the meeting. Mr. Jackson went on to say, "Really? A God-damn, cock-sucking, cum-licking, faggot? Wow." I told Mr. Jackson I had no explanation for the outburst and let him know that I too was shocked by the comment. I believe Ms. Hacker's statements are violative of Title VII of the Civil Rights Act of 1964, the California Fair Employment and Housing Act, as well as Kings County's own HR policies.
"Following the meeting on Jan. 11, I spoke with Ms. Hacker about her outburst. This second meeting took place on Jan. 13, 2023. In that second meeting I told her that the language she used in the workplace was inappropriate, or words to that effect. Since that time, I believe that I have been subjected to workplace retaliation and intimidation.
"Ms. Hacker, with, I believe, the assistance of Mr. Snyder, are attempting to discipline me for pre-textual and false allegations merely because I objected to her discriminatory words/actions when she created a hostile work environment and when County failed to prevent it (to include taking corrective action). As a result of the stress Ms. Hacker and County's actions have created (from June 2022 to present), I have sustained significant medical/psychiatric injury."
In Flores second complaint he alleges that he has been treated differently than his female counterparts who have lodged complaints against the DA's office in the past.
"When I submitted my complaint to County Human Resources, I was treated differently than female employees who have made similar complaints. For example, in the last 12 months, I know of 2 county female employees who made complaints, and were then offered transfers by county to get away from the person complained of. When I made my complaint, no such offer or accommodation was made. I believe it is because of my gender. Female complainants are treated differently than male complainants-for no legitimate reason," said his complaint.
Patino filed her first complaint February 14 also alleging a hostile workplace and retaliation.
Her complaint states, "I have been encouraging and supporting Charlie in his complaints of discrimination, harassment and retaliation against County, Hacker and Snyder. In response to my supporting Charlie, Hacker, has begun a campaign of retaliation against me, to include walking me off the job, placing me on administrative leave, and otherwise retaliating against me, for baseless, pretextual reasons, all in violation of the Fair Employment and Housing Act, as well as County's own personnel policies."
Petino' second complaint filed by Melo on February 24 states, "After receiving the Right to Sue letter, I was placed on medical leave from work. This leave was ordered by my doctor due to hypertension (among other conditions.)"
Petino alleges that after she was placed on medical leave Hacker required her to call Snyder every morning to report her schedule and whereabouts. Patino also alleges that Hacker sent county workers to her house to conduct an official interview with her regarding a generator. "This attempt to interview me was done despite Hacker knowing that I was out on medical leave for, among other things, extreme hypertension," said the complaint.
Petino states in her complaint, "Hacker's order also forbids me from contacting and or communicating with my co-religionists, at least one of whom is a member of the DA's office. Specifically, Hacker's order requires that I obtain her prior consent/permission before I can communicate with any/all of my co-workers, or words to that effect. This "order" has directly interfered with my ability to practice my religion without fear of losing my job."
"I believe Hacker did this in an effort to aggravate my medical condition and violate my civil rights."
The complaint concludes saying, "I believe these actions are being taken by Hacker and County against me because I am a witness to the impact her homophobic rants have in the workplace; because I have supported and continue to support my co-workers who have objected to her despicable slurs in the workplace. I believe Hacker is engaged in a campaign of retaliation against those who objected to her vile, hateful conduct."
Hacker unfazed
Hacker confirmed that she had read all of the complaints and said, "This complaint will not distract from the mission of the DA's office to do justice, prosecute crime, protect victims, and preserve public safety."
"I look forward to the civil discovery process and what it will reveal."