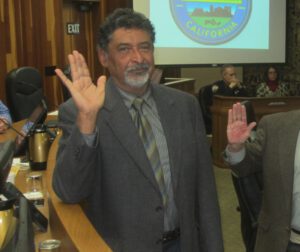 Repercussions from a lawsuit filed by former Hanford Community Development Director Darlene Mata rippled through the Hanford City Council meeting on May 17 when a simple agenda item stirred up old grievances and brought up new ones.
The item, which would authorize the Hanford City Manager to "execute a Retainer Agreement with the Farley Law Firm to provide Conflict Counsel for Council Members Brieno and Ramirez," ultimately passed unanimously.
Hanford City Council Members Francisco Ramirez and Art Brieno are named as defendants in Mata's lawsuit; Mata is sung the pair and the City of Hanford for $1.2 million in damages.
A frank discussion about the city paying the duo's legal fees led to an airing of grievances in the council, including the handling of the Northstar development, Vice Mayor Diane Sharp stepping down as Mayor, Brieno's removal as a council member, and his censure — among other things.
"I mean, I won't serve again on this council. I have served on other boards, the high school board, but I've never found a council so dysfunctional," said Brieno
Mayor Kalish Morrow told the Valley Voice that she pulled the item off of the consent calendar because she wanted to hear from the city attorney about a possible conflict of interest and give the two council members an opportunity to recuse themselves if necessary.
Morrow told the Voice she was surprised by the passion of the discussion and that she hadn't anticipated the item would generate such contention.
The consent calendar is normally passed unanimously and without much dissent.
After a twenty minute discussion the council voted 5-0 to pay Farley Law Firm to represent Ramirez' and Brieno.
Morrow said that she voted yes simply because the two city council members were named in the lawsuit and had been acting on behalf of the city.
Ramirez, who expected opposition, responded to the vote in his favor saying, "I was in complete utter shock."
Ramirez added to the suit
Mata filed an administrative claim against the city in January of 2021 alleging Brieno subjected her to a hostile work environment, harassment, and gender discrimination while the city sat idly by.
As a result of an investigation paid for by the city, and Mata's administrative claim, Brieno was pressured to resign from the city council and was ultimately censured.
Mata, represented by Rachel Berglund of the Herr Pedersen & Berglund firm, filed a formal lawsuit March 16 of this year after months of negotiations over damages, back pay, and pension, failed to reach a settlement.
Mata is still employed by the city even though she is on an extended medical leave. Her pay for 2019 was listed as $237,118.02 including a category called "other," benefits and pension, according to Transparentcalifornia.com.
In a surprising maneuver Mata added Ramirez into her complaint.
The suit states, "on June 15, 2021, just three months after the censure, RAMIREZ publicly requested BRIENO serve on a committee because, "honestly … I'm over that [referring to the censure]." And then RAMIREZ and BRIENO proceeded to undermine City Council's prior unanimous censure, the investigative report and, ultimately, MATA.
"Two weeks later, on June 29, 2021, RAMIREZ and BRIENO advocated for lifting certain portions of the censure, with BRIENO publicly stating it was "petty."
"As officers and agents of the CITY, BRIENO and RAMIREZ continue to undermine and discredit MATA and the neutral investigation. As recently as March 1, 2022 and during the open session of a City Council meeting, RAMIREZ requested an early reorganization of the City Council, presumably removing the current Mayor – an outspoken opponent of BRIENO's illegal treatment of MATA – from her seat as Mayor."
During public comment, Hanford resident Emily Burnias, supported Ramirez' and Brieno's legal fees being paid for by the city and was dubious of Ramirez' inclusion into the lawsuit.
"Francisco was added way after the fact and was added because he stated that Brieno could not represent his district while being censured."
"When it comes down to it…. I was not a part of this lawsuit until the very end because I spoke my mind. I stated that he (Brieno) has the right to represent his district because the voters voted for him and voted him in office. They had the opportunity to recall him if they wanted to," Ramirez said, echoing Burnias' suspicions.
"So I'm getting persecuted for that. For me, this lawsuit is a joke," he added.
Brieno said that he felt Ramirez was added to the suit "because he made a motion to remove our mayor because of the situation with Northstar."
Ramirez agreed.
"Concerning Diane there was nothing vindictive whatsoever. It had to do with her handling of the meeting about Northstar as mayor," he said.
To recuse or to not recuse?
Mizote gave a short presentation to the council saying he wanted the item pulled because Brieno and Ramirez had an economic interest in the outcome of the vote and should recuse themselves.
Brieno countered saying he consulted with Farley who advised he had no economic interest in their decision and he did not have to recuse himself.
Ramirez said he also sought legal counsel who said there was "no financial benefit for him whatsoever" and that he was not going to recuse himself either.
Because of the accusations in Mata's suit concerning Brieno's censure and Sharp stepping down as mayor, both Ramirez and Brieno were wary of how their fellow council members might vote concerning the city covering their legal costs.
"If I recuse myself," said Brieno, "what do you think the vote is going to be? I can almost see it."
Mizote agreed that the two council members should have separate representation from the city but was insistent they should recuse themselves from voting on the city paying for their legal fees.
"In terms of financial conflict, as a city attorney, I do see a conflict because the city is going to write the check to pay for their attorney."
But Mizote did not explain what Brieno's and Ramirez' financial gain would be. The city would be paying Farely's law firm directly with no money changing hands with the two council members. In addition, Brieno and Ramirez will not be compensated for their time, which will be significant, or compensated for the pain and suffering of facing down a lawsuit.
Mizote did make a veiled threat though to those council members who choose to speak their mind.
"Remember that the city and individual council members are in the middle of a lawsuit and just like we see on TV the cop shows, anything they say can and will be used against you in a court of law."
He ended with, "I would advise all five of you to be very careful of what you say in public."
Brieno was agitated and related that during last year's censure he was "denied his due process" and he had to pay his own legal fees.
"I have been found guilty by this council by removing me and censuring me. It's been one year and they can't even reconsider it because of who it is driven by."
"I will now have my day in court," said Brieno.