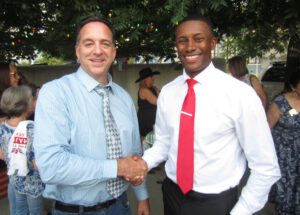 The Exeter Women group's motto is, "Republican women are the life of the party," and that's no joke.
On June 3, instead of their monthly meeting, the Exeter Republican Women Federated (ERWF) decided to throw a pop-up fundraiser party, and invited candidate for governor Major Williams to be their headline speaker.
They sold out of their 100 tickets in three days and 110 showed up for the event.
When going to an ERWF event you can be sure of three things: a lot of men will show up, there will be dancing and you will learn something new.
Williams immediately connected to the enthusiastic group easing into his speech after the band warmed up the audience.  The crowd responded to his words with applause and several "amens" as he presented a fresh new voice and a sight for sore eyes compared to his tired Republican competition.
Williams spoke of his support for gun rights, voter ID and lowering taxes while acknowledging that many in the room had probably never heard of him.
"I'm not who you would choose possibly," said Williams, "but for the times that we are in right now I am the missing piece of the puzzle."
'It's time to think Major for Governor'
Williams slogan, "It's time to think Major for Governor, it's time to think Major about California," sets the tone for his campaign.
But he uses it as an affirmation not just a cool political slogan.
According to KUSI News, Williams made history by getting the most votes as a first-time candidate in his unsuccessful run for Pasadena mayor in November 2020.
"The man became an entrepreneur at the tender age of 13 and has never looked back since. Now, he's got his sights set for Sacramento," said KUSI.
Williams told the crowd he was the product of the projects of Dallas, Texas. "I have a lot of grit and at the same time I understand what's needed right now."
His Restore CA Plan outlines on his website realistic solutions for the state. He gave the example of homelessness being a complex problem, but one that could be alleviated through more mental health hospitals and rehabilitation programs that demand accountability.
He told the audience, "You have to get behind the candidate that can appeal to more than just Republicans." Williams continued, "It's not just about winning the recall, it's about who can win in 2022. What can we get done in just a year and a half? Pat ourselves on the back?"
When asked how he would win over the Democrat vote Williams said "through my story, through my persistence and showing up."
"I used to be a Democrat," he said.
He said his mother used to tell him that the Democrats loved them because his family received a check every month. When he was young he said he had a victim mentality and that he thought everything wrong in his life was someone else's fault.
But when he understood the truth his life changed completely and immediately.
"Republicans don't put one foot on the ground in certain areas because they don't want to spend the money, but I can go into different environments. … They don't think we care to even come to those communities. And I don't care if they call me an Uncle Tom. I don't care if they call me a coon. I'll still say, 'Hey, what's up?'"
The campaign ahead
Williams said he has been running for governor all year but is still facing some seasoned Republicans with a lot more name recognition.
The top five Republican candidates running in the recall election against Governor Newsom are John Cox, businessman and 2018 gubernatorial runner-up; Kevin Faulconer, former mayor of San Diego (2014–2020); Caitlyn Jenner, transgender reality show personality; Richard Grenell, former ambassador to Germany; and Doug Ose, former Congress member and 2018 candidate for governor.
Democrats have yet to field a known candidate. The party is currently debating whether to field a viable candidate to compete against Governor Gavin Newsom or just focus on defeating the recall.
The recall election is anticipated to take place in November of this year.