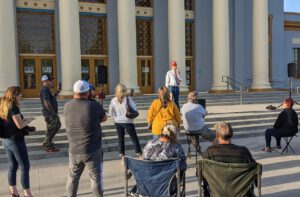 Sporting a red MAGA hat, candidate Chris Mathys set the tone for the 21st District Congressional race as he spoke on the steps of Hanford's Civic Auditorium.
"Has David Valadao represented you the way he should?"
"No," replied the small crowd attending the town hall.
Mathys lauded President Donald Trump's tenure in office and asked if they wanted him back as president.
"He is our president," shouted an attendee.
"Yes, thank you very much," responded Mathys.
As far as Mathys is concerned the election was stolen, and Trump is the legitimate president.
"I won't call him President Biden. I'll just call him Biden," said Mathys.
At the end of his April 8 town hall, Mathys passed around his MAGA hat soliciting donations.
The "never-Trumpers" are giving Valadao a million dollars in campaign donations, said Mathys.
"We are fighting swamp dollars and we don't want the swamp defining who we are. Congress has the power to protect our rights but they have to do more than collect checks and stay in Washington for 30 years," he said. "We have to have term limits and drain the swamp, and, Mr. Valadao, you are part of the swamp. Adiós, amigo."
Amnesty, Impeachment and the ERA
Mathys is a former Fresno City Council member and ran in New Mexico's  June 2, 2020 Republican Congressional primary for District 2 coming in third.
He is the only Republican challenger to Valadao for the California Primary on June 7, 2022. Currently there are three candidates who have declared for the 21st District: Valadao, Mathys and Democrat Nicole Parra, a former State Assembly member. It's not known if former Representative TJ Cox plans on running after losing his seat in the 2020 election.
Mathys main campaign issues are Valadao's vote for the American Dream and Promise Act and the Farm Workforce Modernization Act, which he characterized as "amnesty," and his vote for removing the deadline for the Equal Rights Amendment (ERA).
(On checking Valadao's voting record he did not vote to remove the deadline for ERA. https://clerk.house.gov/Votes/202182)
But his harshest criticism was aimed at Valadao's vote to impeach Trump on January 19 for incitement of insurrection.
Mathys pointed out that Valadao was the only California Republican to vote to impeach Trump saying, "If you want to represent Republicans, then let's stay loyal to our Republican Party."
Ten Republicans in total from various states voted for Trump's second impeachment.
Mathys does not believe that Trump had anything to do with the riots. He said more than a million people showed up that day to listen to Trump's speech and that very few of them proceeded to the U.S. Capitol Building.
The big question he said is, "Why were the protesters allowed in?"
"It's proven they were let into the Capitol. Come on in, come on in," Mathys waived.
Mathys believes some of the rioters were plants from the Democrats to make the Republicans look bad.
Something is very wrong when that many people show up to the Capitol that angry, said Mathys.
"They don't think their vote is counting," he said.
Assembly candidate Todd Cotta spoke at the end of the town hall.
"It's tough when you get betrayed," he said. "I know a whole lot of people here who will never fill that little box next to Valadao's name."
Cotta campaigned with Valadao during the 2020 election and devoted hundreds of hours going door-to-door in a grassroots effort to get Valadao re-elected. Cotta lost to incumbent Assembly Member Rudy Salas, while Valadao won back his seat from Congress Member TJ Cox.
Cotta plans on running the same grassroots campaign, but this time to get Mathys elected.
Another major issue for Mathys is immigration. He stated that one of the first things Valadao did after being elected was stop construction of the wall at the US-Mexico border.
As a result of Valadao's vote for the American Dream and Promise Act Mathys said, "4.4 million people will now become citizens and that means more people on welfare."
He said that parents are using their kids to get into the United States and then collecting benefits. Allowing more immigrants into the country is a tactic by the Democrats to get more voters said Mathys.
"If you come to America as an immigrant you come to work hard not because you are under duress. Then you become a burden to our system," said Mathys.
He ended the town hall saying, "David Valadao we are coming for you because you betrayed us by impeaching Trump, you voted for amnesty and for the ERA."
"We have to take our country back or we will turn into another Venezuela," he added.