Losing a pet can be like losing a member of the family and now Tulare and Kings County residents have somewhere to go when deciding what to do with their pet's remains.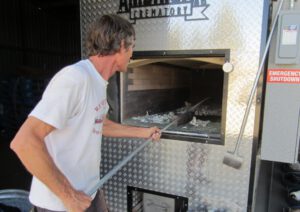 Ben Tiersma opened Four Creeks Pet Crematorium last year and offers a full service including urns, pet paw prints, home delivery, and private cremations and a sympathetic ear.
Four Creeks is the only pet crematorium in the South Valley. Most veterinarians and animal organizations send their animals to a huge facility in Los Angeles that handles about 100,000 animals throughout the state every year. The next closest facility to Visalia or Hanford is in Paso Robles.
"The Los Angles crematorium is highly expensive and can take sometimes six weeks to UPS the remains back to the vet," said Ian Lockwood, owner of Exotic Reptiles on Mooney Boulevard in Visalia. Exotic Reptiles is a pet store and an animal rescue.
Lockwood has used Tiersma for two of her pet dogs and refers 100% of her store's customers to his services.
Tiersma will hand deliver the remains of your pet to your home usually on Tuesday or clients can pick them up at his facility at the end of the week. Lockwood chose a walnut box with her dog Charlie's photo on the front.
Tiersma is also half the price of the facility in Paso Robles.
Adriana Gomez of Porterville said she drove the remains of Guiniea, her pet guinea pig, to Tiersma's facility in northwest Visalia. A few days later Tiersma hand delivered Guinea in the cherry wood urn Gomez had picked out from his website. He also returned Guinea's blanket washed and folded.
Tiersma normally donates the dog and cat blankets to the SPCA.
Gomez said it didn't feel right to burry Guinea in the ground where a stray dog or other animal could dig her up. Gomez put the urn and Guinea's blanket where she normally kept her cage.
Gomez also took advantage of another service offered by Four Creeks and had a paw print cast made.
Tiersma, a former Redwood Ranger, returned to Visalia from Cal Poly to run his family's dairy. He sold his dairy when milk prices took a dive a few years ago and decided to do substitute teaching as a last profession before retiring.
"After a couple of months teaching I started looking around for something else," he said. A friend had been considering starting a crematorium business because of the lack of services to the Valley but never got around to it. But the seed was planted, and Tiersma thought he could fill a local need and it would be a perfect fit on his farm.
So Tiersma googled "crematorium" and found a company in Santa Fe Springs, California that made them.
"They only make about 30 machines a year so they put 10 on an assembly line in their warehouse and make them by hand," said Tiersma. He then had to hire an engineer to draw up the plans on how and where to install it, then the company delivered it on the back of a flat bed truck and he had it installed.
The biggest and most difficult hoop Tiersma had to jump through to get his business running was getting his permit from the San Joaquin Valley Air Board. "It wasn't a huge hassle, it just took a long time," said Tiersma. The permit cost him $5000, and he can do cremations three days a week. The air board comes out once a year to check his log of cremations.
Because his farm is not within Visalia city limits, he went through Tulare County's permitting process –which was fairly easy. He agreed to cremate small farm animals and the county streamlined the process.
A crematorium in the LA area trained him on each aspect of taking care of the remains.
"The hardest thing to learn was making the paw prints," he said. "I practiced on my pets but the live ones don't stand still. In the beginning it took three or four times to get the paw print perfect but now just one or two tries does the trick. There is no way to get it right except practice."
"It's really an art," he said.
Being a perfectionist spills into his work cremating the animals. Though he may have 30 to 40 remains at his facility at one time there is no smell, few flies, and his facility is clean. Tiersma is meticulous about keeping each set of remains separate. He institutes a system of bricks between animals that his training facility did not use, but he does just for extra measure.
He plans on expanding his business, but right now he collects remains on Tuesdays from pet owners and vets and does the cremations on Wednesdays. Pet owners can also hand deliver their pet to his facility at 9232 Avenue 320 at the corner of Shirk.
Those owners who want an individual cremation pay between $65 – $275 depending on the size of the animal. Clients can choose from a variety of urns or have the remains put into a scatter tube that is complimentary.
People have been choosing cremation at record levels for themselves and their loved ones, said Tiersma. Tiersma's philosophy is that what people want for themselves they want for their pets. Cremation nationwide is up to 50% and he said half of the pet owners he deals with want the ashes returned.
He has cremated pigs, ferrets, birds, iguanas, hamsters and of course dogs and cats.
"One out of three goat owners want the remains back," he said.
Half of the animals he collects from vets are cremated communally and not returned to the owner. The communal cremations are done as a community service at cost. Tiersma scatters the communal ashes on his farm.
Visalia used to have a pet cemetery right off of McAuliff for people who did not want to cremate their pet but it closed several years ago. Tiersma said that some people still bury their pet in their back yard but if the animal has been put down its not legal because of the chemicals used. Also, some people live in apartments and don't have anywhere to bury their pet.
Tracy Scott of Visalia found out about Four Creeks Pet Crematorium through her vet when her dog died. After talking with Tiersma she decided to put their dog's remains in a velvet bag while waiting for a family member to make a hand-crafted box. She said it was comforting to know there was someone local to help her make decisions and take care of what she considered a member of her family.
Lockwood said, "Ben was there for us during such a hard time in our lives."
"He's a damn angel is what he is."
For people interested in contacting Four Creeks Pet Crematorium please visit his website https://www.4creekspet.com/ or call (559) 737-2532.