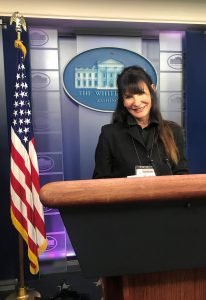 Political activist, community organizer, and Exeter mom, Vicki Riddle, may not be a small town girl any more but she has the energy and enthusiasm of a teenager. When she isn't covering the First Lady while embedded with the White House Travel Pool, she is organizing fundraisers, working with Exeter youth, and getting out the Republican vote.
Her dedication to the Republican Party has not gone unnoticed. Living in a town with only 10,000 souls, Riddle was named Woman of the Year by the California Federation Republican Women (CFRW). Adding to Riddle's surprise, she was nominated without her knowledge by Exeter resident Rosemary Hellwig,
"I was pretty shocked. It really was unusual," said Riddle. She explained that the Woman of the Year awards usually go to past presidents of the CFRW, current board members, or from large metropolitan areas.
The CFRW, organized in 1925, is a "diverse population of women dedicated to making our world better for all now and in the future through an active program of education, engagement and effective change," according to the organization's president.
California's FRW is the largest Republican woman's organization in the United States, which to some might seem surprising in a state dominated by Democrats.
"People say this is a Democrat state but it really is a Republican state geographically." Riddle said a huge area of California is Republican with only San Francisco, Los Angles and the coastal areas being Democratic.
Riddle pointed out that the local Exeter Republican Women Federation (ERWF) is one of the largest Republican women's groups per capita in the state.
Why is the Exeter group so vibrant? Riddle says it's because they are a younger group than the other local federations and that everyone is welcome. Men can be associate members and the Young Republicans, a group she founded, always participates in the meetings.
Riddle said the Exeter RWF has dinner meetings "with good food, great speakers, and is an all round great evening.
It's like date night," said Riddle.
Republican Roots
"I was born and raised in Berkeley and that is what made me a conservative because I was force fed progressive liberalism in the public school system."
Riddle actually remembers the day she became a Republican.
"One night I asked my dad why he was a Democrat and he said that the Democrats were for the poor people. So ever since I was eight years old I was a Republican because I did not want to be poor."
Riddle believes that the Democrats could not survive without poor people, and that in turn makes poverty a self perpetuating condition.
Riddle was raised by a staunch Democrat father and a socially liberal and fiscally conservative Republican mother.
Both parents read the newspaper, listened to the radio, watched the news on TV and "came locked and loaded to the dinner table ready for a political debate," she said.
Her father arrived in the United States from Italy when he was six years old and already a liberal.
"My dad instilled in me a sense of gratitude towards this country because of the opportunities given him with only a sixth grade education."
Not going to college was not an option and Riddle's parents encouraged her to pursue a university degree and a professional career.
"So of course I rebelled," said Riddle.
She is a third generation graduate, on her mother's side, of the University of Central Oklahoma, where she earned several BA's and a Masters in Nursing. But what she loved more than her career was being a stay at home mom with her three boys.
And now that her boys have their own careers, she devotes her time to Exeter's youth, women's activism, and political arts, such as getting out the vote and having a response when someone challenges her beliefs.
"I want to have peaceful answers to the controversial questions," said Riddle.
Republican Cred
Being the great, great niece of United States President James Buchanan, Riddle comes by her political activism honestly.
She has an impressive list of accomplishments that lead her to being named CFRW Woman of the Year.
Riddle was elected to the Tulare County Republican Central Committee in 2016, founded the Exeter High School Fellowship of Christian Athletes 17 years ago, and volunteers at the Pink Ladies Exeter thrift shop two days a week.
But what she is most passionate about is working with the Exeter High School Young Republicans Club, (YRs) a group she founded five years ago.
In Hellwig's nomination letter to the CFRW she wrote, "It is so touching to see the students and their gratitude, to the point of tears, for all she has poured into them, made them believe in themselves, giving their lives a bit more purpose, and educating them on what it means to be a Republican."
Riddle organizes the YRs to volunteer at events and participate in phone banks.
She pays the cost for their dinner at the ERWF meetings and makes sure they always have a ride.
The YRs and Riddle started a new tradition in Exeter holding a 9/11 service at the Exeter Firehouse.
The event honors the dedication of our First Responders and has become a part of the community's fabric.
When choosing Woman of the Year, the CFRW said, "….. there would be several who would meet the standards for which this award is given. But we look for the one who stands out from the rest and goes that extra mile to achieve not only the objectives of the Federation but reaches out to the community in which she lives."
Exeter Republican Women Federation
Riddle, Jessica White and Paula Clark, all members of the Exeter Woman's Club, started researching how to form their own town's Republican women's group in 2015. Up until then, Riddle said, Exeter women would attend the Visalia Republican Women's Federation meetings but felt the needs of Exeter and Woodlake Republican women were not being represented. The Visalia group also met at the Visalia Country Club for lunch when not everyone could attend.
The three women completed the paperwork and founded the Exeter RWF in 2016. They state on their website that their club is, "on mission to see more Republicans elected in 2016 and beyond…….At our very first meeting, we saw a young woman register to vote for the very first time, commit herself to the Republican Party and join our club as a Republican woman. Our goal is for this to be repeated over and over as we reach out to women in our town and local communities.
Success at home and at work
When asked who she would like to see win the Democratic Presidential nomination Riddle said, "any of them."
"I'm so confident in Trump winning that it doesn't matter who wins the Democratic nomination," said Riddle.
She repeated the sentiment of an immigrant family who said they were voting for Trump "because he knows how hard we work." Riddle feels that Trump appeals to the mass population and to Americans who work hard and reject accepting government assistance as a way of life.
"All three of my sons voted for Trump so I must be doing something right."
Riddle may have earned three BAs, a Masters in Education, and taken her boards to be a registered nurse at Tulare Hospital and Lindsay Memorial, but her heart resides at home and perfecting her career as a domestic engineer.
This was evidenced by the spread awaiting me when I arrived for the interview.
Crackers and dip on antique pressed glass hors d'oeuvre plates and perfectly sweetened iced tea were served rounded off by a reproduction of Meghan Markle's lemon elderflower wedding cake, offered to me with some cooking tips.
"Whip four egg whites with the batter for a full four minutes," Riddle said as she wrapped up a few pieces for me to take home.
Riddle's cooking prowess, like her other life pursuits–professional and political– was more than impressive as my daughter would confirm, "It was the best thing I ever ate in my life."