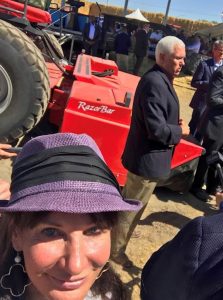 Exeter resident, Vicki Riddle, was part of the Vice Presidential pool of reporters at his Kings County event on July 10.
Vice President Mike Pence stopped by the farm of Doug and Julie Freitas on Highway 41 north of Lemoore to advocate for the United States Mexico Canada Agreement (USMCA). It was estimated 800 were in attendance mostly in the agriculture industry.
Pence said that the USMCA will add 176,000 jobs and that American exports to Canada will increase by 19 billion and by 14 billion to Mexico.
Riddle said, "I told VP Pence that he was doing a great job. He then shook my hand and I told him I wanted to be on his volunteer advance team. He told me what to do."
"State Senator Shannon Grove also spoke and was warmly introduced by VP Pence," said Riddle.
Former Congressman David Valadao introduced Pence and spoke with reporters at length afterwards. It is speculated that Valadao will challenge freshman lawmaker TJ Cox for his old 21st District seat. If Valadao decides to run he will be making his announcement before the end of July.
Pence arrived around 11:30 a.m. at Lemoore Naval Air Station on Air Force 2 and started his visit to the Valley at Harris Ranch for a fundraiser. The Freitas farm was the last local stop on a whirlwind tour.
According to a VP Pool report in the same gaggle as Riddle, "The vice president answered questions in front of a large tractor for about 15 minutes outside his USMCA speech.  He started the impromptu gaggle by calling for Speaker Nancy Pelosi to pass the USMCA trade bill by the end of 2019 and said he was 'encouraged' by discussions on Capitol Hill."
The reporter then added that  the Vice President was on his third outfit of the day as it was 94 degrees.
From Lemoore, he stopped at  Vandenberg Air Force Base near Lompoc then onto another fundraiser for President's Trump reelection in San Diego.