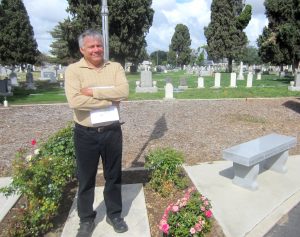 "We have reached a mutual agreement between Gerardo Ramos and the Tulare Public Cemetery. Both parties are happy with the final result," said board president Xavier Avila.
On the advice of County Council, Avila was not at liberty to give further details on the settlement. The Valley Voice tried to reach out to Ramos but his phone is disconnected.
Background
Before either quitting or being fired in September of 2017,Ramos was a 30-year employee of the Tulare Public Cemetery as the assistant groundskeeper. At the regular Tulare Cemetery Board meeting on May 29, Ramos aired his grievances during public comment. He requested an investigation into his last pay check and the lack of compensation for vacation, sick and overtime pay.
According to Ramos, Cemetery Board Director Vicki Gilson wrote him a final pay check for two cents and requested that he come by the office and pick it up.
He also asked the board to investigate why he was fired and why a medical condition, of which not even his family knew, was made public.
After Ramos finished his statement during public comment at the May 29 meeting Avila responded, saying Ramos lied about living at the cemetery.
Avila said that Ramos "lived there for a very long time." He said there were DirecTV bills, food in the fridge, furniture, trash, and witnesses dating back to 2009 who said Ramos lived at the cemetery.
"You unjustly enriched yourself at the cemetery's expense," said Avila.
Settlement
The Tulare Cemetery Board discussed Ramos' case in closed session after the May 29 meeting but did not report out.
A closed session on the June 26 Tulare Cemetery agenda states, "​Conference with Legal Counsel – Anticipated Litigation. Significant Exposure to Litigation (Gov. Code, sec. 54956.9(d)(2)) Number of potential cases: 1, Issue with former employee Gerardo Ramos."
Presumably an agreement was signed by both parties that put an end to a threatened suit by Ramos a week later..
There are several witnesses to the fact that Ramos quit his job and that his medical condition had been discussed publicly, and allegedly by Ramos, as the reason he had mistakenly buried clients in the wrong grave. Because of this it is assumed that the final settlement did not involve these issues but only concerned his final paycheck. .
Without using the usual legal jargon of lawyers, Avila seemed sincere when he stated that both sides were happy with the agreement. Given that, a compromise was presumably struck between the fact that the cemetery board felt they owed him nothing and that Ramos believed he was owed sick, vacation and overtime pay.
The final amount of the settlement was confidential.