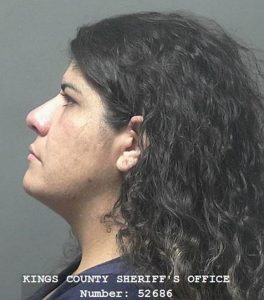 Lemoore City Council Member Holly Blair was arraigned on Monday, July 8 on two felonies, two misdemeanors and one special allegation. She plead not guilty on all five counts.
Blair informed the Judge that that she cannot afford a lawyer and, according to the Kings County Superior Court website, Blair received court appointed attorney James Baron Oliver.
Also according to the website her hearing today was vacated. The pretrial conference and preliminary hearing is set for August 6.
According to the complaint filed by Kings County District Attorney's office Blair's new bail is set at $160,000. Blair's husband, Paul Blair, apparently is not going to bail her out and Holly Blair remains in the Kings County jail.
Count 1 of the complaint, a felony, stated that Blair threatened to kill her husband and that Paul Blair feared for his safety and that of their children. Count 2, a felony, stated that Blair "attempted to dissuade a witness" when she called her husband from jail. "There was no real conversation. I just told h not to call me because it would violate the protection order and I hung up," said Paul Blair.
Count 3, a misdemeanor, was domestic violence when Blair hit the back of her husband's head when he tried to call the police during the incident on July 6. Count 4, a misdemeanor, was a violation of the Emergency Protective Order, that was automatically ordered by a judge because of the death threat, when Holly Blair allegedly called him from jail.
Special Allegation 1 of the complaint, a felony, says she committed the alleged two felonies while already on bail for previous felonies committed on June 5
According to KSEE 24 Holly Blair's husband released the following statement.
"My wife, Holly Andrade Blair, has been suffering from serious mental illness and needs help. I feel helpless right now to help her and have little faith that the Kings County Court System will do anything but try and lock her away for as long as possible.
Regarding Holly's most recent arrest, Holly's actions were completely out of character. Given my general distrust of the police and criminal justice system, under normal circumstances I would not have called the police on her, but because of my experience with her since she was released on bail on June 6th, I came to the conclusion that the safest place for her right now is in jail.
Holly is my best friend and for what she has sacrificed to try and help her community, she is my hero. Unfortunately, the stress of being on the Lemoore City Council, her conflict with the Lemoore Police and the accompanying bullying our entire family received over the last year seems to have been too much for her to bear.
I miss Holly and want nothing more in this world than to have my best friend back. At this point I can only hope that she is afforded the help she needs through the court system. "
Paul Blair