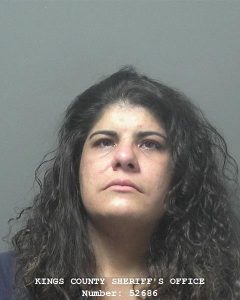 Lemoore City Council Woman Holly Blair was arrested by the Lemoore Police Department at 1:22 this afternoon. She has been charged with two felonies and one misdemeanor.
The first felony, 422 (a), is threatening a crime with intent to terrorize. The second felony, 12022.1 (b), is committing a felony while on bail for a previous felony. She was also charged with a misdemeanor of battering a spouse.
Blair's bail for "threatening a crime with intent to terrorize" has been set for $85,000.
According to a Lemoore Police Department statement as reported by the Lemoore Leader "officers responded to a possible domestic violence incident that had just occurred at about 1:07 p.m. When officers arrived the victim contacted them in front of the residence. He told officers that his wife, Blair,  had threatened to kill him. When the victim attempted to walk away and use his phone, Blair punched the victim once in the back of the head. Blair's spouse explained to police that with the recent domestic violence, he felt the threat against him was credible, and he feared for his safety as well as his children's safety. The victim did not have any visible injuries, but he did complain of minor pain and refused medical attention. Blair was contacted inside the house and taken into custody without incident."
Blair's case is considered "crime enhancement." When an alleged felon is out on bail for a previous felony, the court normally revokes the possibility of bail. That revocation could happen later this evening.
If bail is revoked Blair could be sitting in jail for a while. Blair needs to be brought in front of a judge within three days to be formally charged, but it is unclear if those three days start today or Monday.
This is only one day after Blair was in court for her appearance for four felonies and three misdemeanors from a June 5 incident.
Three of her original felonies are assault with a deadly weapon. Blair allegedly almost hit police officer Kevin Cosper, civilian Crystal Giles, and Giles' nine-year-old daughter. The fourth felony charge was evading an officer, which is a lesser offense.
Phil Esbenshade, Public Information Officer and Assistant District Attorney, said these were grave felonies and that "this was a very serious case." Esbenshade added that if convicted of just one count of assault with a deadly weapon using her car, she will automatically lose her driver's license for the rest of her life.
The three previous misdemeanor charges are child endangerment, resisting arrest and reckless driving.
Arriving late to her Friday July 5 hearing, Blair's arraignment was delayed until July 25 at 8:15 a.m. in Kings County Superior Court, Department 9. The arraignment was delayed because she is no longer represented by the Law Firm of Melo and Sarsfield and has not found new council. Blair declined a court ordered attorney and the judge allowed her three weeks to find her own representation.
Also during Blair's hearing, Kings County Judge Michael Reinhart issued two criminal restraining orders stating that Blair must stay at least 100 yards away from the Lemoore Police Department and Giles and her daughter.
Nate Olson, Lemoore City Manager, Giles, and several city council members attended Friday's hearing. Olson said that Blair did not attend the July 2 city council meeting and that if she misses the July 16 meeting her seat will then become vacant.
The Lemoore City Council decided at its July 2 meeting to fill Chad Billingsley's seat by appointment. Billingsley is moving to Colorado for work.
Melo and Sarsfield did not comment on why they no longer represented Blair. Daniel Prado of Daniel Prado Law said that in a criminal case the most common reason to lose council is for lack of payment.
Alexandra Feller contributed to this article