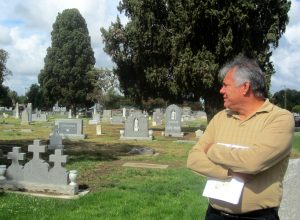 This article has been updated to match the version printed in the June 6 Valley Voice.
Gerardo Ramos, former assistant groundskeeper for the Tulare Public Cemetery, is requesting an investigation into his lack of compensation for vacation, sick, and overtime pay.
But when Ramos and his legal counsel, Luis Lopez, showed up to the regular May 22 district meeting, with copies of his presentation in hand to distribute and ready to make his case, the office manager, Leonor Castaneda,  informed him that the meeting had been canceled a week previously and changed to May 29.
At the beginning of May, Ramos requested to be put on the agenda. After some negotiation, he and Board Chairperson Xavier Avila agreed he would first present his case during public comment.
After his comments the board would decide how to pursue Ramos' concerns, said Avila.
Ramos' case
Known as Jerry during his 30 years at the cemetery, Ramos wants the Tulare Public Cemetery District Board to investigate four issues concerning his termination and final paycheck in September of 2017.
First, he wants to know why his last check did not include his overtime, vacation and holiday pay. Ramos was particularly concerned about overtime pay because according to his time cards he regularly worked nine to ten hours a day. He had an hour lunch but was often interrupted by staff or needed to attend to the public.
"My last paycheck was pennies. It was ridiculous," he said.
Second, he wants to know why he was terminated.
Third, he wants the board to investigate why cemetery board member Vicki Gilson took all of the employee personnel records out of the district office. According to Castaneda and the office assistant,  Gilson took the personnel records home and at times had them in the trunk of her car for weeks at a time.
Lastly, Ramos was upset that a personal medical condition was disclosed to the public by members of the board. He said that only his mother knew of his diabetes but that after the board disclosed his condition publicly his fiancé left him.
Ramos said that he has suffered from depression after his allegedly wrongful termination and the disclosure of his diabetes.
While reading his prepared statement during the May 29 meeting, Ramos did not specify what exactly he wants in terms of remuneration from the district. He also claims that he did not resign, but has not identified who fired him.
Ramos also stated that after 30 years of employment he was treated like "garbage" and that Tulare Public Cemetery Chair Xavier Avila never got back to him about the results of his investigation in August/September 2018.
"I trusted you but you never got back to me," said Ramos during public comment.
Avila's response
Last September Avila said he interviewed old and new employees and former and current board members after Ramos contacted him about his complaints.
"I chose not to take any further action after conducting my interviews but did not close the book on it," said Avila.
After Ramos finished his statement during public comment Avila responded, saying that he didn't get back to him because Ramos lied about living at the cemetery.
Avila said that his investigation showed that it was clear he "lived there for a very long time." There were Direct TV bills, food in the fridge, furniture, trash, and witnesses dating back to 2009 who said Ramos lived at the cemetery.
"You unjustly enriched yourself at the cemetery's expense," said Avila. He pointed out that Ramos received free electricity, water, rent and more "that would have added up to 60, 70, or 80 thousand dollars."
At the insistence of legal counsel that the matter be discussed in closed session, Avila terminated his comments.
The next day Avila told the Voice he wanted to add that Ramos hired a man named Abraham who was undocumented to do his work and moved him into his place at the North Cemetery.
This scenario went on for a long time before the cemetery's manager had to finally fire Abraham because of his legal status.
The Tulare Cemetery board discussed Ramos' case in closed session after the May 29 meeting but did not report out.
Background
It was widely believed during the tumultuous period of September 2017, when two long-time board members resigned and the top management surreptitiously quit, that Ramos had also resigned.
Ramos claims that he did not resign but that he was wrongfully terminated because several bodies had been buried in the wrong grave.
Ramos claims that mistakes were made, but that there was too much work for one person to do and he was constantly asking the board to hire more groundskeepers. He also said that after he plotted out where a body was to be buried his supervisor, Steve Cunningham, was supposed to double check his work but that never happened.
According to Avila, the cemetery changed its policy to double verify with two employees the opening of a grave and every sale to avoid the same problems in the future.
Ramos claims, "After I left they hired two people and one part time person to do what I used to do for the cemetery."
Concerning his diabetes, former office manager, Marilyn Correia, along with several former board members, disclosed that Ramos suffered from severe diabetes and was hard of hearing. Correia disclosed this information in an effort to explain how Ramos could have buried bodies in the wrong grave.
Former board members reported to the Voice in 2017 that they and Correia were trying to figure out how to terminate Ramos, a long-time employee, without getting sued but hadn't yet taken any action.