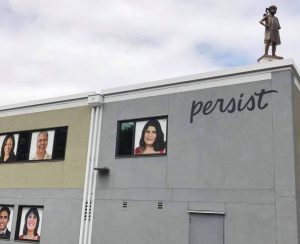 A hearing was held at Kings County Superior Court Thursday, January 31, to consider granting the City of Lemoore a Temporary Restraining Order (TRO) against City Council Member Holly Blair.
The TRO and Preliminary Injunction were requested by Lemoore City Manager Nathan Olson, Police Chief Darrell Smith, and Assistant Police Chief Margarita Ochoa to prevent Blair from making any future critical comments concerning them or the city.
Blair and her lawyer, Marguerite Melo of the Law Offices of Melo and Sarsfield, contend that an attempt to silence Blair is a violation of her First Amendment rights.
Kings County Superior Court Judge Kathy Ciuffini denied the TRO without prejudice, meaning she could revisit the order at a later date if the dispute is not resolved.
At the end of the hearing both sides agreed not to say disparaging remarks about each other, and to not discuss the litigation with the media or on social media, until after mediation, potentially scheduled within two weeks.
City of Lemoore Breaks Court Agreement within Minutes
Nine minutes after the hearing, the lawyer for the City of Lemoore, Lee Burdick, sent a press release to Lemoore Administrative Assistant, Marisa Avalos, to post on the city's website discussing details of the case.  Avalos, unaware of the agreed upon gag order, posted the press release on the city's Facebook  page around 10:40am on Thursday. The hearing ended around 10:25.
In the release it says, "The City of Lemoore held a special (closed session) meeting on Tuesday January 29, 2019. At the meeting, the City Council reported out of closed session that they authorized the initiation of litigation in the form of a complaint and Temporary Restraining Order (TRO) against Holly Andrade Blair. The city has filed legal documents and initiated the case of City of Lemoore v Holly Andrade Blair, Case No. 19C-0043 in the Kings County Superior Court. As an update to the community, this case does not change Council Member Blair's status as a Council Member including her ability to attend Council meetings."
Avalos said the purpose of the Facebook post was not to reveal details about the litigation, but to inform Lemoore residents that Blair was still allowed to attend meetings.
According to the California Secretary of State website, a sitting council member can only be removed if they permanently leave their jurisdiction, are convicted of a felony, or are recalled. The City of Lemoore cannot prevent a city council member from attending meetings because they have initiated legal proceedings against them.
Melo could not comment on the case because of the court agreement not to discuss litigation.  John Sarsfield did confirm that Lemoore's Facebook post was in violation of the agreement and that they were now looking at options on how to proceed.
The Hearing
Lawyers for both sides started the hearing by meeting in Judge Ciuffini's chambers at 8:30am to confer. During this time Blair gave a statement to the Voice.
"I'm an elected city council member.  I was elected to address concerns of the community rather than address the concerns of the city staff. The city council and police chief would rather attempt to stop my first amendment rights of free speech than accept any criticism of their job performance. This doesn't just have to do with my complaints but my constituents' complaints about the Lemoore Police Chief."
Blair was censured August 7 of last year by her fellow city council members for, among other things,  disclosing confidential information and engaging in conduct unbecoming of a council member. She was also the subject of a recall effort last summer that failed to gather the necessary number of signatures.
Blair said that she is the first Latina to be elected to Lemoore's City Council and that it's not a coincidence she is the first person ever to be censured in Lemoore. "They had to create a process first to give me a censure because one didn't exist," she said.
Blair was elected to the Lemoore City Council in 2016.
In Olson's declaration to the court he states, "My greatest concern is that once her statements are made publicly, or continue to be made publicly, the harm cannot be reversed. Her unsupported public criticism undermines the community's confidence in its police force, which serves to undermine public safety in general."
"I understand that as a public law enforcement professional, I am open to criticism all of the time," said Smith in his declaration. "But when the critic is an agent of my employer, I have due process rights under the law as to how those complaints must be handled to avoid undue harm to my reputation, my ability to do my job and my career."
A Moral Commitment
After the lawyers and Judge finished conferring, the lawyers for both sides, Blair, and Ochoa went into conference.
After meeting for approximately 30 minutes they had reached an agreement and each lawyer presented their side to the judge.
Melo stated to Judge Ciuffini that her client had agreed not to make any negative comments by name or identifying features about the city staff or management.  Melo continued that in the event Blair does have a complaint she will direct them to Lemoore Mayor Eddie Neal instead of City Manager Olson. Neal will then decide if her complaints need to be dealt with internally or brought to open session of the city council.
Burdick said that the city agrees that the city council, department managers, city staff and Sheriff Department will not speak unfavorably of Blair. She acknowledged that Blair had promised to bring all complaints to the mayor, who had the option to discuss them in closed session rather than publicly.
The judge then articulated what was agreed upon in conference and said she is not making a court order but that both sides had made a "moral commitment" to the court not discuss the litigation or speak negatively about each other in an effort to resolve the dispute amicably.
A status hearing was scheduled for February 7 and the judge ordered that both sides get mediation done within 30 days.