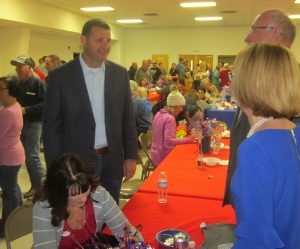 Kern County election update has pushed Democrat TJ Cox ahead by 436 votes over Incumbent David Valadao late this afternoon.
As of 6:14pm the California Secretary of State released new numbers that gave TJ Cox 55,672 votes to 55,236 votes for Valadao.
If Cox prevails it will be the 40th Democrat flip in the House and the seventh Democrat pick up in California.
As of last Friday Cox had pulled within 447 votes of Valadao, and today took the lead after Kern County updated its numbers. According to the Fresno Bee, "A little under 3,000 ballots remain in Kern, where Cox has secured 61 percent of the vote to date."
Kings County has 1,577 uncounted ballots, Fresno County 15,200 and less than 8000 in Tulare County, according to the Fresno Bee. Not all ballots in Fresno, Kern, and Tulare counties count towards the 21st District.
It was believed that the 39th Congressional District in Orange County was the last undecided seat when Democrat Gil Cisneros beat Republican Young Kim.
Today's shocking update revealed that the 21st district is now the last undecided Congressional race in the country.
Valadao gave a victory speech late election night November 6 when he was 5000 votes ahead. That lead progressively narrowed over the last three weeks and by 6:49pm today the Washington Examiner all but called the election for Cox.
The Examiner said, "Three weeks after the midterm elections, ballots were still being counted in California's 21st Congressional District. Republicans monitoring the race predicted that the next batch would erase Valadao's diminishing lead and put businessman T.J. Cox, the Democrat, on top."
TJ Cox issued a statement late this afternoon.
"Here in the Central Valley, we are often underestimated and counted out. But while the national spotlight focused elsewhere, our hard-working communities came together to fight for better health care, good jobs, and more opportunities. We came together to stand up for our families and our neighbors because Washington wasn't standing up for us. We demanded better from our elected officials. Now, together, we are bringing the decency, integrity, and common sense of the people back to Congress."
With a Valadao loss the California delegation will be 46 Democrats and seven Republicans.
The next report of uncounted ballots will be Tuesday afternoon.