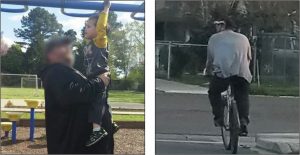 The names in this article have been changed to protect the victims.
The first week of November 2017 Frasier decided to come out to his family. He had been sexually abused as a child from the age of eight to 10 years old, and the #MeToo movement gave him the strength to name his abuser.
According to Frasier, his cousin Holly arranged a sit down with his father.
Frasier recounted that day.
"When he arrived, he sat down and asked what was going on. I was reluctant to disclose any information at that time for fear of embarrassment. Holly then spoke up and explained why I was reluctant to speak and discussed the incident with my father. My father was visibly angry and did not speak for approximately seven minutes after being told the information. My father then asked me what action I would like to pursue. I decided to report this information to the police. My father then drove me to the Farmersville Police Department."
Frasier was interviewed by Officer Alavarez, whereupon he gave the details of his abuse, the location, and identified his abuser. The abuser would fall into the category of a caretaker and not a stranger.
During the course of Frasier's interview five more victims were identified, three of whom would come forward within the week to give the police their testimony. One of those victims was Samantha, who had been abused for seven years by two men in the 1990's. One was Frasier's abuser, who still lives locally, and the other has moved to another state.
Samantha and the other two victims were able to give details of what happed to the two victims who did not want to come forward.
Frasier was still under the statute of limitations to press charges against his abuser. The other five victims had aged out.
All agreed that their abusers were still molesting children.
So why are these two men free six months later?
Getting the run-around
Several weeks after the Farmersville Police Department did its investigation and sent the case to the Tulare County District Attorney's office, Frasier received a letter dated November 16. The letter said that the DA's office had "reviewed a law enforcement report" that indicated he was recently the victim of a crime.
Frasier continued, "the letter also included a Marsy's Law victim's bill of rights card. I was also given an additional case number. The District Attorney assigned me a victim advocate named Joan Sanders who was with the victim witness assistance division."
Over the next few months Frasier waited to hear the news that his abuser had been arrested. When no one contacted him he started asking questions.
In February, Frasier made an attempt to reach out to the district attorney's office in hopes of finding out what, if anything, had been done. He called the DA's office but only received the same information as before, which was his case number and the name of his victim advocate.
Frasier recounted, "Later that evening I was eating out with friends, I received a phone call from my advocate and she explained to me that the district attorney's office had sent the report back to the Farmersville Police Department for further review. I asked why that was and I am still uncertain at this time. I believe I was told it was to gather more evidence."
On March 16 Frasier reached out to the Farmersville Police Department for an update on his case. He was informed that Officer Alvarez was on medical leave and that it was uncertain when he would be back.
"The officer advised me he could not access my case, and the only officer responsible was on medical leave."
Seemingly hitting a wall, Frasier drove back to the TCDA's office to inquire as to why his case had been kicked back to Farmersville in the first place.
Frasier said, "I then drove to the district attorney's office located on the second floor of the Tulare County courthouse. I spoke with a clerk who asked me if I was 'representing myself' and directed me to room 124 on the first floor. Confused, I proceeded to room 124, only to discover it was for traffic and court appearances. Walking the halls, I was approached by a very nice and respectful sheriff's deputy who advised me to seek a copy of the police report at the Farmersville police headquarters."
On returning to the Farmersville Police Department Frasier was informed that he could not receive a copy of the report due to its nature.
On March 26, Frasier made another attempt to determine the status of his case. He called the Farmersville Police Department and spoke to Detective Barklow. Detective Barklow seemed to be unaware of his case, but Barklow wanted to make some inquiries and called Frasier back soon after with some unsettling news.
A system of failures
This wasn't the first time law enforcement dropped the ball concerning Frasier's abuser. The Exeter Police Department allegedly received two reports on the same child molesters in the 1990's.
In 1995 Samantha's mother allegedly reported to the Exeter Police Department that her daughter had been sexually molested between the ages of three and 10 by two men. Samantha had been warned by her abusers that if she told anyone her mother would no longer love her and that she would be put in foster care.
So Samantha didn't say anything until she was 10-and-half years old. Her mother then went to the Exeter Police Department, which allegedly brushed her off, saying there was not enough evidence.
The first time the police were made aware of the child molesters was 1990 or 1991. According to Samantha, a young boy was brutally raped by one of the men and left in a plum orchard off of Orange Avenue in Exeter. "I was told he fought back and that's why he was beaten to a pulp."
He was six years old.
The boy's mother allegedly went to the Exeter Police Department to report the crime, but Samantha was too young when it happened to understand the details or why the case was not investigated.
Once Frasier came forward to report on his abusers, Samantha took the opportunity to finally tell the police her story in her own words.
"It's been buried for a long time and I was told I just have to accept this, but I decided that is not OK," Samantha said.
Who is responsible?
Samantha has not been contacted by the TCDA or the Farmersville Police since December of 2017. Frasier has not been contacted since speaking with Detective Barklow in late March.
So who is responsible?
According to the Farmersville city website, the Police Department Investigations Bureau is responsible for the investigation of crimes which include sex crimes, juvenile/crimes against children. "Often these investigations take many hours of field and office work before an arrest can be made and cases can be forwarded to the Tulare County District Attorney's Office for review and prosecution."
According to the correspondence received by Samantha and Frasier in 2017, Farmersville had in fact sent the TCDA its case.
During the March 15 TCDA forum, Assistant District Attorney Dave Alavezos stated, "One of the first things he (Tim Ward) did when he became appointed (2013) he set up a program that was basically a Violence Against Children Unit. We took a group of prosecutors, added to them, and made them a focused unit to prosecute people who do sexual assaults and physical assaults on children."
Challenger Matt Darby's response at the forum was, "I honestly felt that when Tim came up with Crimes Against Children Team it was nothing but a political ploy. He didn't have anything to run on (in 2014) so he came up with that position."
What happens next?
Detective Barklow kept her word on March 26 when Frasier called the police department wanting to find answers. She called him back within the hour and asked who at the DA's office told Frasier that the case had been pushed back to Farmersville.
Frasier said, "Detective Barklow told me that the DA did not push the report back to Farmersville and that she had to call (the DA's office) and request the report."
Allegedly, the case had been languishing at the TCDA's office for six months.
"Though Barklow didn't say it in so many words, it is obvious the DA's office lied to me," said Frasier. "The DA's special unit didn't help me, and I fear that they never will."
Detective Barklow has taken over the case.
Update 4/18/18: Within hours of the article being posted on the Valley Voice website, the investigation has resumed. Frasier was called this morning by the Farmersville Police Department (FPD) to identify his molester in a photo line up.
The Exeter Police Department has started their own investigation, and a victim who did not wish to participate in this piece was contacted by a private investigator to pursue the second perpetrator that lives out of state.
While Frasier was at the FPD today, he discovered that the case did not languish at the Tulare County District Attorney's office, but had been returned to the department on November 17. While Detective Barklow did have to call the District Attorney's office to have them send her the case, it may be true that the case had been sitting at the FPD for the last six months — and not the DA's office.