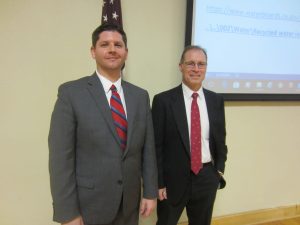 The atmosphere was testy during a candidates' forum put on by the Central Valley Tea Party March 15 for the Tulare County District Attorney (TCDA) race.
Tulare County District Attorney Tim Ward is being challenged by Kings County Deputy District Attorney Matt Darby. The contest will be decided during the June primary.
When Darby was taking questions he was yelled down by Ward employees about his lack of caseload while at the TCDA and his current priorities.  One angry Ward employee marched out the door while declaring Darby a liar.
Assistant TCDA Dave Alavezos stood in for Ward, who had a previous engagement.  While Alavezos answered questions, Xavier Avila, a Tulare Regional Healthcare District Board member, asked him where his boss was.
"I don't know that he is campaigning, but I believe that he is at Connie Conway's event, but I can't be sure," said Alavezos.
"Perfect," said Avila, "where all the establishment and money is at, and where all the donors are at. I don't know maybe there's not, or maybe there is more money there."
Darby did "shoddy work," Alavezos says

Alavezos started his presentation relating a detailed story about his upbringing and young adult life. Like a lawyer giving his closing argument in front of a jury, he explained why Tulare County voters should elect the person with the most experience.  Alavezos related that when he was 19 his father fell off of a roof, breaking every rib on one side of his body — leaving him in charge of the family business. The business suffered because he did not have the experience of his dad.
He said that is what is going to happen to Tulare County if they vote for Darby.
Avila questioned Alavezos on the value of experience when it came to politics.
"What we are seeing in this town (Tulare) is, you can have experience, you can have a doctor manage a hospital, but if you aren't pure of heart or don't have a thirst for justice, your experience doesn't mean anything."
Alavezos said that because of Ward's supervisorial experience he has created a district attorney's office that has less waste but is more efficient.
One of the first things Ward did when taking office, he said, was form the Violence Against Children Unit, a Human Trafficking Force, and created a Victim Advocate Division. He said Ward's office has also been responsible for prosecuting 81 gang members and getting 213 pounds of meth, 19 pounds of cocaine, and 12 pounds of heroin off the streets.
Darby has claimed while campaigning that he left the TCDA's office because he didn't believe in Ward's leadership abilities, but Alavezos isn't buying it. He said Darby left because he was demoted to a less prestigious division, claiming that Darby dismissed a case against a defendant — who was already on trial in a separate case — without consulting the Assistant District Attorney or talking to the victim, violating office policy.
Alavezos said that when Darby left the TCDA he had to take Darby's caseload and found that he had done "shoddy work."
Dennis Smith, the forum's moderator, asked Alavezos about the relationship between the Grand Jury and the DA's office. Alavezos said that the DA's office can issue subpoenas, but can only take on cases where the Grand Jury has found criminal activity.
In reference to Dr. Benny Benzeevi's mismanagement of the Tulare Hospital, Alavezos said that the Grand Jury looked into the hospital but that it did not report anything criminal.
Avila told Alavezos that he does a good job litigating the comments concerning his boss but said, "you are missing the point" about the hospital.
"This was so big and no one was paying attention, and there were people with voices but they weren't heard." Avila explained that just because there was no written record of mismanagement of the hospital, that that does not exonerate Ward from not taking action.
"There were people who said we tried but nobody listened to us. And it's just like he is not here tonight and Matt Darby is. Because the money is over there, and the money was put in his (Ward's) pocket not to listen to those voices," said Avila.
Avila felt that if Ward had listened to the people who knew that Benzeevi was mismanaging the hospital that maybe the hospital would still be open.
Darby Wants to be Seen as a Servant-Leader
Darby let the audience know that, unlike his opponent, he is a local and feels passionately about Tulare County because "it's the very fabric of who I am as a person."
Darby's grandparents moved to Tulare County as farm laborers and his father grew up in the Woodville labor camp. He said he is proud of his heritage and the fact that he was able to go to law school because his grandfather, with just a 6th grade education, didn't have the same opportunity.
It was because he wanted to help people and make a difference in their lives that Darby became a prosecutor. He has practiced law for 12 years, 9 in at the TCDA and 3 with the Kings County District Attorney. He said he wants to bring back a sense of safety and pride that existed in the community when he was a child growing up in Porterville.
Darby is a believer in the broken windows theory, saying, "I do believe if we tolerate smaller crimes, that begets larger and larger crimes." He pointed out that the growing problems of graffiti and shopping carts are causing a blight on the county which adds to the level of crime.
As far as his opponent, Darby believes that Ward could have done more to prevent the Tulare hospital from closing. He said that the Tulare County Grand Jury finished its report two years ago, documenting Dr. Benzeevi's mismanagement of public funds "and yet my opponent did not step in."
"And I truly believe that was a bad decision, a decision that warrants change at the DA's office," said Darby.
"It's easy to go after the gang bangers. It is easy to go after the drug dealers. But it's hard to go after the business man in a suit and tie…. It's hard to go after people with money, privilege and power."
Darby reminded the audience that Ward accepted $21,000 from Dr. Benzeevi and believes that is why his opponent did not start an investigation against him.
Darby said that once he is DA he would pursue cases based on their merits and not by who is involved. "There should not be a for sale sign on the office," he said. Darby then called on his opponent to take the $21,000 and donate it back to the hospital.
"That would be the right thing to do," he said.
According to Darby, the last time a Tulare County DA was democratically elected was in 1978. He said that since that time DAs have resigned midterm, hand-picked their successors, and then had them rubberstamped by the Tulare County Board of Supervisors.
Darby said that he is tired of the good 'ol boy's system and promises to serve out his term so the next DA can be elected without the advantage of a perceived incumbency.
His three priorities–if elected–would be gangs, narcotics and homelessness. In terms of gangs, Darby intends to double the size of prosecutors working on those cases.
For narcotics, he wants to split the effort into a North County Division and a South County Division to improve the conviction rate. He said that criminals who would normally go to state prisons are now being sent to local jails if they have no prior convictions.
Darby was challenged by the audience on how he would double the gang unit and still go after the low-level crimes that plague some neighborhoods while keeping within his budget.
He said that he would reevaluate all current positions to see which ones were producing. "I honestly felt that when Tim came up with Crimes Against Children Team it was nothing but a political ploy. He didn't have anything to run on (in 2014) so he came up with that position."
"I told Tim Ward that it was a misuse of resources because the units working on those crimes were doing a good job."
That prompted a group of Ward employees to challenge Darby's experience and judgment, asking him how many times he had been to trial, how long he held certain positions, and how many cases each unit is now carrying.
Each time he tried to answer he was interrupted and told that they already knew the answers.
The woman who replaced Darby on the TCDA's narcotics unit said that Darby was missing the point. She was opposed to Darby's suggestion of reducing the special units. She said that they were making strides against crimes against children, putting 37% more abusers behind bars.
At one point, while Darby was describing the DA's office atmosphere during the 2014 campaign, a Ward supporter stood up and said "that's a lie, it's all a lie" and stormed out of the room.
Another Ward supporter yelled out that Ward was democratically elected in 2014. "There was an election and people spoke," she said.
Darby responded, "Tim Ward would not have won the election if he had not been appointed."
At this point Dennis Smith, the moderator, chimed in, "Let's break it up."
Avila commented about the contentious exchange how interesting it was that, out of the average Tulare citizenry, there was an entire table of Ward supporters while Ward himself was absent.
"Maybe we should just go over to where Tim is now and let the normal citizens participate," said Avila.
Audience members complained how Ward supporters were making a "joke out of the whole thing." .
When peace resumed Darby was asked what made him qualified to be TCDA.
Darby said he had several opportunities to apply for supervisorial positions while working with Ward but said, "Quite frankly, I did not want to be a supervisor in his administration."
But while working for Kings County District Attorney, Darby has been put in charge of the office for weeks at a time.
Darby sees himself as a servant-leader in regards to his job and to his church. Besides his many years being prosecutor, he has put many hours into volunteering as a trial buddy in his office or as a board member of his church.
Darby sees himself as a natural leader "and I think that's how people will see me."