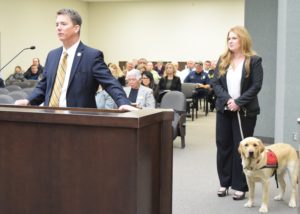 During the December 20 Tulare County Board of Supervisor's meeting, District Attorney Tim Ward introduced the newest member of his team, a Golden Retriever. Made possible by the Phil Cline Victim's Fund, the DA's office acquired Fortune, a therapy dog, to give comfort to children who find themselves in the victims or witness division. Ward said that the dog is also there for vulnerable adults who may have a court date with their kids or whose children are in the hospital after a crime.
According to Ward, there have been 800 child victims of crime in Tulare County in 2016.
Fortune is named after Army Sergeant Maurice K. Fortune, who fell in Iraq in 2004. Jennifer Lightfoot is the dog's handler and she is also a victims' advocate. She is available to bring the dog to the court house, hospital or where child interviews take place.
Fortune's primary function is to bring comfort to young victims of crime.  Ward said that just the presence of the dog serves as a general ice breaker and can relieve stress and aid in the free flowing of information during a child interview.
Fortune had been with the DA's office for a little more than a week; Ward felt the best place for his first public appearance would be the Board of Supervisors, who have been very supportive of the DA's office.