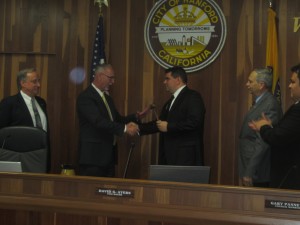 Tensions ran high at the December 1 Hanford City Council meeting as it was standing-room-only  in anticipation of a new mayor and vice-mayor being voted into office. According to the city charter a reorganization of the council needs to take place every year at the first meeting in December. After some spirited public comments, and the council members' vote, the final winners were Justin Mendes for mayor and Francisco Ramirez for vice-mayor. After outgoing mayor Russ Curry did the ceremonial handing over of the gavel, the council had a short recess to so family and friends could congratulate the new officers.
Before the vote took place Glenda Dyer said during public comment that "it has been a wild ride this year." She said that she hoped that the gang of three would break up and "come to their senses." The gang of three she was referring to was Council members Gary Pannett, Justin Mendes and Francisco Ramirez. Dyer felt with certainty that Mendes would be voted in as the next mayor and said that she would be at the meetings to watch how he votes. She said that Mendes claims to be a conservative but that his vote on the council was to raise taxes. "You can't have it both ways. That's not conservative."
Bob Ramos approached the podium for public comment and claimed that a former council member, Dave Thomas, called him to say he had inside information on who was going to be voted in for mayor and vice-mayor. Ramos said that, according to Thomas,  with the full approval of the council it will be 3-2 Mendes for mayor and Ramirez for vice-mayor.
"It's a done deal," Ramos said that Pannett said.
He said that all of Thomas' information was leaked to him by Pannett.
On hearing Ramos' charges of leaking information, Pannett burst into laughter. Ramos became agitated and said Pannett leaked information this time just like he did during another city council issue concerning eminent domain. Ramos said that the leak came directly from Pannett through Thomas to him. Ramos continued his comments through Pannett's laughter from the dais, saying that Ramirez should not be vice-mayor because of the pending investigation into his campaign finances.
Pannett responded by asking, "Did that come through me too?"
Ramos said he didn't think it was very funny.
After public comment had finished, the city attorney took over the process of reorganizing the council. Status quo would have dictated that vice mayor, David Ayers, be promoted to mayor, but Ramirez had different plans. He nominated Mendes as mayor, and before that could be seconded, Curry nominated Ayers as mayor. The city clerk put forth Ramirez' motion first for a vote and Mendes won 3-2, with Curry and Ayers voting no. Then Ayers nominated Pannett for vice-mayor.  But Pannett suggested that the council let someone new take the helm and he motioned that Ramirez be chosen as vice-mayor. The vote again was 3-2, with Curry and Ayers voting no.
During a phone conversation after the meeting, Thomas exclaimed, "That son of a bitch did it! He actually went in there and told all those lies."
Thomas explained that he and his wife were sitting at Burger King eating breakfast the day before when Ramos approached the two of them. Ramos explained that he was going to use Thomas' name to say that Pannett leaked the information that the council had already decided who was going to be mayor and vice mayor. Ramos said that he was going to tell the city council that Pannett proclaimed it was a "done deal." Ramos explained that he had tried everything and that he was going to do whatever he could to stop Ramirez and Mendes, because nothing else was working. He was hoping that his comments would spur a grand jury investigation into Ramirez.
Thomas responded to Ramos' idea by asking, "You are going to lie to do that? Why don't you tell them that we went to the moon and smoked marijuana too?"
Thomas wanted to make it crystal clear that Pannett has never called him. Thomas had, in the past, called Pannett to express his support for Mendes and Ramirez. He told Pannett that Mendes and Ramirez were "doing a damn good job moving the city forward. All Curry is doing is starting fights and moving the city backwards."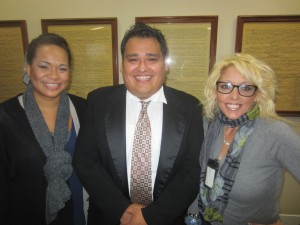 Thomas works seven days a week so normally listens to the meetings the next day using the audio. That is how he came to believe that Ramirez and Mendes were doing what was best for the city. Thomas said that if he had been on the city council he would have voted Mendes in as mayor and Ramirez as vice-mayor. He has also written letters to the Hanford Sentinel to voice his support for the two of them.
His theory was that the hard feelings toward Mendes and Ramirez started after the 2014 election. Curry and former council member Danny Chin campaigned for Mendes and Ramirez with the expectation that the newbies would be their puppets. Thomas believes that Curry "was pissed" when Mendes and Ramirez started voting independently of him.
Thomas was a Hanford City Council member from 2006 – 2010. He lost to Mendes in 2014. Thomas ended the conversation still in a state of shock about Ramos' comments.
"I cannot believe it. What an idiot."