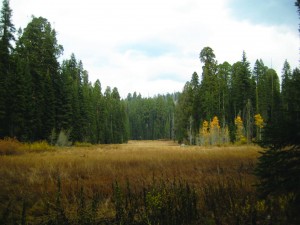 At the October 6 Tulare County Board of Supervisors meeting, the board voted to declare a local emergency due to widespread and increasing tree mortality in Tulare County. The vote was taken at the request of officials in Fresno, Mariposa, Madera and Tuolumne, who asked Tulare County to join them in their declaration.
The combined declaration of the five counties might force the federal government to remove dead and dying trees from the Sierra Nevada Mountains. A recent survey by the US Forest Service showed that most of the dead trees in the Sierra were dying due to severe drought conditions and beetle infestations, aggravated by the lack of water, weakening the trees.
Tree mortality contributes to uncontrollable forest fires that cause property damage, pollute the air and create casualties. Supervisor Allen Ishida pointed out that during the Rough Fire the air was so bad that it looked like a foggy day in Fresno.
According to a Tulare County document, Cal Fire Reports more than 300,000 acres burned statewide just this year–an 89% increase from last year. Evacuations were issued during the height of the Rough Fire, which burned through two counties' national forest land. The San Joaquin Air Pollution Control District issued an air alert on September 9, which is called when conditions may lead to ozone formation that can result in exceeding health-based ozone standard. Schools and recreational programs were canceled or severely limited for a number of days.
Debbie Vaughn, senior administrative analyst, explained to the board that Tulare County may not be qualified to declare the emergency because most of the dying trees are on federal lands. Andrew Lockman, Tulare County emergency services manager, explained that, to qualify for FEMA dollars, the county would have to show millions of dollars in damages.
Even though Tulare County may not technically be qualified to call a state of emergency, Supervisor Steve Worthley was insistent that the county bring the dire situation to the federal government's attention. He said that if there is a hurricane or a flood, it would be considered an emergency, but that tree mortality is an emergency also. He further stated that the federal government needs to start treating it like the emergency it is. Worthley added that the federal government will not help if counties apply for relief one at a time and that Tulare County must get together with the other counties.
Although Supervisor Phil Cox said this is a federal issue that has been ignored for decades, he decided to support his fellow supervisors and voted with them to declare a state of emergency.