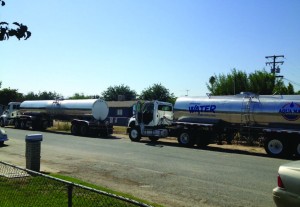 The consequences of the drought is not just felt by those residents whose wells have gone dry, but also by those small communities that have become a reliable source of water for them. Jack Flores, a resident of an unincorporated community called Village Gardens west of Porterville, approached the Porterville City Council and the Tulare County Board of Supervisors (TCBOS) on several occasions to explain his community's untenable situation.
The county made an agreement with the City of Porterville that water trucks could pump from Village Gardens' well and deliver the water to the unincorporated community of East Porterville. Village Gardens is part of the county but their well is owned by the City of Porterville. Tulare County is running a "tank program" where they fill up in communities that have water, like Village Gardens, and haul it to communities whose wells have gone dry and fill temporary water tanks. Two hundred-fifty households have received temporary water tanks, with 50 new households added each week. There are an additional 1,200 homes that are out of water and waiting for tanks.
Andrew Lockman, Emergency Services Manager, said that the county needs every source of water available, and will be needing more sources soon. The county is spending an average of $40,000 a week, which adds up to more than $2 million a year just on the trucks to move all that water, and that figure is increasing weekly.
Water Trucks Arrive in Village Gardens
On May 8, water tankers started rolling into Village Gardens. At first the neighborhood was upset, but after six weeks they were "fed up." The trucks, sometimes two at a time, were arriving seven-days-a-week from, 6am to 9pm. Flores came to the TCBOS on June 23 to apprise the board of their plight.
Village Gardens is a poor community with no sidewalks and where adults walk for exercise and the kids play in the street. The community is two streets wide and has 510 residents. Ten private wells have already gone dry directly to the west of their community. Flores says that the situation in East Porterville is heartbreaking but it will not do any good if Village Gardens ends up in the same situation.
When nothing changed, Flores came to speak at the Tulare County Supervisors meeting again on July 28. Besides the wear and tear on their already pot-holed roads, he described how the tanker trucks create a safety hazard.
"Kids will be kids and we have just been lucky that no accidents have happened yet." Flores explained.
When school starts, he said, 60 kids will be at three bus stops throughout the community and in the path of the tankers. He asked the supervisor if the county could give the community a break.
"Would anyone on the board want all these trucks in and out of their neighborhood," Flores asked. He asked the county to find another source of water because tensions are high and the community's nerves are shot.
Tulare County Finding New Sources of Water
After Flores pleaded with the BOS, Lockman told the haulers to only use the system Monday through Friday, 7am to 5pm. But, he added, the reduced schedule has already impacted the operation and that Village Garden is already getting a 60 percent break from what the county is allowed to take.
"If we were to stop sending trucks in for a couple days a week, we'd have back to back trucks lined up there the other days, have to extend the hours into the early morning and late evening, and spend thousands more dollars a week of taxpayer money on their overtime. The end result would be that everyone, including them, would be more upset, so we're going to keep doing exactly what we're doing," said Lockman.
To alleviate the strain on Village Gardens and provide water to East Porterville, TCBOS just awarded a contract for the drilling of a new municipal well located near Olive Ave. and the Tule River. This well will be used to fill the temporary tanks and eventually will connect to the East Porterville homes. The well could be in operation and filling tanks by next year, but actually connecting to homes could be years away. The new well is part of a $2.6 million dollar project that is mostly paid for by state grants. Work will likely begin at the end of August.
Village Gardens Wells Go Down
Just two days after Flores spoke at the supervisors' meeting the Village Garden well went down on July 30. Three tankers had come and gone that morning and two more tankers were lined up when the well went down for three hours. Then, the well went down again eight days later on August 7 for two hours.
The reason for the well going down is where the story gets muddy. Lockman was told by the field services supervisor maintaining the system that it was vandalism and that the county's operations were in no way the cause. Flores, on the other hand, was told by Mike Knight, Porterville superintendent of services, that in both cases it was a blown fuse. Flores doubts the vandalism theory because the well is surrounded by an eight foot fence with a locked gate and the neighbors watch it. He also doubts that a resident would sabotage their own source of water. He believes the well went down because of overuse of the system.
Flores has been asking the board why Village Gardens is the only neighborhood that is providing water to the county tank program.
"What more has to happen before there is a change," Lockman asked in an email that the county has gotten agreements with four different water sources including Village Gardens. The county also has agreements to retrieve water at sources outside of the county, and they continue to pursue additional sources. In some instances they are hauling water from over two hours away
"We've been unable to get any water from over a dozen other sources we've pursued, because they have issues of their own," Lockman said.
"Bottom line, Village Gardens residents aren't happy, and they're afraid, but their system is solid and has not been impacted to legitimize their concerns. Anyone objectively evaluating the situation comes to the same conclusion," Lockman said.
Lockman's frustration is evident. Tulare County is ground zero for the state's drought and Lockman's job is to mitigate its effect. He manages the operation of finding sources of water and filling residential tanks, not only in East Porterville, but Monson-Sultana, Cutler-Orosi, Oakieville and anywhere else residential wells have gone dry. But the county's very best efforts may turn into a giant game of whack-a-mole, and the City of Porterville knows it.
"We asked the City of Porterville for water, they sent us there (Village Gardens), miles away from where we needed water, instead of letting us use a hydrant on the east side of town, because they are concerned about their system," Lockman said.
Flores said he believes if Porterville is concerned about their system, then it would stand to reason that Village Gardens should be concerned too. Village Gardens has a municipal supply well that is constructed to significantly higher standard than private domestic or agricultural wells. But so are Porterville's, and they actually built and operate Village Gardens' system. If there is nothing to be concerned about, then why can't the County Tank Program take water from the fire hydrant closest to the community of East Porterville?
Flores also pointed out that Village Gardens is a closed system. Once their well goes, 510 residents will be without water, with no recourse and no fire protection. If one of Porterville's wells goes dry, they have 34 or 35 other wells in their system.
Nevertheless, Lockman insists that "the Village Gardens system does not have the same concerns as the city's system and is much better off." But then he goes on to say later, "There's been talk of once we max out our local capacity, of having to bring water in by train from other parts of the state."