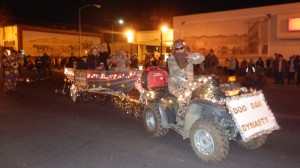 The Exeter Lions Club put on another successful citywide New Year's Eve party with the help of Ben Weldon Insurance. The Doo Dah Parade started at 6pm and, as always, lived up to its name in creativity and entertainment. Parade entrants braved a remarkably chilly evening and, with more entries and attendees than last year, competition was fierce for the cash prizes.
Doo Dah Dynasty won first place for embodying the essence of what it means to be in a Doo Dah Parade, winning the grand prize of $500–which they donated to the Exeter High School swim team and USA Wounded Warrior. Exeter Hobbies, who also placed last year, went home with second place and $300. Exeter Hobbies shot their remote control cars and trucks into the air doing acrobatic flips off a portable ramp.  Third place and $200 went to Peter Hickey's traveling flea circus, while fourth place went to the "Environmental Sleigh" which Chihuahuas, instead of reindeer, lead. They took home $100 in prize money.
After the parade everyone scurried to their favorite restaurant as those who dawdled had to wait for a table. There was also a beer garden and live music put on by the Branded Heart Band. In the spirit of "It's Cocktail Time Somewhere," the Lions Club decided to celebrate the New Year with fireworks a la New York–"midnight"–at 9pm. The fireworks show took place on Palm and F Streets, in front of the fire station. All events were put on free by the Exeter Lions Club under the sponsorship of Ben Weldon State Farm Insurance.
"We do it for the community," said Bob Serry 20-year member of the Lions Club, "and we appreciate everyone who participates and enjoys the show. Everyone is welcome in Exeter."