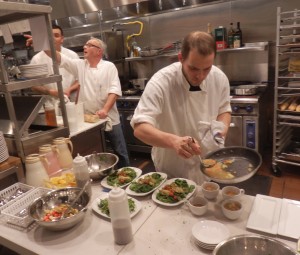 Parlez-vous Exeter? If you don't, you better start, if you like Haute Cuisine. With the Grand opening of Café Lafayette, the choices for "fine dining" just doubled in Exeter.
Café Lafayette, at 151 South E Street, had its grand opening on January 3. Not a table was available and the bar was overflowing with patrons. Besides fine dining, Café Lafayette's bar provides an alternative scene to Exeter's only other bar, the Stag. No reservations were available a few days before and the restaurant has been full every night following its opening. Owner, Fred Imbert, says it has been crazy.
The reasoning behind the crowds is "because people know me and they were waiting for me to open," said Imbert, who added he enjoys a reputation as an excellent French chef.
Imbert's cooking career started at his grandmother's restaurant in the spa town of Evian on the French side of Lake Geneva. He then apprenticed in Paris and London before somehow ending up in Visalia. Imbert was sous-chef at the Radisson and the head chef at Kaweah Delta Hospital; in between cooking gigs in Visalia, he owned a bakery in Hanford.
The bakery was very successful, but "the life of a baker is hard," he said.
Somewhere in his cooking career, Imbert was discovered by Jennifer Davis, owner of Monet's Wine Bistro. There he was head chef for seven years.
Having always wanted his own restaurant, Imbert took a leap, he said, and bought the building which was formerly home to Mama's Restaurant. Large wood-framed windows look over the patio in a beautiful brick building that appears to be one of the older structures in Exeter. There is a spacious main room, a bar and two banquet rooms toward the back, which are used for general dining when not reserved.
Imbert will tell you his specialty is the entire menu. His cooking is French-inspired, with an American twist. He met his Chef de Cuisine Nathan Ochoa, at Monet's and trained him. Ochoa joined Imbert in opening Café Lafayette.
On that cold January night, not only was Café Lafayette bursting at the seams, but Monet's was as well just across the street. Davis opened Monet's Wine Bistro seven years ago as the first "fine dining" establishment in Exeter. Monet's is open Tuesday through Saturday from 11am to 10pm. Catering is available and the restaurant offers weekend specials, such as herb and mustard crusted lamb chops with Tiramisu for dessert.
Also lining the two blocks of E Street in downtown Exeter are five other eating establishments. The owners of The Lunch Box in Visalia will be opening another Lunch Box in the former Hole in the Wall Pizza. Across the street is Cappella Coffee House. Cappella has become a popular community meeting place, with coffee drinks, sandwiches, desserts and free Wi-Fi on offer.
The Wildflower, is located next to the famous mural of an orange grove The Wildflower, open Monday through Saturday from 6:30am to 4pm, and from 8am to 3pm on Sundays. Every Friday night starting in April, dinner will be served there. Across E Street from the Wildflower is TCBY Yogurt, open from 11am to 10pm. Just Sprouted Juice Bar & Healthy Cafe, at 114 North E Street, is open Monday through Saturday, 9am to 5pm.
Cafe Lafayette is open every night for dinner, Tuesday through Saturday, 5:30 to 9pm, and for lunch between 11:30am and 2:30pm. The restaurant has live music every Friday and Saturday night and will be opening up for Sunday brunch in the spring.
Sleepy little rural town? Not bustling Exeter. Not on E Street. There are plenty of places to dine.