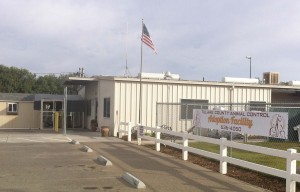 On November 10, two former Tulare County Animal Control employees, retired USMC Major Paul Grenseman and Julia Jimenez, filed suit in Tulare County Superior Court against five Tulare County employees, including Tim Lutz, Health and Human Resource Services fiscal operations manager. The plaintiffs are suing the county for discrimination, racial/ethnic and sexual harassment, failure to prevent discrimination and failure to prevent harassment as well retaliation for objecting to, speaking out against, and complaining of illegal discrimination and harassment.
Tulare County has 30 days from the time of being served to respond to the suit. The county was served the week of November 17.
On December 4, 2013, both Grenseman and Jimenez were "walked off the job" and told that they were under investigation and being put on administrative leave. Jimenez was subsequently fired on July 2, and Grenseman retired June 5 — two hours before he would have been fired. During their time on administrative leave, the county paid Grenseman and Jimenez approximately $60,000 combined to sit at home.
Jimenez' and Grenseman's case against the county starts a few months after Jimenez was hired to revamp Tulare County Animal Control's image. In 2013, Animal Control took in 9,000 animals but only adopted out 700, which is well below a 10% survival rate. Within California, Tulare County Animal Control is considered a "kill shelter." This is not news to the county, and it has tried different strategies to increase the adoption rate. Grenseman's first boss felt strongly that the county ought to do something for these animals other than simply put them down. One of those strategies included hiring Michelle Shanley to help the county decrease the kill rate.
Shanley was in an uphill battle because county protocols had to be followed. The shelter can only keep an animal for six days before it is euthanized, a fate that befell many a Mooney Grove cat. But if the animal had a sniffle or cough, they could be euthanized immediately to halt the spread of disease throughout the facility. Once the dog or cat was tagged to be put down, the animal was injected with pentobarbital, their remains incinerated and then put in the garbage.
Shanley and her partner, who also worked for Animal Control, didn't feel as though they had the support they needed to change the culture of killing, so they took another job in Fresno that did support their ideas. In March of 2013, Julia Jimenez was hired to replace Shanley, in what Jimenez considered her dream job. A panel of Tulare County supervisors–a panel including Grenseman–interviewed Jimenez and decided she was the right person for the job. The panel decided to set a first year goal of raising the adoption rate from 700 to 1,000 animals. Grenseman, Jimenez' direct boss, said, "Julia was the best employee I've ever had in terms of dedication to her job and her passion to save the animals. She went above and beyond the call of duty and had the skills and abilities to lower the kill rates in Tulare County. She was well on her way of reaching the county's goals."
But Jimenez' attempts to change the culture from euthanizing to adoption caused friction inside Animal Control. More adoptions meant more work. When the animal population increases, the enclosures need to be cleaned morning and night and not just once a day. More vaccinations and feedings need to be done, and the animals have to be handled more often because of the increase in off-site adoption clinics. There is also paperwork involved in an adoption that is not required when an animal is euthanized.
In retaliation to Jimenez' efforts, coworkers allegedly created a hostile work environment, which towards the end, made Jimenez physically ill. Jimenez was suddenly being accused of shooting heroin, exposing her breasts and stealing from Petco during adoption events. Her coworkers allegedly made continual comments about her breasts, attempting to touch them. They allegedly created a fake Facebook page to send false messages to her acquaintances, and showed up at her house to bang on her door making threats of bodily injury. Two of her coworkers allegedly sent defamatory letters out to the community claiming that Jimenez was of unchaste character.
The initial complaint and many of the allegations leveled against Jimenez and Grenseman originate from a coworker who had motive to retaliate against Jimenez. The husband of this coworker was prosecuted and sentenced to a state prison for his role in committing arson. During the course of the arson, Jimenez's husband, who is a Tulare County fire fighter, responded to the fire and was injured. The coworker's husband was consequently arrested, prosecuted, convicted and sentenced, and sent to jail. The coworker became aware of the fact that Jimenez was married to the firefighter who was injured and blames him for her husband's arrest. The coworker herself was allegedly involved in the arson, by driving her husband to and from the scene of the fire. Jimenez alleges in the suit that the coworker coordinated a plan to harass her to the point of driving her from her employment.
After Grenseman was made aware of the workplace violations as written in the Fair Employment and Housing Act (FEHA), he had a series of three meetings with Lutz, his superior. What disturbed Grenseman the most was the unnatural amount of venom directed at Jimenez by Lutz. There were things that Jimenez was doing that Lutz did not approve of, but they were so minor that they didn't merit the anger or yelling. During one of the meetings, Grenseman reported that Lutz referred to Jimenez as "that Mexican woman" and declared that she will "never be promoted." Lutz is being named in the suit for the racial/ethnic harassment.
'A Toxic Work Environment'
According to attorney Marguerite Melo, "Whenever a county lawsuit comes up, everybody is having sex with everyone else." A similar strain of behavior emerged when researching the Mooney Grove cat article in December of 2013. What started as a quaint story about a little old man feeding cats in the park took an unsavory turn of restraining orders, affairs, hunting parties and unjustified firings. I asked John Sarsfield, one of the lawyers on the case, why county employees are seemingly so out of control. He said that it starts at the top and that the county is not enforcing its own personnel policies.
According to the suit filed with Tulare County Superior Court, "Additionally, it became public knowledge among the workers at the animal shelter that Defendant xxxxxx had performed oral copulation on a fellow co-worker in the rear of a county-owned Animal Control vehicle following a "round up" of animals. These sexual activities taking place in county vehicles and at the animal shelter by some workers were often discussed during work hours at the animal shelter. Plaintiff Jimenez did not join or participate in these discussions and was uncomfortable in hearing these matters being discussed in such a common-place manner, adding to the hostile work environment."
Ironically, the same co-worker who sent defamatory letters accusing Jimenez of unchaste character was herself giving blowjobs in the back of the animal control vehicle.
Grenseman an Honored Member of U.S. Military
Grenseman is an honored member of our United States military. He was on the ground floor of developing a system of warfare simulation that was used during Desert Storm. According to Grenseman, the invasion of Kuwait actually went better than the computer models projected, and the military credits this modeling system for Desert Storm's huge success. Grenseman received a Navy commendation medal for his work. He was also awarded a meritorious service medal for his body of work in the military and received a letter of appreciation from President Bill Clinton. He gave our country 25 years of service then gave Tulare County 13 more years of service where he was regularly commended for his good work. On September 16, Cheryl Duerksen, the Director of HHSA, wrote a letter of recommendation for Grenseman saying, "In all matter related to his work, Mr. Grenseman brings a keen intellect, sound judgment, well-articulated ethical principles, and unwavering commitment to public service, Peers, staff and the community welcome his participation across events and consistently seek out his input, assistance and expertise."
On December 4, 2013, two HHSA officers showed up at Tulare County Animal Control. They marched Grenseman into his office, told him to gather a few of his personal things, then in front of all his subordinates, on either side of him, marched him out to his car. According to the suit, "being 'walked off' is a procedure designed to humiliate an employee by publicly relieving them of their duties, and escorting them out of the worksite, for all to see the spectacle. On information and belief, the order to 'walk off' Plaintiff Grenseman was given by Defendant Lutz. There was no legitimate reason to exercise this procedure on Plaintiff Grenseman. Following the 'walk off', Plaintiff Grenseman was placed on administrative time off (ATO)."
Grenseman was told that he was being escorted off of the premise "to ensure the integrity of the investigation." He would not find out why he was under investigation until several months later, and after many distressing encounters with county staff. When he did find out, according to Grenseman, he saw that the county didn't have a shred of evidence against him and the bulk of allegations originate from a disgruntled employee whose husband is sitting in prison for arson.
Following the humiliation of the walk off, being under investigation and put on administrative leave, Grenseman suffered a heart attack a week later.
It is still unknown why the county felt that Grenseman posed such a threat that he needed to be escorted off of county property, especially in light of the fact that, just two months prior, he was considered a model employee. Jimenez, who was also "walked off," had several letters of commendation about her work ethic and passion for animal–but her personal files were confiscated by the county when she was put on administrative leave. They have not been returned.
Grenseman and Jimenez are suing the county for loss of income, defamation and failure to enforce the Federal Employment and Housing Authority's rules on sexual/racial/ethnic harassment. They are also suing for compensatory damages, attorney's fees and punitive damages. The court date is set for May 10, 2015 and assigned to Bret Hillman's courtroom.
The Valley Voice did not solicit comment from the county for this article. A follow-up article will appear after the county has responded to the allegations. The Valley Voice will not name the four other defendants in this suit until the county responds.