College of the Sequoias is implementing a TNR Program that would solve the cat problem at Mooney Grove by the end of 2014.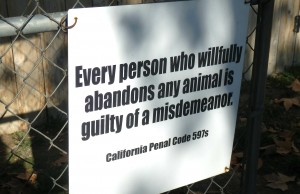 After listening to everyone involved, the solution to managing the cat population in Mooney Grove was there all the time – the Trap, Neuter and Release Program that was suggested in the first place. The Valley Oak SPCA, the national SPCA, and all other organizations concerned with the health and welfare of animals have already done the research. When dealing with a colony of abandoned and feral cats all organizations recommend using the TNR program.
So when Steve Surowiec, a language professor at COS, called asking for help with a group of feral cats outside his classroom, Kelly Austin, administrative Services Manager at the Valley Oak SPCA, first suggested TNR. The colony has now been stabilized for two years.
Ralph Mallouf, COS grounds and facilities manager, asked for Surowiec's help because they needed a comprehensive approach to a campus-wide cat problem. Mallouf was concerned about the time and money needed to deal with a colony that had doubled in size on the south side of campus, and another possible colony by a dumpster. His bosses were quite pleased to hear that the cat problem would be solved at no cost of life and no cost to the college.
"I don't think people have to be cat lovers to look at the data and see that TNR works. COS wants the problem solved. They have other things to do," said Surowiec.
Tulare County Animal Control might also agree. But their hands are tied. They are under the umbrella of Tulare County Health and Human Services and the decision makers at County do not believe TNR works.
I asked Austin her personal opinion on TNR. She said no one's personal opinion is relevant in the case of TNR. "If you look online you will find plenty of information and data supporting the program. TNR has been around for a long time."
Austin said that as long as she has lived here, Mooney Grove has had cats. "There is a residential area and Big Bubba's Barbeque restaurant. If you don't try to get the colonies stabilized more cats are going to show up."
I told her that those in charge at Mooney Grove don't believe that TNR works. "I don't know where County gets their information. I haven't seen anything that would support their opinion. Statistics-wise, that's just not the case."
I asked the likelihood of finding homes for abandoned and feral adult cats. "Abandoned cats revert to the behavior of the cats they are with and quickly learn not to trust people. It's not impossible to adopt them out, but it is a challenge," she said. "The ideal thing is to put the cat back in its original colony where it knows it as home."
Alley Cat Allies, one of the founders of the TNR Program, states, "Feral cats have a home – outdoors! And although they appreciate a can of cat food, they don't want to snuggle with you on your couch."
I don't think people have to be cat lovers to look at the data and see that TNR works. COS wants the problem solved. They have other things to do.

Steve Surowiec, College of the Sequoias professor
Tulare County Animal Control Prepares to Receive Mooney Cats
According to Supervisor Phil Cox and Assistant County Administrative Officer Mary Lindsay, the decision has been made to rid the park of cats and find them warm, loving homes. To do this they have suggested "Adopt a Mooney Grove Cat Day" and to post signs warning pet owners that it is against the law to dump animals in the park.
Back at ground zero where the Mooney cats would land, TC Animal Control neither has the facility nor the cages to handle approximately 100 stray cats. Tim Lutz, Health and Human Services manager, has just begun the process of preparing staff to handle the special needs of Mooney Grove's cats and implement the county's plan. They have been getting themselves ready by working with animal advocacy groups such as Petco, Shelters and Dr. Kuswa of Companion Animal Medical Center. "Right now we are at the point of looking for a solution. This is the direction we are heading." said Lutz.
Cox and Lindsay refer to the cats as abandoned pets, but Lutz said some were abandoned but most are feral. Part of their preparation will be finding a feral cat rescue facility because feral cats are not adoptable. TC Animal Control is looking outside the county because such a facility does not exist here. I suggested they just leave the feral cats at Mooney Grove, but Lutz said TC Animal Control has to continue the process of implementing the county's plan.
Surowiec seriously doubts the wisdom of removing all the cats from Mooney Grove. "It would be more of a public safety issue at the park to have a growing colony of unneutered feral cats than a small colony of healthy cats." A long time ago, he said, cat removal was SPCA policy, until they noticed it didn't work and they had to find a new way.
Lutz and his staff are facing three large challenges at Tulare County Animal Control that were not of their making.
One, there has not been effective coordination of strategies nor communication between the county administration and Tulare County Animal Control.
Two, the Tulare County Administrative office gave their word, then broke it, that they would not trap cats at Mooney Grove while the details of the TNR Program were being worked out. The following is an August 12th email from John Hess, administrative analyst for the Tulare County Administrative Office.
"Thank you for bringing this to our attention," said Hess. "We will continue to work with parks staff to ensure that trapping activities are put on hold until this matter has been resolved. Additionally, any animals trapped at the park are taken to Tulare County Animal Control near Ave 256 and Rd 140."
Third, the longtime, and well respected, head of Animal Control, Paul Grenseman, has mysteriously disappeared. The volunteers feeding the cats at the park saw Paul as very approachable and sympathetic to the fate of Mooney Grove's cats. He promised to let the volunteers know if a Mooney Grove cat showed up at Animal Control with a notched ear. Not only has no reason been given for Grensemen's sudden absence, those answering the phone at animal control don't even admit he is not there, and are still taking his messages. The following is a voicemail he left for a cat advocate Monday, August 12th.
"This is Paul Grunseman, Tulare County Animal Control manager. I checked everything out with Mary and I'm sad to say I found out some disturbing news here. And, um, we've had a meeting and, uh, I've talked to Dr. Duerksen so I just wanted to go over the details with you. Uh, we run an honest and above-board operation here and, uh, and, uh, there were some things happening that, uh, that, uh, I wasn't unaware of but I'm fixing it. Anyway, look forward to speaking with you and have a nice day. Bye."
This begs the question: is something fishy going on with animal control?
Mooney Grove and Me
Full disclosure: My son sat down at the kitchen table and tallied up all the cats that have come into our family's life since 1999. The number is 26, which on first glance seems like a lot, but we live in the middle of 94 acres of citrus trees. I won't say that we kept the coyote population well fed because that would be too crass, but we are now down to six cats, and only one has died of natural causes.
Some were abandoned pets, adopted from the pound, unwanted kittens or born right here in our house. The worst was a "rehabilitated" feral kitten my husband found while gardening at a commercial building. We called her Echo, because all five inches of her managed to escape the grasp of my 250 pound, rugby player son. "She hissed at me," he whimpered. She spent the next two days hiding in our Toyota Echo until we finally pulled her out from under the passenger seat.
Echo became the worst pet in the history of pets.
Somehow Echo beat the odds of being hit by a car, eaten by a coyote, or bitten by a rattler and made it to adulthood. She mostly lived in the rafters of our carport and slinked inside to hiss at whoever opened the door and grab a bite to eat. One day, suffering from some sort of skin infection, Echo slipped away to die in peace.
I don't know who was more surprised, the cat or me, but she didn't die. Echo crawled out of her hiding spot no more than a head connected to a pile of bones and managed to drink some water. Each day, she made it ten more feet until she dragged herself up the stairs to our front porch. When she finally decided that it wasn't the humans who tried to kill her, she came inside the house and never left the food bowl. Soon her stomach almost dragged to the floor and she had three chins.
Echo eventually reverted back to her daily activities and normal weight. She could hunt like a lioness and I looked at her in awe. She looked at me with disdain. Then completely out of the blue, she ventured beyond her cat bowl and sauntered into the family room and began to roll around on the floor. She jumped on my husband's lap, kneaded his belly, and rubbed her face against his. After going through eight of her nine lives, Echo, the feral kitten, became a house pet.
Having my own range of emotions surrounding cats, I thought I'd go check out this supposed public health hazard for myself, and bring a picnic to Mooney Grove Park.
I picked out a space by the cat bridge colony and laid my blanket out on the grass. No sooner had I set out my food when a bird crapped in my hair. The geese then lined up like a firing squad and stared me down with one big eye fixed on my hard cheddar cheese. Then some old lady's dog, on too long of a leash, walked right over my blanket and licked me on the face–twice–because, as she said proudly, "that's the only trick I was able to teach him–how to kiss." Charming.
All this "wild" life but nary a cat to feed. Two or three lurked in the distance and sized me up for my usefulness, which they deemed little to none. One cat ever so slightly smiled at me just to let me know that the poop I had accidently put my blanket on was his. Soon I was yesterday's news and they did what every cat does best – looked at me condescendingly then leaned to one side and licked its ass. Then it was gone.
Some Mooney cats may be abandoned pets but they now have the characteristics of feral cats. Unless you have a can of cat food in your hand, and even then maybe not, these are not social cats. Because the cats kept their distance, when I took pictures I had to zoom in as much as my camera would allow. Scrolling through my images later that day, I could see that what I really took pictures of was a lot of rust, peeling paint and an amazing amount of disrepair.
As Cox said, the park is for the people, not cats, but besides the Tulare County Museum, it's hardly fit for either.
I first noticed all the dilapidation when I met Dr. Larry Weber at the park the day after Thanksgiving. But the pictures were shocking. This is not the Mooney Grove I grew up with. This was depressing. Just think of all the maintenance the staff could do with the time and money spent on trapping 100 cats. Also, who knows the cost of expanding TC Animal Control's facility to handle those cats, buy at least 50 new cages, and then possibly transport them to a feral cat facility; all while the problem could be handled better, and for free. Then we get to do it all over again when new cats repopulate Mooney Grove.
The cats actually have brought a lot of joy to park regulars who have seen them grow up from kittens to taking their place in their colonies. The joy the cats have brought to people using the park has been conspicuously absent from this entire debate. The park belongs to animal lovers also.
Why does the top brass of Tulare County think they know better than the Valley Oak SPCA, veterinaries, the National Pet Alliance, Ally Cat Allies, Love of Animals, and all other animal groups? By implementing their plan, Mooney Grove cats aren't going to live happily ever after like Echo. Despite their hope to find loving homes, many of these cats are going to be put down, and it's going to cost us tax payers megabucks.
During one of my many interviews for this series, someone who would know said, "I have found cat people to be very different."
Truer words were never spoken. Cat advocates are not county employees hired for their interpersonal skills or ability to effectively articulate sensitive issues. They are private citizens that drive around town with metal tins and bags of cat food in their trunks. They take time almost every day to feed abandoned and feral cats in a public park. What did the county expect when someone, who actually was hired for her interpersonal skills, trapped two nursing mother cats along with a few kittens that ended up getting put down? This, after they promised to discontinue trapping until the matter was resolved. So an impassioned cat advocate loses her cool and makes threats to a county employee, an employee, by the way, who has a history of confrontation herself. What's the county's point? They should have put their big boy pants on, apologized, and continued developing the TNR Program. They also should have disciplined the employee who disobeyed her boss.
When I asked Steve Surowiec where he thought the county was coming from he responded. "I have no idea why county is not for TNR. Maybe it's just about being educated about the process. I'm doing it to prevent suffering."