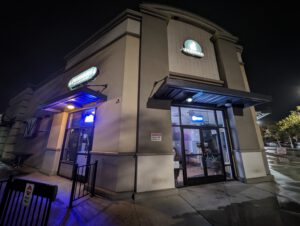 Vendors, former employees, and tax authorities say they are owed hundreds of thousands of dollars from George Sousa after he started and shuttered multiple restaurants in Tulare and Kings counties.
The Hanford restaranteur's four locations – Junior's Sports Bar and Parrilla and Adobowl in Visalia; Junior's Express Grill and K&J FroYo and Kafe in the Hanford Mall – all opened and closed in 2022 and 2023.
(Adobowl, which was located in the Rancho Viejo Shopping Center, is unrelated to Adobowl Visalia, a similarly-named home kitchen operation.)
Employees from the first three restaurants have told the Valley Voice that they haven't been paid what they're owed — some say they're owed upwards of two thousand dollars. Public records show legal proceedings and tax liens pending against some of Sousa's restaurants.
In an interview with the Voice, Sousa denied the claims made by employees and vendors as either false or resolved.
He said that none of his employees have gone unpaid.
"No one works for free," Sousa said.
Court documents show that storm clouds first appeared in 2022, when two foodservice companies claimed that Junior's Express Grill hadn't paid them for their products.
Both companies launched legal proceedings against Sousa and Junior's Express this year.
Sousa did not respond in either case: a judge granted one company a default judgment against him, and the other is currently seeking one. Default judgments are granted when a defendant fails to answer a lawsuit after being served.
Sousa told the Voice that he was unaware of the cases, and that he would reach out to his legal counsel.
He said that one case had likely not yet entered default because he had paid them, though court records show that initial default paperwork was rejected by the court for errors in calculating out a requested default amount.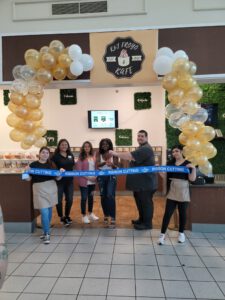 During the time the foodservice vendors allege he was past due, Sousa signed a lease for Junior's Sports Bar and Parrilla at 3837 W Caldwell in Visalia on October 18, 2022, according to Arun Toor with the building's owner, Toor Capital, LLC.
Toor said that Sousa was given advantageous terms, but never made a single rent payment.
Sousa is currently in the process of being evicted from the Caldwell location – and he says Sousa has refused to leave.
"George Sousa signed a lease for the Juniors Sports Bar location on October 18, 2022. He was given six months of free rent to prepare the restaurant for opening and a $75,000 tenant improvement credit for improvements to the space and purchasing equipment. George has not made any rent payments and is currently being evicted as he refuses to return possession of the space or make any rent payments," Toor told the Valley Voice.
"We hope that everyone who has been wronged by George can find some recourse and that he can be stopped from ever doing something like this to anyone again," he added.
Sousa disputes Toor's statement as well, telling the Voice that the lease is being renegotiated, and that no payments were due yet due to rent abatement.
"There's a process, a renegotiation of the lease," Sousa said.
He said he plans to reopen Junior's Sports Bar, but does not have a timeframe for a potential reopening.
Officials with the Hanford Mall declined to comment for this article when asked about the status of lease payments on Junior's Express and K&J FroYo.
Towards the end of 2022, he began negotiating with Kathalean Simmons, the former owner of the Pitching Wedge Restaurant in Tulare, to purchase her liquor license and equipment to start Junior's Sports Bar.
She says a contract was approved on January 1, 2023, in which Sousa would pay a total of $460,000, with $50,000 due up front and the remaining $410,000 to be paid off with $4,200 monthly payments and secured with a promissory note.
Sousa did pay the $50,000, but he only ever made partial monthly payments, according to a lawsuit she filed in Tulare County Superior Court.
She said she's never received a payment after May 11, 2023 – and that when she did receive payments, they were always less than the agreed amount.
Sousa told the Voice that he had always made payments in full, and that he continues to make them.
This August, employees of Junior's Sports Bar began posting on Facebook that Sousa had failed to pay their wages.
Records from the California Department of Industrial Relations show that, so far, two wage complaints have been filed against his Visalia businesses: one in July against Adobowl, and another in August against Junior's Sports Bar.
Both are listed as 'Under Investigation.'
Short checks, bounced checks, no checks, employees say
The Valley Voice heard from employees of Junior's Sports Bar, Adobowl, and Junior's Express who say that Sousa either never paid them, never paid them the entirety of what they were owed, or paid them with bad checks and then corrected the error using CashApp.
Sousa disputes those allegations, and specifically calls out claims by Adobowl workers.
"That restaurant wasn't even open 500 hours, and people say they work 500 hours and didn't get paid," Sousa said.
Demitri Ramos worked at Junior's Express for nearly a year, from August 2022 to July 2023. He told the Voice that he is owed two paychecks, what he estimates is $500 and a day of work.
"Honestly, for the first couple of months, the first five months, it was good – it was fine," Ramos said. "Later on, we had a few people leave; once some people left, the new ones came in and had issues."
"It just, little by little, became an issue for everyone," Ramos said.
Ramos said that he eventually quit after he still wasn't paid.
"He pretty much told me to quit the job, because I was upset that he didn't pay me," Ramos said. "His last message to me was, you are a stupid worker."
Kelly Clay, a former employee of Junior's Sports Bar, told the Voice that she worked there for three weeks in August.
"A couple paychecks bounced, [with] the same song and dance, he has to go back to the accountant, she made some errors, something is wrong with payroll, he'll get it fixed – yada, yada, yada," she said. "Or, it was the bank's fault, let me call my bank, let me fix it – days would go by, weeks would go by. I don't think any of the checks ever went through, but he started Venmo-ing people or CashApp-ing people their money."
After she quit, Clay said that she didn't receive her final paycheck for approximately a week and a half – and that when she did, it bounced.
"George did end up Venmo-ing me my second payroll, however, I know that it was incorrect because I had overtime hours on that pay period and there was none reflected on my pay stub," Clay said.
"He used Square for our payroll system, and the very first pay period my pay stub was in there. The second check that I was issued, my final paycheck, all he did was send me a picture of a paystub – so I went inside of Square to see if it was in there, properly reported in the payroll system, and it was not," she added.
Gabriel Mercado, a former bartender at Junior's Sports Bar, said his second paycheck bounced. He found that out the hard way: he was at a birthday dinner the day after he was paid, and his payment was declined.
His bank had rejected his paycheck for insufficient funds. Sousa later paid him through CashApp.
Mercado, an openly gay man, said that he quit after butting heads with a new manager who he claims had issues with his sexuality – culminating, he said, in a day when a guest bartender came to the restaurant and the manager wanted him to share his tips with the new bartender.
A video Mercado posted on Facebook, which contains graphic language, shows the tail end of the incident and a follow-up conversation with Sousa.
He said because he objected, he was called a "sissy" and a "crybaby" and was told that he was "being emotional."
"It got to the point where I snapped and said I wasn't doing this anymore," he said. "I wasn't going to be blatantly disrespected – you messed with my pay once. You did it again, so I quit."
California law requires that employees who quit without notice must be paid all of their wages within 72 hours of quitting. Mercado said that he called back after 3 days and asked for his final paycheck.
He said that Sousa sent him a photo of a check stub for $627, but when he went into the restaurant, Sousa attempted to CashApp him – and the payment never went through.
Mercado says he is still owed his final check. He says that Sousa blocked him on social media, changed his phone number, and "essentially closed down [Junior's Sports Bar and Grill] altogether."
A Junior's Sports Bar employee, who spoke with the Voice on the condition that their name not be used, said that at one point, physical paychecks would be cut on Friday after 5pm – after a majority of banks would be closed for the weekend.
"Everyone would just go to a gas station and cash it," the employee said. "I was one of those – a week later it came back bounced."
The employee says they're owed over $2,000. They've accepted that they likely won't get paid.
"He owes me two checks, he promised me — oh, this Friday I'll give you some money, this Friday, and Friday never came," the employee said.
Another Junior's Sports Bar employee, who also spoke with the Voice on the condition that their name not be used, said that they worked for approximately two months.
Sousa told them that their check would be sent via direct deposit, they said, and that the payroll records show a check was cut – but no funds ever showed up.
They believe they're owed approximately $2,500.
"This is the first time this has happened to me," they said. "I don't know what to do."
The employee said that they contacted federal and state labor agencies, but nothing's been done. While they said that officials with the federal agency were at least responsive, state officials have not been.
"I called them like 3 or 4 weeks ago, and they said that I would receive a letter in the mail, this and that, but they don't care," the employee said. "I don't know what to do. That's a big deal, when you don't pay employees."
"I heard in other states, like New York, you can go to jail for not paying your employees, but I guess not in California."
Visalia employees say they're owed tips
Clay said that after she was hired, one of the first red flags she remembers was a mix-up of credit card tips that Sousa says were due to employees not entering their tips correctly.
Sousa confirmed this incident to the Voice, saying at the beginning of the conversation that any potential allegations around Junior's Sports Bar would have been centered around tips not being entered correctly.
He said that because the employees allegedly entered the tips incorrectly, that he didn't need to provide them.
"I consulted my legal counsel, and they said you're not obligated to provide it," he told the Voice.
Clay claims that Sousa told the staff he would make it right regardless.
"We wanted our tip money, but the excuse then was that we had been doing it wrong. He said he was going to make it right on his own dime, and that it was thousands of dollars that he didn't have, but he would pay it out to bartenders over a couple payments," Clay said.
Mercado recounted the same incident to the Valley Voice. He also posted a recording of a conversation discussing the situation on Facebook, in which he and at least one other employee appear to be discussing the situation with Sousa.
He had previously worked at other establishments, and said that he's meticulous about entering tips to ensure that he gets paid correctly.
"I started at the opening in July, and I was gone by the end of August," Mercado said. "I was only there for two or three pay periods."
"My first check went through, [but] he kept all of our tips – he essentially said that it was because we entered them wrong, which wasn't true," Mercado said. "I entered it exactly the way he showed me. I make sure I know what I'm doing so I don't mess it up – so I know what I'm getting paid."
He said that during that pay period, Sousa only paid his hourly wage and half of the tips he was owed; he said that because Sousa was a new business owner, he was willing to give Sousa the benefit of the doubt initially.
Tulare woman sold equipment, liquor license for sports bar
Simmons, the Tulare woman who sold Sousa the liquor license and equipment to get Junior's Sports Bar off the ground, said she referred employees from her previous restaurant to Junior's Sports Bar and Parrilla in Visalia, and said that she provided Sousa with help and advice to get the location off the ground before things started to crumble.
She filed suit against Sousa and Junior's Sports Bar and Parrilla LLC in October. She alleges that he owes $410,000 – as well as interest – after she sold Sousa her liquor license and myriad restaurant supplies ranging from chairs, tables and flatware to TVs and cash registers.
When the first payment came in, it was for only $1,000, Simmons' lawsuit alleges. The next payment was $1,500, and the final two were $4,000 each before Sousa stopped making payments in May of 2023, the lawsuit states.
Simmons told the Valley Voice that some red flags were immediately apparent in hindsight: Sousa did not retain his own legal representation to negotiate the sale, and alleged payment delays by Sousa gummed up the works of the sale of the assets and the transfer of the liquor license.
"As soon as I got the $50,000 at the end — it took forever to clear. George blamed it on the escrow company, and the escrow company kept saying we received the cashier's check from him, however he had not transferred money to pay the professional fees and the handling of it," she said. "And they're not going to do anything — same with [California's Department of Alcoholic Beverage Control, ABC]. ABC says we've not received any money to complete the transfer."
The transfer was filed in January, she said, but wasn't completed until June. State records don't show when a transfer started, but they do show that Junior's received its liquor license on June 12.
One day shortly after the liquor license was fully transferred, Simmons said she got a call saying the restaurant would be opening later the same afternoon. She was taken by surprise.
"I wound up with about 30-40 of my friends, and it was a good opening. He didn't have enough stuff to do anything with. He lost some stuff, some stuff was still in the back of his truck, just very disorganized," she said. "He didn't even have the booze from me – I had to go to the [storage unit] and make trips, you know, to get him covered and stir sticks and napkins.. all of that stuff was still sitting in the storage unit."
Even now, Simmons said, she's holding on to equipment that he hasn't picked up, incurring storage bills as a result.
"I had to keep paying rent on remaining stuff in mini-storage — he never finished picking it up. It's big stuff, I have no place to put it," she said. "I have to have everything out of there by the end of November."
At one point, she says she visited the restaurant to see how things were going. A group of four employees, believing that she might be able to convince Sousa to pay them, sat with her and brought a worker to translate.
She says the employees told her that they had not been paid, and two said that school was starting up – they were left without money to buy their kids shoes for the upcoming school year.
Simmons said she took out the money she had in her wallet – approximately 200 dollars – and gave 100 each to the two workers with children.
Simmons intended for the income from the sale to cover her living expenses, and says that she's been left to ask friends for money to file her lawsuit and attempt to serve Sousa with the legal paperwork.
Vendors, tax authorities say they're left unpaid
Simmons isn't the only vendor who's filed action against Sousa.
US Foods sued for $9,745.38 in unpaid invoices for goods sold to Junior's Express Grill – the company's suit says that "on or about July 11, 2022, defendant breached the contract by failing to pay all amounts due."
Performance Food Group has also sued Sousa for $27,267.70 in unpaid invoices for goods sold to Junior's Express Grill. Their documentation shows that he signed an application with them on July 11, 2022 – the same day that US Foods claims he became past due.
The company was able to walk away with a $40,970.77 default judgment, an amount which includes interest, attorney fees, and treble damages.
In its suit, the company says Sousa also passed them bad checks between July and December of 2022, in amounts ranging from $579.22 to $7,913.62.
An April 21, 2022 application for credit that US Foods attached to the lawsuit shows that Sousa represented his business as having 10-20 employees and an annual sales of $400,000 to $600,000, and states that the date the "business opened or [its] ownership changed" was April 20, 2022.
The application shows that Sousa stated he had an existing business, Tacos El Pelon, in Omaha, Nebraska.
A Facebook page exists for "Taqueria El Pelon" in Omaha, a roaming taco truck. A Facebook profile belonging to "George Sousa" has interacted with the page – and the same profile later posted in June to a Visalia Facebook group looking for employees at Junior's Sports Bar.
Sousa may also owe money to the State of California, according to Uniform Commercial Code filings. Across two separate filings, the state's Department of Tax and Fee Administration has filed liens totalling a combined $10,292.04.
Sousa told the Voice that he had paid the liens, and that a release of lien had been sent to him. As of press time, neither the Kings County Recorder's Office nor the California Secretary of State's UCC page showed a release recorded.
Kings County records also show county tax liens against Sousa and Junior's Express Grill: the Kings County Tax Collector's office filed a lien for unpaid taxes totalling $719.16. Sousa said that he would research them further.
History of bankruptcy filings
Simmons told the Voice that she feared Sousa would use bankruptcy as a way to escape the debt she says she's owed.
"I'm praying he doesn't file bankruptcy," she said.
Sousa attempted to file for both Chapter 13 and Chapter 7 bankruptcy multiple times from 2014 to 2016 as a self-represented filer. In one proceeding, his case was dismissed for failure to pay a filing fee; in all others, his case was dismissed for a "failure to file information."
Chapter 13 bankruptcy allows an individual to repay most or all of their debts over a period of time, with court approval. Chapter 7 bankruptcy discharges all of a person's debts, but also allows the bankruptcy trustee – an impartial third party appointed by the court – to sell off any allowable assets.
In 2015, the bankruptcy trustee began a proceeding against Sousa to prevent him from filing for bankruptcy for two years, claiming that he had filed "five abusive cases since November 19, 2014."
"The Defendant's pattern of successive filings and dismissals and failure to disclose prior filings is evidence of his willful failure to prosecute his case in good faith and to abide by the Bankruptcy Code and Rules," an attorney for the trustee wrote. "The Defendant will continue to abuse the bankruptcy process unless this Court issues an injunction barring the Defendant from filing another bankruptcy case for two years."
Sousa did not respond, and the bankruptcy judge ordered on August 7, 2015, that Sousa was barred from "filing any new voluntary petition for a period of two years" without permission from the court.
Sousa filed a case a month later and another case in 2016, both of which were rejected by the court.
In 2019, Sousa filed a Chapter 7 bankruptcy case handled by a bankruptcy attorney, which the court accepted. The court ultimately discharged his debts in that case.
Under federal law, Sousa would not be eligible to file for Chapter 7 bankruptcy until 2027. However, he could file for Chapter 13 bankruptcy as of this year.
The Voice did not find any active filings under his name, or the names of the four business entities, as of the date of publication.