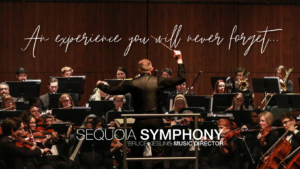 The Sequoia Symphony Orchestra is bringing the 'Power of the Piano' to the stage of the Visalia Fox Theatre on Saturday, November 18 at 7:30 P.M. Featuring guest artist, Dominic Cheli and debuting a new piece of music by California composer, Nicolás H. Repetto.
"We are ecstatic to bring the resounding echoes of Gershwin's quintessential compositions in this next concert, says Music Director, Bruce Kiesling. "November showcases melodies that have fostered profound connections with our growing audience throughout our community."
"You do not need to be a music major to enjoy this concert, the professionals are on the stage, just come and experience a fantastic concert," says Executive Director, Marina Rojas. "The symphonic experience is for all, period. This isn't an exclusive club, this is for everyone in the community to come together and be moved by the music."
Before the concert, Maestro Kiesling will host a Pre-Concert Talk at 6:45 P.M. which is a great time for the audience to hear about the music that will be performed that evening.
Dominic Cheli embraces the role of an artist-citizen in his multifaceted career as a performer, educator, composer, and director. He is described as an "inspired keyboardist" (artsfuse) whose playing is "spontaneous yet perfect, the best of how a young person can play." (Symphony Magazine). His rapidly advancing career included his Walt Disney Concert Hall Debut with the Colburn Orchestra where Dominic was "mesmerizing, (he) transfixed the audience." (LA Times). He made his Carnegie Hall Recital Debut in 2019 and has had a busy performing and recording career ever since. He recorded his 2nd CD on the Naxos label of the music of Liszt/Schubert and was a performer/producer/editor on a 3rd CD of the music of Erwin Schulhoff for the Delos Label featuring his collaboration on Piano Concerto no.2 with Maestro James Conlon. He also recently completed work as a composer, audio editor and performer on the documentary Defying Gravity (2021).
Nicolás Humberto Repetto (b. 1979) is an Argentinian-American television, film, and concert composer who has uplifted many projects with his diverse musical voice. He recently composed and conducted his original music performed by a 50-piece orchestra at Walt Disney Concert Hall for the unveiling of two new Omega watches, collectively worth $1 Million. The two pieces of music, one for each watch, featured a musical palette inspired by the elegance and acoustic characteristics of these new releases. Repetto also composed an original score for the feature documentary, A Run for More, which was broadcast on PBS on May 15, 2023.
Student tickets are available at $10, with regular seats starting at $35 and up.
For more information and tickets, go to SequoiaSymphonyOrchestra.com or call 559-732-8600.