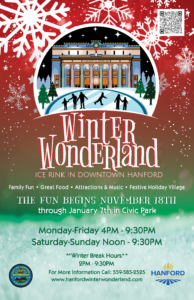 Hanford's holiday tradition is back November 18 – January 7. Ice skating tickets for the third annual Hanford Winter Wonderland are on sale at www.hanfordwinterwonderland.com.
Ice skating tickets include 90 minutes of skating and skate rentals, with prices ranging from $16 to $18. Family and group packages are also available, and all ticket sales are final. Those who purchase an online ticket will receive a confirmation email with a barcode to be used for entry.
Box office tickets will be limited and available on a first-come, first-serve basis.
Ice skating times Monday-Friday 4 – 9:30 p.m. Winter Break (12/19-1/8) 2 – 9:30 p.m. Saturday-Sunday 12 – 9:30 p.m.
Hanford Winter Wonderland begins on Saturday, November 18, 2023 and continues every day through Sunday, January 7, 2024.
In addition to skating, the seven-week event will feature great food, attractions, music, and a new festive holiday village. The quaint village will consist of seven Tuff Sheds configured in a semicircle and a 14-foot Christmas tree. The decorated sheds will house various local food vendors.
"Every year, we look for ways to elevate the holiday atmosphere that surrounds the ice rink, and we feel the village does just that" said Hanford Parks and Community Services Director Brad Albert. "Our goal is that our guests will have a great time, because there's really something for everyone."
Other new features at this year's Hanford Winter Wonderland include a nine-hole minigolf course and three festive photo opportunities for lasting holiday memories.
Reservations for the North Pole Lounge can be made at www.hanfordwinterwonderland.com. The North Pole Lounge is a private, gated seating area located in front of the historic Bastille. The lounge has heaters and fire pits and offers a spectacular view of Hanford Winter Wonderland festivities. Reservations for the North Pole Lounge do *not* include ice skating tickets. North Pole Lounge North Pole Lounge reservation times Weekdays: 4 – 9 p.m. Weekends: 12 – 4 p.m. & 5 – 9 p.m. North Pole Lounge fee $350.
Visit www.hanfordwinterwonderland.com for more information about special events and programs, including skating lessons, turkey bowling and broomball. Follow Hanford Winter Wonderland on Facebook and Instagram for more updates. Last but not least, sponsorships for this year's event are still available and can be arranged by contacting the Hanford Chamber of Commerce at 559-582-0483 or [email protected]. The community is also invited to subscribe to the Chamber's weekly Hanford Winter Wonderland newsletter.