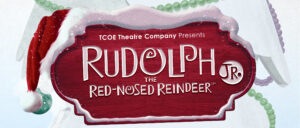 Tickets are now available online for the Theatre Company's production of Rudolph the Red-Nosed Reindeer JR.!
The holiday classic soars off the screen in this adaptation of the beloved television special. Filled with holiday hits like Rudolph the Red-Nosed Reindeer and A Holly Jolly Christmas, Rudolph the Red-Nosed Reindeer JR. features all of your favorite characters including Santa and Mrs. Claus, Hermey the Elf, Bumble the Abominable Snow Monster, Clarice, Yukon Cornelius and, of course, Rudolph. It's an adventure that teaches what makes you different can be what makes you special.
Because of his shiny nose, Rudolph doesn't feel like he belongs in Christmastown and sets off to find a place that accepts him. Along his journey, he encounters fellow misfits, only to realize that home is where he has belonged the whole time. When a storm threatens to keep Santa's sleigh from taking flight, it's up to Rudolph to save Christmas!
This production stars Tulare County students in grades 1-12 and features A Glee-ful Christmas Preshow filled with holiday songs in the style of the hit television series, GLEE.
Rudolph the Red-Nosed Reindeer JR. will be performed five times at the Rotary Theatre in Visalia. Evening shows will be offered November 15, 16, 17 and 18 – beginning with a preshow at 7:00 p.m. A matinee show will be held Saturday, November 18 – beginning with a preshow at 2:00 p.m.
All ticket sales will be conducted online and shows are expected to sell out. Tickets are $17.00 for general admission and $10.00 for Tulare County students (grades 1-12) with a valid ID. To purchase tickets, visit tcoe.org/TheatreCo/Tickets.
PRINCIPAL CHARACTERS
Sam – Genevieve Brown, 11th grade, Maesar Academy
Santa Claus – Declan Hilscher, 11th grade, Eleanor Roosevelt Community Learning Center
Mrs. Claus – Elyse Johnson, 9th grade, Eleanor Roosevelt Community Learning Center
Donner – Leo Paez, 10th grade, Eleanor Roosevelt Community Learning Center
Mrs. Donner – Story Smith, 8th grade, St Paul's School
Young Rudolph – Isabella Adams, 4th grade, Liberty Elementary School
Rudolph – Carter Sullivan, 6th grade, St Paul's School
Boss Elf – Lincoln Graves, 10th grade, University Preparatory High School
Hermey – Joseph Williams, 6th grade, Manuel F. Hernandez Elementary School
Fireball – Ella Marshall, 6th grade, Shannon Ranch Elementary School
Clarice – Ella Chandler, 8th grade, Sundale Union School
Coach Comet – Dumisani Mason, 10th grade, University Preparatory High School
Clarice's Father – Jamen Radmacher, 8th grade, Homeschool
Yukon Cornelius – Dean Johnson, 11th grade, Eleanor Roosevelt Community Learning Center
Elf 1 – Eleanor Ray, 6th grade, Oak Grove Elementary School
Elf 2 – Josie Bowers, 7th grade, Ridgeview Middle School