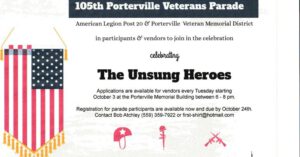 The 105th annual Porterville Veterans Day Parade with the theme "Unsung Heroes" will be held on Saturday, November 11th beginning at 10:00 AM on Main Street in Downtown Porterville, presented by American Legion Post 20, Porterville Veterans Memorial District and the Veterans Homecoming Committee. The annual City of Porterville Veterans Day Run & Walk will also take place prior to the Parade at 7:30 AM for the 5K and 10K run & walk. KSEE24 will once again live broadcast the Parade in conjunction with Mister Media beginning at 10:00 AM, and will rebroadcast it later that evening at 8:00 PM. The Porterville Veterans Parade is one of the largest in the Central Valley and the longest-running in the nation, and the City of Porterville is proud to be part of such a patriotic community which continuously pays tribute to its Veterans and those that serve in the Armed Forces. 
The Porterville City Council approved the media sponsorship of the Parade to help promote this hallmark and patriotic community event. This year will again include a special opening tribute by Skydive Elsinore (SDE), which has been operating since 1959 and has a training facility located in Porterville. There will be three jumpers featured in the Parade, which include Rom Antunes, Scott Smith, and Craig Aven. Rom Antunes will be jumping with the American flag, Scott Smith will be jumping with red, white and blue steamers and Craig Aven will be jumping with smokes. These jumpers are all highly skilled and a sight to see as they land on Main Street in front of City Hall, and the City is thankful for their continued collaboration and support. 
The City of Porterville is honored to be able to pay tribute to all Veterans, past and present and looks forward to honoring all those who have served.