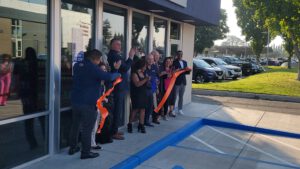 The Giant Marketplace, a food and resource hub for College of the Sequoia students, has officially opened its doors for operation.
Located on the corners of Mooney Blvd. and Meadow Ave. in Visalia, the marketplace — previously a dance studio — underwent a remarkable three-year renovation, culminating in the creation of a small yet significant resource for COS students.
The mission behind The Giant Marketplace was clear and resounding: to alleviate the concern of students struggling to meet their basic needs and to provide a dignified location where they could access essential resources without feeling embarrassed.
During the inaugural ceremony, the COS President and Superintendent, Brent Calvin, spoke passionately about the profound importance of addressing students' basic needs.
He painted a vivid picture of The Giant Marketplace as a place where Maslow's Hierarchy of Needs, ranging from physiological and safety needs to social and esteem needs, were all catered for under one roof.
The Marketplace itself was designed with care to create a welcoming and inviting atmosphere. As visitors open the door, they are greeted by a soft chime, and soothing elevator music adds to the comforting ambiance.
Carolyn Franco, the Basic Needs Coordinator, enthusiastically referred to the Marketplace as "a one-stop shop for students' basic needs."
It goes beyond simply offering food; it encompasses clothing, mental health support, housing assistance, and access to financial aid services. The core belief driving this initiative is that by addressing these fundamental needs, students are better equipped to succeed academically.
A recent study from the Community College League of California shows that "two out of every three [California community college] students grapple with at least one basic need insecurity" and that "nearly half of [California community college] students are food insecure, almost 3 out of 5 are housing insecure, and about 1 in 4 are homeless."
The benefits extend to all students, whether they are living paycheck to paycheck or simply in need of a bit of extra money to cover their educational essentials. At COS, some students are still in high school but are taking college classes, and the marketplace ensures they can focus on their studies without the burden of unmet basic needs.
The store's offerings, while not extensive, are well curated to cover the essentials that ensure students feel energized and confident throughout their day. Fresh fruit, canned goods, cereal, and dairy products are among the food items available.
Moreover, the school's commitment to its students goes even further, offering a generous 50% discount on food items within the cafeteria and food court next to the Kern building. This initiative has allowed students to feed themselves for less than $5 per day throughout the school week, making higher education more accessible to those who need it most.
The Giant Marketplace stands as a testament to the power of transformation and community support. With the backing of COS President Brent Calvin and the dedication of individuals like Carolyn Franco, the marketplace is more than a distribution center; it's a symbol of hope, dignity, and the unwavering commitment to students' well-being and academic success.
Registered students can contact the Giant Marketplace by telephone at 559-737-3710, by email at giantmarke[email protected], or by visiting the Giant Marketplace website at cos.edu/giantmarketplace