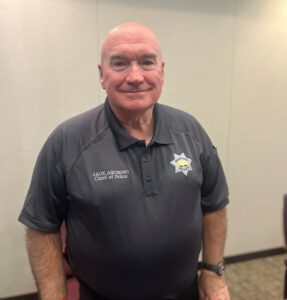 A longtime and well-respected Kings County law enforcement professional has returned to the Hanford Police Department more than 40 years after first being hired by the department.
Hanford City Manager Mario Cifuentez has appointed Jack Amoroso to serve as the Interim Police Chief until the City selects a permanent Police Chief. The deadline to apply for the executive level position is next Friday, October 27.
Amoroso is a former Hanford Police Department Sergeant, Kings County Sheriff's Office Commander, and Police Chief for the Avenal Police Department. He has served as an instructor for the Tulare-Kings Counties Police Academy for more than 35 years and was Academy Director from July of 2017 to November of 2019. Amoroso is a longtime Hanford resident.
"It's literally the last thing on the bucket list," Interim Chief Amoroso said. "I started here in 1979, and now this will be the end of at least the active law enforcement part of my career."
Hanford City Manager Mario Cifuentez says Amoroso is well-equipped to lead the department and provide key insights into its operations and identify any possible areas for improvement during his temporary assignment.
"He checked every box," said Cifuentez. "He's a beloved figure in the community and that's important. You want the community to have tremendous comfort in who has the reigns— be it the permanent chief or the interim chief."
Amoroso assumed the role of Interim Police Chief on Monday, just three days after Parker Sever's last day as Hanford Police Chief. Sever held every rank during his 26-year career with the department. Sever departed Hanford for Heber City, Utah, where he will serve as Chief of Police before ultimately retiring. Although he is leaving, Sever says Hanford will always be home.
"I have a great love for the City of Hanford, for the Hanford officers and the other members of the City that I've worked with," he said. "I think they're amazing individuals and I never tested anywhere else because I just didn't think there were any better people anywhere else."
"Parker exemplified the definition of teamwork and was a valued member of the City's executive team," Cifuentez said. "His many accomplishments and efforts will have a lasting impact on our community. We wish him and his family the brightest of futures."