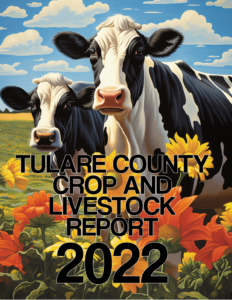 It's official. Tulare County is the number one ag producing county in the United States for 2022.
While Fresno County reported a record $8.095 billion haul for 2022, it didn't beat Tulare County's $8.6 billion report. Both counties benefited from improved market prices and continue to corner the market in the top spots in the nation for ag production. Add in Kern County at number three, and the Central Valley counties are a combined agriculture and economic powerhouse valued at $24,432,162,300. Putting this in perspective, three California counties account for 44% of California's total ag production value of $55,871,204,000.
Their ag prowess doesn't stop at farm gate receipts. Central Valley agriculture is a hotbed of innovation, efficiency, and sustainability. Farmers have always been problem solvers with longevity in mind, and now they are using poop to power their farms and communities.
You heard that right. Poop power is a thing. Tulare County produces the most milk in the nation and has 40 operational dairy digesters. The digesters capture methane from manure and convert the greenhouse gas into a natural resource used to fuel farm vehicles, homes, and transportation fleets. Tulare County has reached 56% of their 2030 pollution reduction goal and had a net reduction of 592,131 metric tons of CO2e in 2021 alone. Once all planned digesters have been operational for 10 years, the Greenhouse Gas (GHG) reductions will total nearly 8.5 million MTCO2e.
This win-win-win strategy combined with scientifically advanced animal nutrition and breeding genetics has also allowed dairy herd sizes to be reduced while increasing milk production. Since 2013, the number of dairy cows in Tulare County has declined by 30,000. This has led to reduced methane emissions and even better cow comfort.
Innovations like these allow this powerful tri-county corridor to continue to improve sustainability and food security. They need the strong support of Sacramento and Washington D.C. to continue these successes.