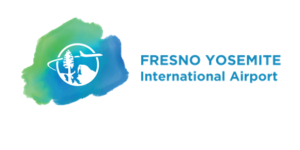 Fresno Yosemite International Airport (FAT) is pleased to host its second annual Aviation Job Fair on Thursday, October 12, 2023, 3:00 p.m. – 6:00 p.m.  The job fair will be held at the parking garage rooftop (4th Floor), 5175 E. Clinton Way, Fresno California.  Attendance is free and includes validated parking to attend the event.
The aviation job fair has received a very positive response from FAT's aviation community and the public. FAT is pleased with the level of support from its airport partners and aviation community. Twenty aviation and related support businesses from various sectors will be participating including the City of Fresno Airports Department, City of Fresno Personnel Services, airline and airport partners, California Air National Guard, air cargo, Fixed Based Operators (FBOS) as well as federal partners such as the Federal Aviation Administration (FAA), Transportation Security Administration (TSA) and more. Combined, employers are looking to fill well over 250 positions with some of them offering onsite interviews. These positions range from airline ramp and customer service/ticket agents, administrative support staff, technicians, public safety, airport operations, and more.
 "Bringing these industry employers together provides a valuable service for FAT's partners and related businesses by supporting their hiring needs and connecting community members with available employment opportunities at their hometown airport," said Director of Aviation Henry Thompson. "Last year's job fair was a great success, and we invite job seekers to explore and visit with employers representing the range of airport operations and aviation industry."
Job seekers interested in pursuing a career in aviation or who are interested in learning more about aviation related employment opportunities are encouraged to attend.  The unique job fair rooftop location provides an aerial view of the activity taking place at FAT and the tremendous amount of support personnel involved with running an airport and keeping people traveling.
Attendees are encouraged to come prepared to meet one-on-one with employers and to bring copies of their resumes.
Fresno Yosemite International Airport – Fresno Yosemite International Airport (FAT) is one of the largest drivers in economic activity in the Central San Joaquin Valley. Domestic and international carriers serving FAT offer Valley travelers daily nonstop flights to Chicago (Seasonal), Dallas Fort Worth, Denver, Las Vegas, Los Angeles, Phoenix, Portland, Salt Lake City, San Diego, San Francisco, Seattle, Guadalajara, León, and Morelia in Mexico and soon Atlanta (June 2024).
Fresno Yosemite International Airport and Fresno Chandler Executive Airport are municipally owned entities operating as a self-supporting enterprise.