One of three co-defendants facing multiple felony criminal charges resulting from alleged fraudulent mismanagement of Tulare Regional Medical Center and the Tulare Local Healthcare District (TLHCD) accepted a plea deal this week that includes monetary restitution and a possible prison sentence.
Germany Pleads No Contest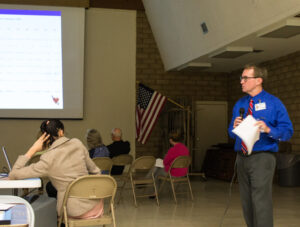 Alan Germany – who served as CFO for both TLHCD and the management company that led the district into bankruptcy, Health Care Conglomerate Associates (HCCA) – entered a plea of no contest to two criminal charges before Judge Michael B. Sheltzer in Tulare County Superior Court on Tuesday, October 3.
Germany was ordered to pay $150,000 restitution to the victims of his crimes, and he could potentially serve time behind bars. His sentencing hearing begins at 1:30 p.m. on Monday, November 6.
The restitution funds must be on deposit in his attorney's trust account when Germany's sentence is handed down.
"They need to be there before they walk in for sentencing, and then the court can direct him (Germany's attorney) to make payments to the victims out of the funds he has in that check," Deputy District Attorney Trevor Holly said.
The former executive faces sentencing for two of the 46 original counts filed against him in August of 2020. They include a misdemeanor charge of failing to file the Form 700 financial disclosure required of all public officials, and a more serious felony violation of Government Code 1090.generated by Germany's unlawful conflicts of interest in a contract involving his employers.
Cooperation Led to Plea Bargain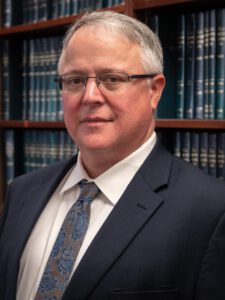 Holly described the considerations that led his office to offer Germany a break. The prosecuting attorney's reasoning places much of the blame for Germany's wrongdoing on his former boss and co-defendant, Dr. Yorai Benny Benzeevi.
"Mr. Germany at the time was (an) independent contractor employed by Dr. Benzeevi, and was operating under his authority," Holly said. "Mr. Germany did not directly take TLHCD funds for his own benefit. He had (a) conflict of interest due to his employment at HCCA, but he did not take money and put it directly into his own pocket."
Specifically, Holly told the court Germany never intended that funds from a $3m leasing agreement with a third party would be diverted to pay TLHCD debts owed to HCCA.
Benzeevi was HCCA's CEO and president, a role he held while also serving as CEO of TLHCD. He, too, is facing charges stemming from his multiple alleged conflicts of interest and misuse of authority.
"Emails established that Mr. Germany had planned on spending the Celtic Leasing funds on necessary medical supplies and other critical expenses necessary to keep treating patients, and not for the funds to go to unsecured HCCA debt," Holly said.
He also cited Germany's cooperative attitude as another consideration in offering a plea deal.
"Mr. Germany accepted responsibility for his actions at an early stage of the proceedings," Holly said.
Conviction a Warning to Other Government Contractors
The deputy district attorney also made it clear he believes that convicting Germany for his mishandling of TLHCD finances will serve to deter others performing government contract work from repeating his crimes.
"We believe that a felony conviction in this case would be sufficient to deter not only Mr. Germany from future misconduct, but also other contractors who work for various government boards in the county from misconduct," he told the court.
Under the terms of the plea bargain, all other charges against Germany are dropped. Charges stemming from the events surrounding the Celtic Leasing contract were dismissed entirely, while the remainder were dropped under a so-called "Harvey waiver."
Sheltzer said damages caused by alleged crimes associated with those charges will still be taken into consideration at the time Germany is sentenced.
"A Harvey waiver means that even though you have a stipulated amount of restitution, you need to understand that the court can consider for the purpose of sentencing all of the counts against you in terms of loss to any victim in the case," the judge told Germany.
Holly told the court that his office reserved the right to argue for a desired sentence at the sentencing hearing.
Citizens for Hospital Accountability, a group of Tulare citizens that advocated against HCCA's alleged mismanagement of the hospital, celebrated the news in a statement to the Valley Voice.
"Six years ago, Citizens for Hospital Accountability members brought our concerns and suspicions to the Tulare County District Attorney's office. With Alan Germany's no contest plea to a felony and a misdemeanor, we witnessed in a court of law the beginning of the admission of culpability by HCCA executives," a statement from the group read. "We eagerly await the upcoming preliminary hearing on December 12, as the next step toward justice for the taxpayers of the Tulare Local Healthcare district and the employees of HCCA who have been wronged. Our appreciation and thanks to District Attorney Tim Ward, Mr. Trevor Holly and the prosecution team for their continued efforts on behalf of the people of the district."
Possible Jail Time for Germany
Negotiations between the DA and Germany's attorney leading to a plea agreement included the chance Germany might avoid time in custody. Judge Shelzer, for his part, is disinclined to allow the defendant to escape a period in state prison.
Sheltzer has sole authority for making the final determination of Germany's sentence.
"Under the terms that the court has indicated, which is that I would grant you probation in this matter and that there would be an alternative-type sentence in terms of actual custodial time, it is not my understanding based on the facts that that would be appropriate," Sheltzer said.
He will also seek further information about Germany prior to sentencing him.
"In addition, I will be sending this matter out to (the Tulare County Probation Department) for a full report that will give me whatever additional information about you and the circumstances of the offenses that will give me some guidance in fashioning an appropriate sentence," Sheltzer said.
Finally, while Germany has been making court appearances by video teleconference, Shelzer ordered him to appear in person for the sentencing phase.
"Mr. Germany, I have advised your counsel and you this morning that I will require your personal appearance at the time of sentencing," Shelzer said.
Germany Could Testify Against Co-Defendants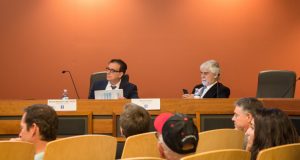 In pleading no contest, Germany surrendered several of his rights as a criminal defendant. They include the right to a hearing to show cause for prosecution, the right to a jury trial and his Fifth Amendment right not to incriminate himself.
This does not mean he must testify against the two remaining co-defendants: Benzeevi and Bruce Greene, the former legal counsel for TLHCD and HCCA.
Greene is also facing possible professional disciplinary action from the California State Bar.
Germany presenting evidence, however, remains a possibility.
"Now will Mr. Germany pop up testifying at some point?" Holly said in a post-hearing interview. "Maybe, maybe not. We'll have to see."
Greene Ignores Plea Offer
While an arrangement was made with Germany, his co-defendant Greene was not inclined to cooperate with the prosecution.
In fact, Greene and his attorney never responded to the offer from the DA.
"I never received an official rejection of the plea (offer), so it just expired on (September 22) with no communication," DA Holly told the court.
Attorney Jeff Steinfeld, who represents Greene, said he believed a response was not required.
"It was our understanding the offer didn't exist beyond the expiration date, but to clarify we are not accepting the offer the people made," he said.
Holly said his office made a generous plea offer to Greene. Not accepting it was a mistake, he said.
"I think I've made a very lenient offer to Mr. Greene, that he should have accepted," Holly said. "But he decided he didn't want to. And, you know, that happens all the time."
No Plea Deal for Benzeevi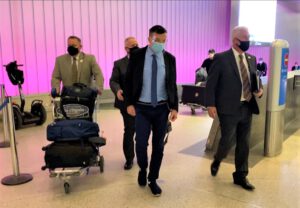 Coming to terms with Germany took several months, with negotiations starting in July.
No plea agreement was offered to Benzeevi due to Benzeevi's recent change in attorneys, Holly said.
"In order to really even talk about an offer, you have to be familiar enough with the evidence," Holly said. "Otherwise, it's ineffective."
Benzeevi making a bargain was talked over, but ultimately talks led nowhere.
"We had a brief discussion," Holly said. "We're so far apart that I don't know that there'll really be any talks there."
The topic remains open to negotiation with Benzeevi and his attorney Nina Marino, but Holly is not optimistic.
"I offered to talk with her (Marino) about it, but we're a long ways apart now," he said.
Marino, for her part, is ready to move ahead with a preliminary hearing.
"The idea would be to at least get this show on the road," she said.
December Hearing set for Benzeevi, Greene
After more than a dozen aborted attempts to begin preliminary hearings for the co-defendants since charges were first levied three years ago, a firm date for its start has finally been set.
The court will meet only three days a week to allow for travel time. Nine days have been set aside so far for the proceedings: December 12, 13, 14, 19, 20 and 21, and January 9, 10 and 11.
More dates can be added if needed, however, a two-month break would be required so Marino can defend another of her clients during a month-long political corruption trial in Hawaii. Hearing dates would resume in April.
DA Holly originally estimated the hearing would take at least three months to complete, based on a five-day-a-week schedule. Despite the reduction to three-day weekly sessions, he now believes the process could take as little as seven to eight weeks. Removing Germany as a co-defendant, he said, will shorten the process.
"It shortens it for sure by cross examinations, which will shave off at least a week," he said. "Right now, I'm going through the evidence and removing the evidence that was only pertinent to Mr. Germany. But you know so much of the evidence is cross-admissible, right? So I don't really know how much evidence we're taking out for that."
All estimates on the hearing's length, he said, were informed guesses.
Dozens of Witnesses to Testify
According to Holly, investigators interviewed more than 250 potential witnesses. He now has 81 witnesses he intends to bring to the stand for the preliminary hearing, and he expects more than that during a jury trial.
A jury trial, should it come to that, would not happen for a year or two, Holly said.
"The defense has many, many, many mechanisms available to them to continue and prolong the trial," he said.
Shelzer ordered all parties to be present for the preliminary hearing in December. However, both Greene and Benzeevi claim attending would create a burden for them. Greene's attorney said his client has "an issue with his son at home," while Benzeevi's attorney said her client could be fired for missing too much work.
"Dr. Benzeevi would probably lose his job if he was going to be gone from his job three days every week," Marino said.
Both attorneys suggested their clients attend via teleconference. Sheltzer said he would consider their requests.
In an aside to discuss Benzeevi's finances, Marino reported her client had been involved in an auto accident and received an insurance payout as a result. The funds were spent by Benzeevi to purchase a new vehicle, she told the court.
A Sense of Relief
Despite the weight of the matter at hand, most of the parties involved seemed pleased to finally begin assessing the criminal charges against Benzeevi and Greene in open court with evidence and witness testimony.
Judge Sheltzer seemed particularly happy with the progress made this week.
"Unless I hear otherwise, I'm planning on starting the preliminary hearing as indicated today," he said at the end of the court session while he wiped his forehead dramatically with the back of his hand. "Whew! Right?"
"Right!" Marino responded.
Tony Maldonado contributed to this report.