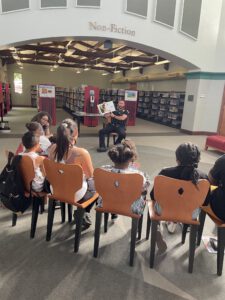 Join Tulare County Library to celebrate Banned Books Week October 1-7, 2023, shining a light on book bans and challenges happening in communities, schools, and public libraries. The Tulare County Library with libraries, booksellers, publishers, journalist, teachers, and readers invites everyone to share in their First Amendment right to read. The Library recognizes that reading is among our greatest freedoms and only an individual or a parent or guardian of a child should decide the choice of books to read.
Banned Books Week launched in 1982 after the Supreme Court Case Island Trees School District v. Pico ruled that schools could not ban books solely because of their content. The American Library Association and Office of Intellectual Freedom started Banned Books Week to foster discussion about challenged and banned books. A challenge is an attempt to censor, remove, or restrict materials based on the objections of a person or group, while a ban is the removal or censorship of an item.
Since then, the American Library Association (ALA) compiles a list of the ten most challenged books and tracks such instances in the United States. Out of the 1,269 books reported to ALA challenged or banned nationwide in 2022, the top 13 include Gender Queer by Maia Kobabe, All Boys Aren't Blue by George M. Johnson. The Bluest Eye by Toni Morrison, Flamer by Mike Curato, (Tie) Looking for Alaska by John Green and The Perks of Being a Wallflower by Steven Chbosky, Lawn Boy by Jonathan Evison, The Absolutely True Diary of a Part-Time Indian by Sherman Alexie, Out of Darkness by Ashley Hope Perez, (Tie) A Court of Mist and Fury by Sarah J. Maas, Crank by Ellen Hopkins, (Tie) Me and Earl and the Dying Girl by Jess Andrews, and This Book is Gay by Juno Dawson. All of which are critically acclaimed and widely read titles. The number of challenged books continues to rise since 2021, which recorded just 729 book challenges.
With other libraries and book communities in the United States, the Library celebrates Banned Books Week by providing information and book displays including current and historical bans and challenges, some which may be your favorites. The Library invites you to read or discover a banned or challenged book today and learn more.
Tulare County Library serves all the residents of Tulare County with locations in 17 communities, five book machines, an adult and family literacy center, Pop Up Tulare County outreach and bookmobile, and online at www.tularecountylibrary.org.  Follow the Library on Facebook www.facebook.com/tularecountylibrary or local branch pages, Instagram, @tularecountylib, or Twitter at twitter.com/TulareCountyLib.