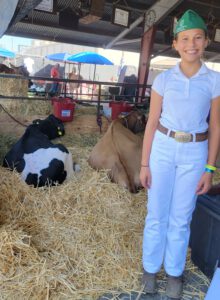 Get ready to have fun at Tulare County's Fair and don't miss tonight's free carnival ride night.  Thursday will be free carnival day for all rides and Friday is kids' day where kids under 12 get in free.
There are 25 major rides, 15 kiddie rides and an abundance of carnival games and food stands to enjoy. The rides include returning favorites such as the Super Shot, The Zipper and Big Wheel (Ferris Wheel) along with some new rides Medusa, Himalaya, and more! 
The fair also hosts a large number of vendors selling outside and within building 3. There are a variety of goods including Candy, collectables, jewelry, and home-goods.
Near the back of the building guests can have the chance to take photos with exotic animals like parrots, snakes, and lizards. From outside the building there were many vendors selling plushies, toys, posters, and cups as well.. On Saturday the Grandstands are hosting a destruction derby.
Besides the rides, vendors, livestock exhibitions, and famous fair food, you can relax while watching the Wilder Show, Vikki Gasko Green the Bilingual Ventriloquist and the Nerveless Nocks. Don't miss the balloon artist ,Dennis Forel.
If your interests lie in the livestock, the Dairy Heifer Replacement Market Steers, Market Heifers, & Beef Replacement Sale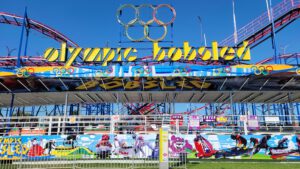 sponsored by Land O' Lakes will take place on Saturday, September 16th, 2023. According to University of California Agriculture and Natural Resources, "The 4-H, FFA, Grange and Independent Exhibitors Dairy Replacement Heifer project allows youth to raise and sell a quality dairy heifer and, in doing so, learn the fundamentals of dairy heifer husbandry and management."
For some 4-H members this is their first time such as 12 year old Evellyn Tristao from Saint. Aloysius' club. She will be selling her two heifers this year. Evellyn said the project starts by picking out goats, sheep, pygmy goats, or Heifers. 
Evellyn chose heifers.
Evellyn had to prepare her cattle by teaching them how to be walked, tied up, and get along with other animals and humans before participating in the market. Before being sold the livestock are given Showmanship and regular class grades. Evallyn said that pregnant heifers such as her own are the most sought after to be bought for breeding, dairy, and meat purposes or they can be bought to live on a farm like her uncle's farm. Along with the cattle, poultry and Rabbits are available to purchase starting Sunday at 10:00 am.
"Well as I'm sure you know, Tulare County is really known for agriculture, so our theme this year feels very appropriate," said Payton Ryan, in charge of the fair's publicity. "Our goal with this theme was to take the time and energy to celebrate Tulare County as an agricultural hub in California & recognize all of the hard work that goes into feeding this country, and others!"
For those attendees who go to the fair for the concerts, through  the 17th, there will be live music featured at The Michelob Ultra & Bud Light Stage. Along with music there will be stage performances, and wandering entertainers performing throughout the day. 
The music artist times
Thursday: Blanco Brown
Friday: Clay Walker
Saturday: Sawyer Brown
Sunday: Raza Obera, Grupo Vennus, and Los Fugitivos
For additional information about the times of shows or events visit https://www.tcfair.org/p/the-fair
2023 Fair Hours
Thursday ~ 4:00 pm to 10:00 pm
*Friday ~ 4:00 pm to 12:00 am
Saturday ~ 2:00 pm to 12:00 am
Sunday ~ 2:00 pm to 10:00 pm