Members of the Political Perspective on the Tulare Cemetery Facebook page have been posting and commenting on the doubling of the district's budget without seeing any benefit. A concerned citizen, with several family members buried in Tulare Cemetery, contacted the Valley Voice expressing concerns over what she felt was uncontrolled spending and a lack of transparency from Clara Bernardo, the district's manager. The concerned citizen said that Trustees Alberto Aguilar and Xavier Avila have both grown increasingly troubled over the ballooning budget in a time of increasing cremations. The increase in cremations means the district's income will decrease while expenditures are going up. The following is a post on Political Perspectives from Avila.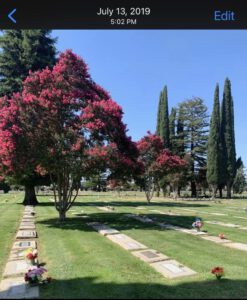 Look how nice the Kern Cemetery looked back in the Summer of 2019. That was four years ago. Back Then we only had 6 groundskeepers with a mix of old and new equipment. We used a few extra temporary employees in the summer to help weed eat and spray around the headstone's. Our 2019 budget was only $983,000 as compared to today's $ 1,862,000. At our last board meeting it was said that we need to hire an 8th groundskeeper after we settled on 7.
I would like some answers as why we can't make the Kern Cemetery look as good as it did 4 years ago with 6 groundskeepers today we have 7 with all new and better equipment . Also back in 2019 we only had two people in the office. We now have 3 but there is talk about adding a forth office person. We do not need another office person.
I voted no on this year's budget. We are spending too much money. We have raised prices on burial plots and services but that's when the economy was good however today people are having a hard time paying for everything. As funeral cost go up more and more people are choosing cremations as a far more affordable option.
Our bloated budget doesn't even consider the burden on families when it comes to costs. Now the State of California is forcing us to increase some fees, which compounds the problem.
The cemetery needs to look for ways to cut operating expenses out of our budget. We need to tighten our belt just like our families have to do. We need to consider how the economy affects our families. We can't just keep raising our prices to pay for our bloated budget. We need to be responsible.
If we could do a good job four years ago with only 6 groundskeepers with older equipment then we should be able to do it today.   We certainly do not need to add a fourth office person. The Board voted to put an expensive computer program in and I was told it would reduce the work load on the office because it processed the paperwork automatically. So now even though we have this new $65,000 program I'm being told we still need more people in the office. Well I'm not buying it . It's only going to put more stress on our budget and I'm totally against raising costs onto our families to cover a already bloated budget.
If we could do it then, then we can do it now