In partnership with Helm & Sons Amusements, the Tulare County Fair is ecstatic to offer FREE carnival rides inclu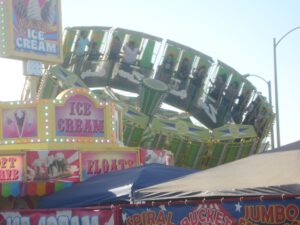 ded with PAID admission on Thursday, September 14th, 2023.
Helms & Sons Amusements, Tulare County Fair's chosen carnival partner, will be bringing us nearly 40 rides for the 2023 fair. For the "Major" rides (A.K.A the BIG ones), you'll find time-tested favorites like the Zipper out in the carnival, as well as NEW rides such as the Medusa and the Himalaya. We'll also see the Vertigo Swings and the Super Shot again this year!
For our younger thrill seekers in the "Kiddie" ride section, you can expect a classic Carousel, the Cool Bears, and the Alpine Slide again! There will also be 15 more rides for the little ones to choose from!
"Davey Helm and his crew always bring us the best of the best! We are beyond excited to offer a free carnival day, and hope the community enjoys it!" says CEO Dena Rizzardo .
Games will still require digital ticket credits, which can be purchased on-site at the ticket kiosks located in the carnival.
The fair will run from Wednesday, September 13th, through Sunday, September 17th.
For tickets and other information, please visit https://www.tcfair.org/p/the-fair or call 559-686-4707.