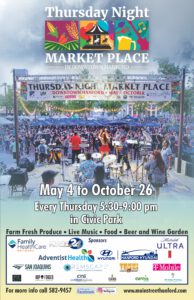 Main Street Hanford is excited to present Family Fun Night in honor of Wyland Gomes' Birthday at Thursday Night Market Place in downtown Hanford! This Thursday, August 24th, pony rides, train rides, carousel rides, face painting and snow cones will be FREE! Wyland Gomes was a sweet boy whose childhood was tragically taken from him at the young age of 10. It is his family's wish that children live a full, happy childhood with positive interactions with the adults they love most. To honor this, Main Street Hanford has dedicated one Thursday Night Market Place each year to his memory. This Thursday is dedicated to the children of the community with free activities made possible by donations from Wyland's friends and family and Main Street Hanford. Please join us at Thursday Night Market Place to enjoy time with family and friends in wonderful downtown Hanford.
Bring the whole family to downtown Hanford to enjoy fun activities for every age. The event is located in Civic Park from 5:30 pm to 9:00 pm. Be sure to shop the Certified Farmers' Market where you can shop for the freshest produce grown locally. WIC and EBT is accepted at the farmers' booths. For more information visit the Main Street Hanford tent located in Civic Park. Have dinner at one of the many delicious food vendors and shop many local craft vendors. This week's entertainment is live music by Prestige performing in the Michelob Ultra beer and wine garden. Please visit downtown Hanford this Thursday to experience it for yourself.
Thursday Night Market Place is a weekly celebration in downtown Hanford every Thursday from May through October with special activities and guests each week. This week, visit special guest, author and mother to Wyland, Chirsty Camara. Christy is the author of, "Can I Still be Funny After My Son's Murder?." You can purchase a copy of her book on Amazon. We also have special guests, Camara Realty, A-1 All Star Plumbing, Family Healthcare Network and Kings County Child Support Services. Make sure to stop by Family Healthcare Network's booth where they will have two interactive booths for children. You can learn how to "rethink your drink" by receiving education on how to reduce sugar consumption in drinks and providing some tasty alternatives taste testing. Also, learn about kids' dental hygiene and the importance of brushing teeth. Family Healthcare Network will be giving away goodie bags with toothpaste, toothbrush, and floss.
For a schedule of activities and entertainment visit www.mainstreethanford.com and follow Main Street Hanford and Thursday Night Market Place on Facebook and Instagram. Hope to see you at Thursday Night Market Place, 5:30 p.m. to 9:00 p.m., at Civic Park in downtown Hanford.
For more information, call 559-582-9457 or visit our website at www.mainstreethanford.com.
Michelle Brown
Executive Director
Main Street Hanford
219 W. Lacey Blvd.
Hanford, CA  93230
(559)582-9457