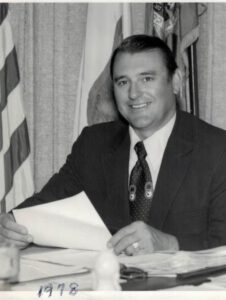 Sheriff Mike Boudreaux is saddened to announce the passing of retired Sheriff Bob Wiley, who served as Sheriff of Tulare County from 1967-1991. He died Saturday and was 87 years old.
Sheriff Boudreaux contacted his wife, Sonja, to express his sympathy, and placed TCSO Honor Guards to stand by with him at the funeral home.
Sheriff Wiley graduated from Kingsburg High School where he was a standout football player and a track star. He moved to Porterville when he was recruited to play football at Porterville College. At the same time, he worked as an extra help deputy and a rodeo cowboy to support his family.
When Sheriff Wiley first ran for office in May of 1965, he was well known in the Porterville area where he attended college; worked as an extra-help deputy at the Porterville Substation; and competed in calf roping locally, across the state, across the country, and in Canada.
He beat long-time incumbent Sheriff Sandy Robinson and served as Sheriff of Tulare County for 24 years.
After Sheriff Wiley retired in early 1991, the newest jail which he opened in 1987, was renamed the Bob Wiley Detention Facility.
Sheriff Wiley also served as president of the California State Sheriffs' Association, the same office Sheriff Boudreaux currently holds.
Sheriff Wiley is survived by his wife of 65 years, Sonja, and their three children, Andrea Hudson (Brad) of Riverside, Acia Bolen of Visalia, and Robert Wiley of Tulare.
Sheriff Boudreaux has spoken with the Wiley family, and they ask for privacy during their grieving.