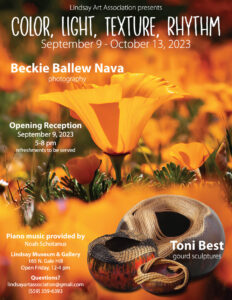 The Lindsay Art Association will present two valley artists in a new show at the Lindsay Museum & Gallery, opening Saturday, September 9. The show is titled, "Color, Light, Texture, Rhythm" and features the Photography of Beckie Ballew Nava, and the Woven Basketry and Handwoven Gourds of Toni Best. The show will run through Friday, October 13.
Becky Ballew Nava lives in Visalia, and has participated in many art shows around the San Joaquin Valley, including Lindsay's "Orange Blossom Festival Art Show." She has won many awards for her work and specializes in landscape, nature, architecture, real estate, and event photography.
She often drives to nearby Yokohl Valley for subjects, and frequently travels around the state, searching for sunrises and sunsets at just the right moment, looking for the perfect image. She loves to shoot landscapes and seascapes at the coast, wildflowers wherever she can find them, and all manner of intriguing subjects.
"Music and Basketry have always been a part of my life," says Visalia artist Toni Best, who received a Masters in Classical Organ Performance from Syracuse University. Now a retired musician, Toni listens to her music in the flow of the pieces she creates, weaving baskets as indigenous people did.
She has taught her craft here in the valley for several years, and has participated in a number of national level shows, including, "All Things Considered VIII," the National Basketry Exhibition in 2015 and "Basketry Now" in 2019. The Handweavers Guild of America accepted three pieces in 2018 at "Convergence" in Reno and one piece in Tennessee in 2022. The National Basketry Organization and Studio Art Quilt Association selected one of her creations in 2023 to be included in a three year traveling exhibition "Art Evolved: Intertwined".
The Lindsay Museum & Gallery is located at 165 North Gale Hill Avenue in Lindsay. A reception is planned for Saturday evening, September 9, from 5 to 8. Refreshments will be served. Music will be provided by pianist Noah Schotanus. For more information please contact us at [email protected] or call 559-359-6393.