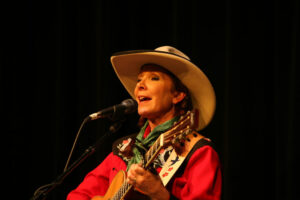 End the summer with a bang with the Juni Fisher's Concert.  Western music sensation Juni Fisher is coming to the Lindsay Theater on Sept 9 for one night only. Show starts at 7:30 PM, and tickets are only $20 online in advance/$25 at the door. Get tickets at lindsaycommunitytheater.com.
Juni was born and raised in nearby Strathmore. She started out as a rodeo horse rider and trainer, but soon turned her considerable talents to writing and singing songs about the cowboy and cowgirl way of life. Juni Fisher's name is synonymous with the kind of songwriting that, according to one promoter, "Plumbs the depth of your soul…"
She has won many music awards including Western Music Association's Entertainer of the Year, Female Performer of the Year, and Best Song in 2011, and in 2013 her song, "Listen to the Horse," was named song of the year. For more about Juni visit junifisher.net.
She puts on a show you just don't want to miss. The Lindsay Community Theater is located at 190 North Elmwood in the heart of downtown Lindsay. For more information call 284 2223.