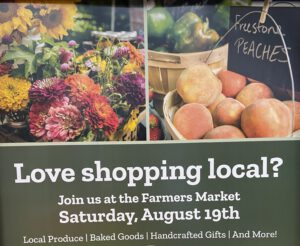 On Saturday, Aug 19, 2023 from 8-12 noon the owners of the Tractor Supply in Porterville will be hosting a Farmers Market in the parking lot of our store at , 1755 W Henderson, Porterville.
The Tractor Supply is part of a major corporation, however  the store has been in Porterville since 2017.  They are located just west of Veterans Park.
"We're excited and honored to be hosting 30 local vendors to offer their treasures for purchase.  We have different vendors offering: produce, fresh and dried herbs, flowers, eggs, wool yarn, flower plants and arrangements, soaps, micro green plant starters and so much more.
"We'll also have several vendors offering homemade lemonade, slushies, fruit toppings, chamoy, fresh breads/pastries and homemade jams and jellies, tortillas and salsa,  there will be something available to satisfy all the cravings.  And lastly, we have numerous vendors bringing in their various creations, tumblers, key chains, wax melts, candles, jewelry, humming bird feeders, and we've got one using reclaimed wood for various furniture and crafts, plus so much more," said Tracot Supply owner Hope Shields.