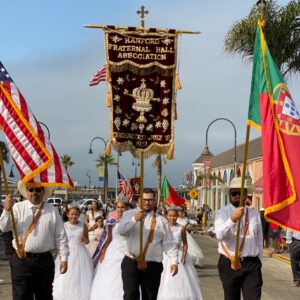 One of the most enduring and beloved traditions among Portuguese Americans will be the focus of a special event at the Carnegie Museum of Kings County on Saturday, Aug. 12.
"Festa: A History of Central California's Azorean Celebrations" will highlight the religious roots and central features of the annual Portuguese festivals, which are held from spring to fall in various communities around the state. Particular attention will be paid to how the events have bonded the local Portuguese American community.
"The festas are synonymous with being of Azorean ancestry," said Diniz Borges, director of the Portuguese Beyond Borders Institute (PBBI) at Fresno State and the evening's speaker, emphasizing the Azorean roots of the vast majority of Portuguese in the Valley. "The festas are a vehicle to pass tradition from generation to generation."
In addition to his remarks, Borges will be premiering a new short documentary co-produced with the media, communications and journalism department at Fresno State that features individuals reflecting on the role the festas have played in their lives. Everyone appearing in the film is from the Central Valley. Among those sharing stories are women who have served as festival queens, a seamstress who has made more than 100 capes for queens, a father and son who have participated in bloodless bullfights at many of the festivals, a deacon who blesses bull fighters before they go into the ring and men who make the beef and cabbage soup that is the central meal of every festa.
Borges said he hopes the short documentary will not only inform viewers but also help them build bridges across cultures.
"Those of Portuguese ancestry need to have more knowledge about their ancestors, and those who aren't can better understand a people and a culture that has been part of the Valley for over a century," he said. "The more we all know about each other, the more we share our cultures and traditions, the better we are as a multicultural region."
"The current portion of our Portuguese history exhibition focuses on the historic importance and central role of cultural and religious celebrations to the Portuguese community. Having Mr. Borges speak about the festas and premiere the new PBBI documentary on this subject is an amazing addition to our exhibition" said Carnegie board president Jack Schwartz.
Doors to the event open at 7 p.m. The cost is $10 per ticket. Tickets can be purchased through the museum's website at carnegiemuseumofkingscounty.org. They will also be available at the door the evening of the event.
The Carnegie Museum of Kings County is located at 109 E. Eighth St. in Hanford.