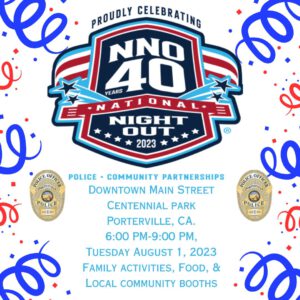 The Porterville Police Department is proud to be sponsoring the 40th Anniversary of the National Night Out community event on Tuesday, August 1, 2023. The event will be held in historic downtown on Main Street near Centennial Park from 6:00 PM to 9:00 PM. This event will be held in conjunction with the KJUG Free Summer Concert, featuring Drake Milligan, who has appeared on American Idol and America's Got Talent!  In preparation of these events, the Porterville City Council has authorized the closure of Main Street from Morton Avenue to Putnam Avenue to traffic from 3:00 PM to 10:00 PM. The public will be able to enjoy many booths that will encompass multiple blocks on Main Street along with the concert, which will have a stage located at Centennial Park.
National Night Out is an annual community-building campaign that promotes police-community partnerships and neighborhood camaraderie to make our neighborhoods safer, more caring places to live. National Night Out enhances the relationship between neighbors and law enforcement while bringing back a true sense of community. Furthermore, it provides a great opportunity to bring police and neighbors together under positive circumstances.
Millions of neighbors take part in National Night Out across thousands of communities from all fifty states, U.S. territories and military bases worldwide on the first Tuesday in August.
The event will include food, games, demonstrations, community partners, public safety partners (including the Porterville Fire Department, Tulare County Sheriff's Department, California Highway Patrol and Imperial Ambulance), information booths, opportunities to meet and talk with emergency personnel and much, much more, all at no charge to the community.
Be sure you and your neighborhood are part of the nation's largest, annual crime and drug prevention event while enjoying a free concert at Centennial Park!
National Night out is important to our community because it:
Heightens crime and drug awareness
Generates support for and participation in local anti-crime programs
Strengthens neighborhood spirit and police-community partnerships
Sends a message to criminals to let them know that neighborhoods are organized and fighting back
For more information or to sign up to host an informational booth, contact Crime Prevention officer, Corporal Marcial Morales at 559-782-7453 or Community Services Officer Vivian McKune at 559-782-7570.
The regularly scheduled City Council meeting for Tuesday, August 1, 2023 will begin at 3:00 PM to accommodate this community event. Temperatures could exceed 100 degrees, so please remember to stay hydrated.