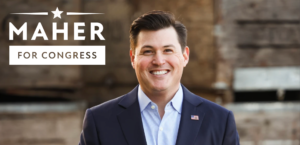 Last week, the California Republican Party endorsed Fresno area Navy veteran and business owner Michael Maher for Congress. Maher had previously received endorsements from the Tulare County and Fresno County Republican Parties. The state GOP endorsed him at the same meeting when they endorsed Speaker Kevin McCarthy, Congressman Jay Obernolte, Congressman Mike Garcia, Congresswoman Young Kim, Congressman Ken Calvert, and Congresswoman Michelle Steel.
"I'm honored to receive this endorsement after earning overwhelming local support. It's clear that there is real momentum building as we join together to build a better future and create more opportunities for Central Valley residents and all Americans. With my experience as a law enforcement officer, a Naval officer, and an independent business owner, I will be a fresh advocate and deliver for all Central Valley families."
Earlier this month, Michael Maher announced raising nearly $250,000 during the 2nd quarter, a tremendous demonstration of support for his campaign. Maher also earned the endorsement of notable local leaders like former Congresswoman Connie Conway, State Senator Shannon Grove, Fresno County Supervisor Buddy Mendes, and Tulare County Sheriff Mike Boudreaux, among others.
Background: Michael Maher is a former FBI Special Agent and US Navy Veteran who was raised in the Central Valley. Michael and his wife, Ann, are raising their young family in Fresno County, and he owns and operates an aviation business. Michael was the 2022 nominee for California's 21st Congressional District.